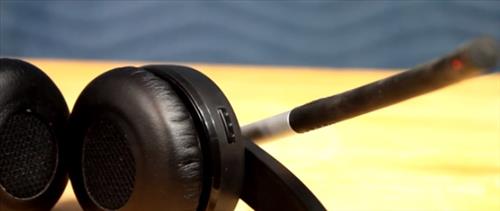 Using a wired USB or jack headset works well when dictating to speech recognition software but can be an annoyance being tethered and not able to move about.
Wireless headsets give much more freedom and mobility, and are more ideal for those who do a lot of dictating.
Some headphones work better compared to others and are built for speech dictation.
Of course, be sure they are compatible with the operating system you are using such as a Windows or Mac.
With this in mind below is our picks for best wireless headsets for dictating to speech recognition software.
As always be sure to read reviews on Amazon, forums, or elsewhere to be sure a unit is the right pick for you.
*This post contains affiliate links.
Our Picks for Best Wireless Headphones for Speech Recognition
Beebang BNG806UC

PC Chat Headphone USB Headset with Noise Cancelling Microphone and Volume Control for PC Chat Skype Microsoft Lync Dragon Nuance Voice Recognition Speech Dictation

These headphones from Beebang are built to work with a PC and speech dictation.

They have an inline volume control and plug into a USB port.

The microphone is on a goose-neck arm that is flexible to place in the best location when speaking.


Logitech H820e

Logitech H820e Wireless Dual Headset

Logitech makes this wireless set that can also work via USB.

They have good range at up-to 300 feet and work on many types of systems.

The battery life is rated for up-to 10 hours.

Logitech is a well known company that makes many good headsets.


Plantronics Voyager

Plantronics Voyager Legend UC Bluetooth Headset – Retail Packaging – Black

If your looking for a Bluetooth option Plantronics makes this nice unit.

Bluetooth doesn't have the range other wireless protocols have but is widely used from smartphones to laptops.

The built-in noise cancellation works very well and helps get rid of interference from outside noise that may enter the microphone.


Sennheiser

Sennheiser SD Pro 1 (506007) – Single-Sided Dual Connectivity Wireless DECT Headset for Desk Phone & Softphone/PC Connection, Ultra Noise-Cancelling Microphone (Black)

Sennheiser also makes many good headsets including this unit which uses DECT technology.

Since it uses DECT it can also pair with many cordless telephones but more importantly has good range.

If you have like to walk away from you computer and still be able to dictate than DECT often has the best technology.
Types of Wireless Headset Technologies
Noise Cancellation
Sound quality is important, for this reason background noise can effect the output. Noise cancellation headsets are often used to help eliminate this problem.
Noise cancellation reduces noise from a distance that may be picked up by the microphone which helps get rid of errors.
DECT
DECT stands for Digital Enhanced Cordless Telecommunications and is commonly used with cordless phones.
Since it was setup as a wireless protocol for voice it works well for headsets also and is widely used.
DECT headphones can also be used with many cordless phones since the protocol is the same. Even though there can be some differences between manufactures for the most part they are interchangeable.
Many top brand headsets use DECT technology to help get the clearest signal to a computer.
2.4 GHz and 5 GHz
While DECT technology works well, the frequencies can often vary between countries.
For this reason when using WiFi frequencies there will be less compatibility problems, especially for those who travel a lot.
2.4 GHz and 5 GHz are the frequencies used by WiFi so they may be prone to interference if within a crowded wireless location.

Bluetooth
Bluetooth is good but only at a short distance.
Most Bluetooth voice communication will max out at 30 feet and much less when dictating.
An advantage to Bluetooth is most devices such as smartphones can be paired, which allows a user to also answers calls easily.
Do you have a favorite wireless headset for dictating to software? Let us know in the comments below.

Summary
Having a good wireless headset that can transmit your voice and dictate well can be very freeing compared to a standard cord based solution.
A USB or jack wired connections are usually the best way to dictate but there are many good wireless solutions although more expensive.
The above are simply some of our choices with no doubt many more good units available.
Keep in mind you computers compatibility when ordering a unit for operating system and PC or Mac compatibility.
Most wireless headsets can also be used for other task such as answering calls, Skype, or simply gaming.