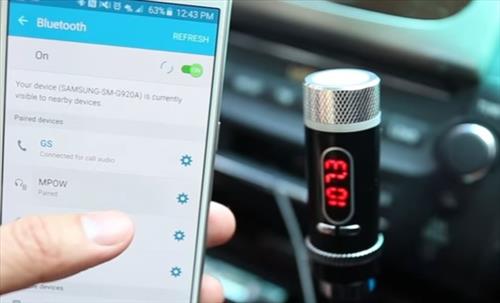 Having Bluetooth built into your car or truck radio is a nice feature to have, from playing music with your Bluetooth device to hands-free calling.

Answering calls is the most used feature from a Bluetooth car stereo, but listening to your favorite songs via a smartphone or other Bluetooth devices is no doubt a nice option to have.

But What if Your Car Stereo Has No Built-in Bluetooth?

Adding Bluetooth to any car stereo is easily done with a FM transmitter or units that use an audio line-in.

There are many units available that come in different designs and features.

The kits are low cost items that are easy to hook up and have your vehicle stereo system Bluetooth ready in minutes.

Read Below to see our picks for the best kits.

How To Add Bluetooth To Your Old Car Radio
Most kits are FM transmitter kits which basically transmits to your car stereo the same way a radio station does.

Setting up a kit is easy and can be done in a few steps.

1…To setup a FM kit the car stereo is set to a open frequency that no radio station broadcast on.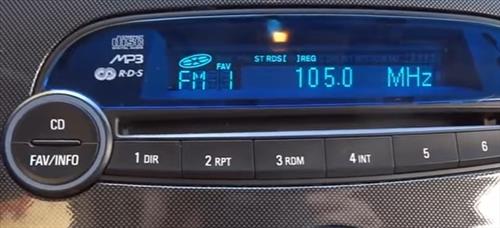 2…The FM transmitter is then set to the same frequency.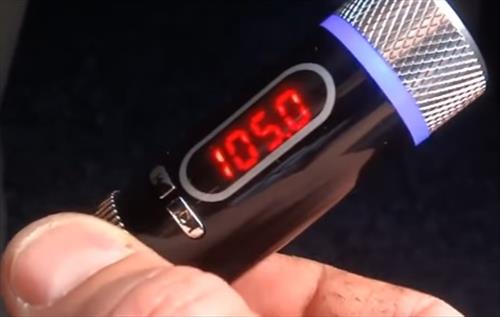 3…The transmitter can then talk to any Bluetooth device and broadcast it over the cars speakers through the radio.



There are also Auxiliary audio line-in kits that use a standard 3m audio jack line that plugs into a stereo.

In full disclosure these units below have been sent to us from companies to review which we have done with our own honest opinion and results.

*This post contains affiliate links which at no cost to you allows us earn a commission on product purchases.

As Always be sure to read the reviews on Amazon, forums, here, or elsewhere to be sure a unit is a good fit for you.

Here is Our Picks for Best FM Transmitters

Kartice HK106 Bluetooth Wireless Fm Radio Transmitter Car Kit With 2.0 Inch LCD Display ,64G TF Card & SD Card Slot,Dual USB Charging For Music and Hands-free Calling -Black

The HK106 is a nice Bluetooth FM transmitter kit that has a good display and works very well.

It has a built-in microphone, SD-card slots, 2 USB ports, and a 3.5mm audio line-in for any non-Bluetooth device.

The hands free calling works nicely along with playing music from a smartphone or from a SD-Card.

It is a low cost unit that is a good buy for those on a budget and looking to upgrade a car stereo.

Read Full Review Here

…….
iClever Wireless Bluetooth FM Transmitter Radio Adapter Car Kit with SD Remote Controller, Black


iClever makes this small unit that converts any car radio into a Bluetooth stereo.

Like all FM units the radio is set to a open frequency and the iClever than set to the same frequency. It will than automatically transmit over the speakers.

It is a stubby unit and doesn't have much length which makes it ideal for cigarette lighters that are located on the dashboard. If your vehicles cigarette lighter is located deep in a console than another unit would be better.

Read Full Review Here

…….
Anbero Bluetooth FM Transmitter Radio Adapter Handsfree Car Kit with 2 USB Charger

Anbero makes this FM25 model that is built with more length. This makes it more ideal for cigarette lighters that are inside a console or deep in the dashboard.

It is a FM unit that also has two USB ports to charge devices. The extra USB charging ports are nice to have since many units don't have this feature, and limit charging when only one cigarette lighter is available in a vehicle.

Read Full Review Here

…….
Regetek Bluetooth Car Kit Bundle with Audio Receiver, Adapter and Charger

This unit from Regetek uses an audio line-in to transmit to a radio and add Bluetooth.

Some radios don't have an audio line-in so be sure to check yours if there is one or not.

These types of units have an advantage over FM transmitter units since they don't need a open FM signal.

Large cities often can have so many stations they can interfere with a FM transmitter style unit. If you live in such an area and have a radio with an audio line-in than it is worth a look.

Read Full Review Here

…….
AUKEY FM Transmitter, Radio Transmitter Car Kit with 1 USB Charging Port, Compatible with all Mobile Audio Devices

This unit from AUKEY ties into a stereo audio line-in and then connects to your Bluetooth device.

It doesn't have a built in mic so there is no hand-free calling but plays music nicely from your devices.

Read Full Review Here

…….
Geartist (TM) GB01 Bluetooth 4.0 Hands Free Car Kit with LCD Screen FM Transmitter for Apple iPod, Apple iPhone, BlackBerry, and Android Smartphones – Supports Siri Function (Black)


Geartist makes the GB01 which is a low cost FM transmitter kit.

It is connected from a USB power cable that makes it a good fit into most any vehicle.

The cable also lets it be placed more strategically to get the best results from your smartphone or other devices.

Read Full Review Here


Summary
If your car stereo has no built-in Bluetooth than adding it is a easy task to do.

There is no need to replace the existing stereo with another expensive unit as a cheap low cost conversion kit is quick and easy to do.

Of course it will not improve the sound of your car system so if it is a old unit and sounds horrible it may be time for a upgrade.

If your system still plays fine than a small kit will be all you need. Since it is using the existing system the kits only sound as good as the built-in unit.

Fm type units are the most used but Aux line-in units also work well and can be of benefit in areas that has a lot of FM signals.

This is also true for those who travel a lot, as a open signal may start broadcasting from a station. An audio line-in style unit would work better in such a scenario.

What works for one person may not work for another, so be sure to read the reviews on Amazon or elsewhere to be sure a unit is the right for for you.