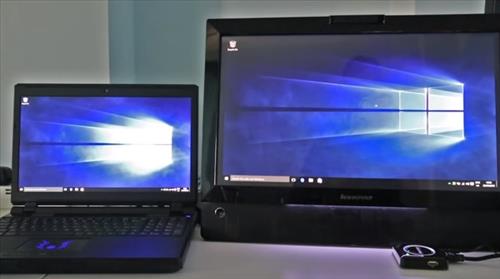 Many people today use extended screens with a computers to get the most out of a working environment.

Using multiple monitorsis ideal for many since it increases productivity and is much easier to use than a single screen.

But what if you have a laptop and want to have another screen for a added display window?

There are a few devices that can be used to wireless display a video output to second monitor.

The most common is Chromecast and Microsoft Wireless Display Adapter.

Miracast VS Microsoft Wireless Display Adapter.
I dont recommend using Chromecast for a work environment.

First of all it only mirrors whats on a laptops screen and doesn't extend it.

Mirroring a screen no doubt has a lot of potential in the right setting but for times when work needs to be done with different screens Chromecast is not a good solution.

Microsoft Wireless Display Adapter does a much better job for multiple displays setup like a desktop would with 2-3 monitors.

Keep in mind Microsoft option is not without its own faults. First off all any device that transmits video wireless to a second monitor will have lag.

How much lag depends on what is being transferred, basically forget about a ideal gaming environment.

It does work fine when doing simple browsing or even steaming a movie. Having a powerful laptop is obviously better and will improve the output.

They have just released the new version of the adapter called V2.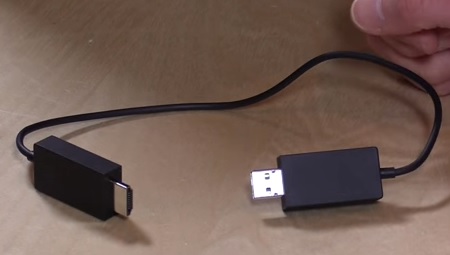 It basically plugs into a HDMI port on a TV or monitor which a computer can than broadcast video to wirelessly.

Microsoft adapter is compatible with Windows 10 and Windows 8.1 since both have Miracast built in.

Read More Reviews Here on Amazon
Microsoft Wireless Display Adapter


Summary
There are a few ways to duplicate or extend video from a laptop to a second monitor.

Chromcast is good for duplicating a screen and will be good in situations that only require the screen to be mirrored onto a TV or second monitor.

Microsoft's V2 adapter is better for extending a screen which most are used to in work environments.

The V2 is not perfect, but it's the next best thing compared to using a HDMI cable.

If you use Apple products for a multiple display setup than they use AirPlay which is a proprietary technology that only works with Apple products.

Which ever setup you have using more than one monitor that also allows complete control from a single mouse and keyboard is the ultimate work setup.

The average home user will have no need for this type of setup and can no doubt simply use a classical singe screen for basic online browsing or social media updates.

Having more than one screen is geared much more toward the professional who spends a lot of time working with a computer from researching a topic to coding a database.

And while a HDMI cable is much better than a wireless dongle for those who use a laptop that has only one output it is the best option currently available.

As always be sure to reads the reviews on Amazon or elsewhere to see is it is a good fit for you.