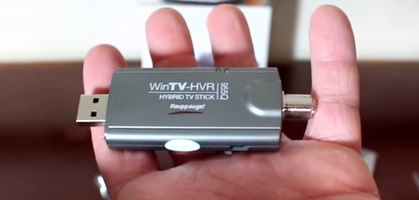 Watching shows with an internet connection is an easy task with Hulu , Netflix, or with a media center such as Kodi.
But what about watching free Live OTA TV on a Laptop or desktop computer?
Watching live TV over-the-air (OTA) is easy to do with small USB TV tuner dongles.
OTA TV switched to digital broadcast in 2009 which small USB TV tuners can pick up free TV channels and display them for free to a computer.
Most TV tuner dongles come with a place to connect an antenna to pick up channels from a distance.
How many stations can you get?
This depends on the location you live in as big cites will have more stations than a rural area.
Small towns usually have at least 20-40 channels that are streamed live over the air. While big cities often have many more.
Best USB TV Tuner Dongles Options for a Laptop or PC
Hauppauge

Hauppauge 1191 WinTV-HVR-955Q USB TV Tuner For Notebook

The Hauppauge has been available for a while and is once of the more popular options.

It plugs into a USB port and has many features such as TV tuning and Video recording.

An audio video adapter is also included to connect to a TV along with a remote control.

The Hauppauge is a good unit that works well connecting an OTA signal to watch with a laptop or PC.


Diamond Multimedia

Diamond Multimedia Free Over-The-Air Digital HDTV Tuner for Windows PC (TVW750USBD)

This OTA USB TV tuner plus into a USB port and allows a user to watch free OTA TV.

The end has a port for a coaxial signal from an antenna for a better signal.


AVerMedia AVerTV

AVerMedia AVerTV Volar Hybrid Q, USB TV Tuner, ATSC, Clear QAM HDTV & FM Radio, Supports Windows & Android TV 7.0 or above (H837)

This USB TV tuner from AVerMedia AVerTV works much the same as the other units

It can run with a Windows computer as well as support for Android TV 7.0.