Watching movies and TV shows with an internet connection is easy to do with one of the many free streaming services.
But what about watching free live over-the-air (OTA) antenna TV on a laptop or desktop computer?
Watching live antenna TV channels is easy to do with a small USB TV tuner.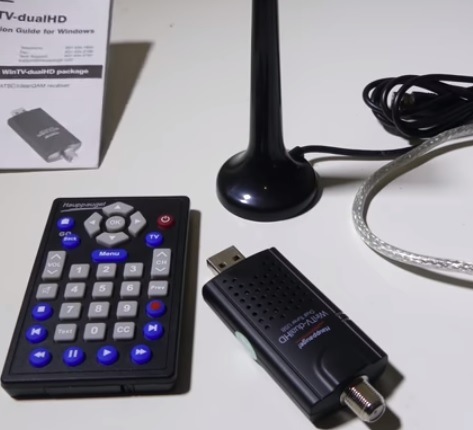 TV transmissions switched to digital broadcasting in 2009, which small USB TV tuners can pick up for free and display TV channels on a computer.
Most TV tuner dongles also come with an SMA connector to hook an antenna up and pick up more channels from a distance.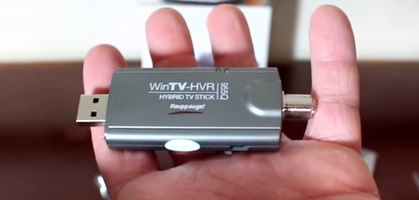 Software such as WinTV is used on a computer to scan for channels and watch them along with controls.
How Many Stations Can You Pick Up?
How many stations are received depends on the location; big cities will usually have more stations than rural areas.
Small towns usually have at least 40-50 channels that are broadcasts over the air, while big cities often have many more.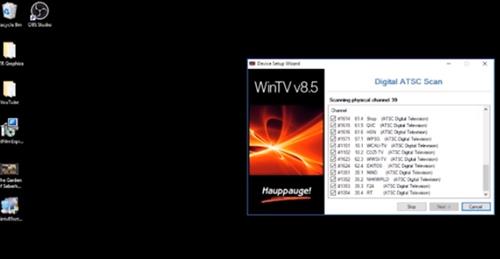 The only way to know for sure is once an adapter is set up to scan for available channels.
The terrain is also a factor, such as mountains and trees, which can block a signal.
There are many good units available, with some of our favorite picks below.
As always, be sure to read the reviews on Amazon or elsewhere to be sure a unit is a good fit for you.
*This post contains affiliate links.
Our Picks for Best USB TV ATSC Tuners for a Computer
Hauppauge 1682

HAUPPAUGE 1682 WinTV-quadHD USB Four HD ATSC Digital TV Tuners for USB 3.0 W/PIP

Hauppauge makes many good units for converting an OTA signal to a computer.

The Hauppauge 1682 is one of their newer units and is one of the more popular options.

It plugs into a USB Type-C port and has many features, such as TV tuning and Video recording.

A small antenna is also included, along with a remote control.

The Hauppauge 1682 is a good unit that works well, connecting an OTA signal to watch with a laptop or PC.

Hauppauge WinTV 1595

HAUPPAUGE WinTV-DualHD Dual USB 2.0 HD TV Tuner for Windows PC 1595

Hauppauge also makes the WinTV 1595, which is an older version that still works well.

The Hauppauge 1682 above is newer and best for those who want the latest and greatest, but the WinTV 1595 still works nicely.

It also costs less and is a good unit for those on a budget.

The adapter comes with a small antenna, remote control, and manual.

Like most units, it connects to a USB port and converts an ATSC TV signal to a PC.

It uses software called WinTV that will scan for TV channels and display them with controls.

Diamond Multimedia

Diamond Multimedia Free Over-The-Air Digital HDTV Tuner for Windows PC (TVW750USBD)

This OTA USB TV tuner plugs into a USB port and allows a user to watch OTA TV on a computer.

The end has a port for a coaxial signal from an antenna for a better signal.

It comes with a small antenna that works well if close to the TV transmission towers but may need a better antenna for those farther away.

AVerMedia AVerTV

AVerMedia AVerTV Volar Hybrid Q, USB TV Tuner, ATSC, Clear QAM HDTV & FM Radio, Supports Windows & Android TV 7.0 or above (H837)

This USB TV tuner from AVerMedia AVerTV works much the same as the other units.

It can run on a Windows computer as well as supports Android TV 7.0 and above.
Summary
Watching over-the-air TV signals is easy to do with a good USB converter.
There are many available that work well, picking up and converting an ATSC signal to a PC.
The adapters usually will come with a small antenna that may need an upgrade.
While the units can convert a signal for a computer, they still need a good signal to convert.
This sometimes means upgrading the antenna along with possible signal boosters.