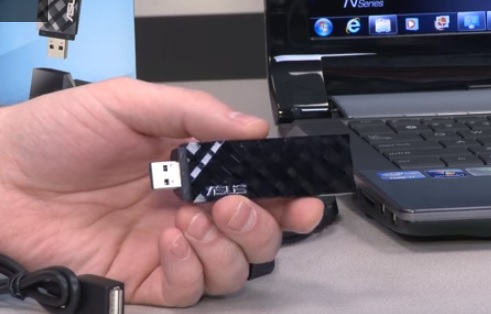 Choosing a good 5 GHz WiFi dual band USB adapter will depend on your setup and what it needs to be the best at.

For example is you need more distance or range from a WiFi setup than a USB dongle with a larger dBi antenna would be a better option.

If the internal wireless has gone bad on a laptop or desktop than a small cheap USB adapter may be better.

There are many scenarios and what is best for one may not be right for another, so here is our picks for best dual band 5 GHz USB adapters.

As always be sure to read the reviews on Amazon or elsewhere to be sure a unit is a good fit for you.

…….
dodocool Wireless USB Adapter Wi-Fi Dongle AC 600 Dual Band 2.4GHz 150Mbps, Support Windows XP/7/8/8.1/Max OS X 10.7-10.10


If you are looking for a low profile USB adapter that is barley noticeable than the dodocool wireless AC Dongle is worth a look.

It is a 802.11ac dual band adapter with transfer rates up-to 433 Mbps at 5GHz or 150 Mbps at 2.4GHz

Since it is small it would be a good easy replacement for a laptop wireless that has gone bad or need a upgrade.

Being dual band it is compatible in most any network along with the newest protocol 802.11ac which is backward compatible with older protocols.

Read a Full Review Here

…….
TP-LINK AC600 High Gain Wireless Dual Band USB Adapter (Archer T2UH)


TP-Link is a well known manufacture of wireless USB adapter with the Archer T2UH one of their newest additions.

It has speeds up-to 600Mbps when using 5GHz (433Mbps) and 2.4GHz (150Mbps) bands.

The larger dBi antenna is nice for better range along with a USB extender cable to move it about if needed.

We tested it out on a Windows 10 machine with good results and basically plug-and-play. It also compatible with Mac and Linux machines.

Read Full Review Here

…….
Asus (USB-AC56) Dual-band Wireless-AC1300 USB 3.0 Wi-Fi Adapter

For those looking for a fast wireless adapter then the ASUS USB-AC56 is currently one of the fastest.

It is a USB 3.0 dongle that can transfer data at 867 Mbps over 5 GHz + 802.11N 400 Mbps over 2.4 GHz frequencies.

This means it can theoretically transfer data at up-to 1300 Mbps.

Of course wireless never reaches its theoretical speeds with many factors such as distance and barriers slowing it down.

Another factor is most home internet ISP speeds range from 50Mps to 100Mps that very fast speeds would almost never be used.

The exception to this is those rare people who do have a fast ISP speed and a transfer a lot of data on their internal network.

Read Full Review Here


…….
Coredy AC600 Nano Dual Band USB WiFi Adapter with External Antenna ( WA-AE610 )

Coredy makes this small WiFi dongle that comes with a high gain 5dBi which screws on or off.

It is dual band 802.11ac adapter so it will work in most any WiFi setup

The speeds are not the fastest but it can use the new 802.11ac for transfer rates up-to 433Mbps at 5GHz and 150Mbps at 2.4GHz.

Read Full Review Here
Summary
Most any dual band 5GHz USB wireless adapter will work in most network setups and with some having a advantage in one area over another.

If you need more range from wireless than a dongle with a larger antenna would be the better option.

If you just need a basic WiFi connection than a low cost small unit likely would be better.

For those looking for faster speeds than a USB 3.0 802.11ac adapter would be much better.

Whichever unit is picked be sure it fits your hardware and software setup, along with reading the reviews to be sure it is a god unit for you.