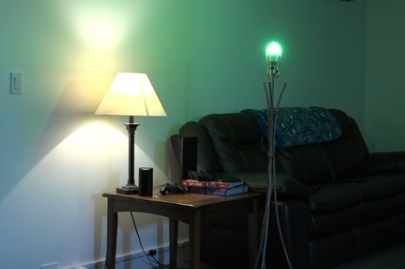 The Amazon Echo DOT along with Alexa is no-doubt fun, but can also be a very practical way to control new smart home devices.
One of the more popular Alexa controlled devices is smart bulbs which work wireless and can change colors, turn on and off with voice commands, or even give a light show.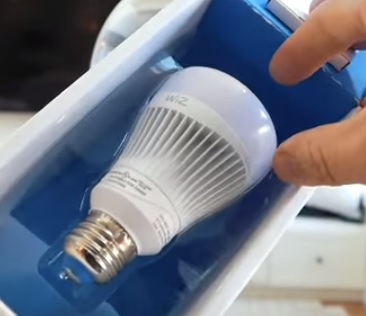 There are many good units available with some of our favorite picks below.
As always be sure to read the reviews on Amazon or elsewhere to be sure a unit is a good fit for you.
*This post contains affiliate links.
As always be sure to read the reviews on Amazon or elsewhere to be sure a unit is the right pick for you.

Our Picks For Best Amazon Echo Dot Alexa Smart Light Bulbs
TP-Link Kasa LB110 Smart WiFi Bulb

Kasa Smart Light Bulb by TP-Link – WiFi Bulbs, No Hub Required, Old Version, Works with Alexa & Google (LB110)

TP-Link makes the Kasa LB110 Smart LED Light Bulb along with others.

It is a low-cost smart bulb that doesn't require a HUB making it a nice entry level device, or for a scenario were only one bulb is needed.

Since they are sold in singles and need no HUB they are a nice starting point or whole home option.


LIFX (A19)

LIFX (A19) Wi-Fi Smart LED Light Bulb, Adjustable, Multicolor, Dimmable, No Hub Required, Works with Alexa, Apple HomeKit and Google Assistant

LIFX is also a well known wireless smart light bulb manufacture with several kits available.

The LIFX A19 is one of their tops smart bulbs that works without a hub and can change brightness along with color.

It has up to 16 million colors that can give out most any color Hue thought of, and can be bought as a single bulb or packs of four.

The bulbs give out 75 Watts and are easy to control with Voice commands with Alexa and the Echo DOT.


Philips Hue White A19

Philips Hue White A19 60W Equivalent LED Smart Bulb Starter Kit (4 A19 White Bulbs and 1 Hub Compatible with Amazon Alexa Apple HomeKit and Google Assistant)

Philips Hue is possibly the most well known maker of smart light bulbs with several different types available.

The Philips Hue Starter Kit is compatible with Alexa and comes with up=to 4 bulbs, more bulbs can be added if wanted.

It is the new generation of Philips Hue smart light bulbs that syncs up to the Echo DOT which in turn controls the bulbs wirelessly.

It is a nice system and HUE is a known manufacture that also makes the popular BR20 unit.


TWB Smart

Color LED Light Bulb, Wi-Fi Dimmable Smart Bulb, Compatible with Alexa, Amazon Echo Dot Accessories, and Works with Google Home, Built-In Timer Switch for Smart Home Automation (50W 1-Pack)

TWB Smart bulbs are stand alone units that do not require a HUB.

They connect to a router WiFi on the 2.4Ghz band and can be controlled by Alexa.

The setup will need the WiFi password. Also be sure to connect on the 2.4Ghz band and not the 5Ghz band.


AISIRER Smart Light Bulb

Smart Light Bulb WiFi LED Light Bulbs Compatible with Amazon Alexa Echo Dot Google Home Assistant and IFTTT A19 E26 9W Equivalent 60W Dimmable Warm Light 2700K No Hub Required 806LM AISIRER (4 Pack)

AISIRER are also standalone bulbs that require no HUB to use.

Like most standalone units they connect to the router on the 2.4HGhz frequency and can be controlled with an Echo DOT and Alexa.
Summary
Being able to control a home electronics via voice commands is not just fun but also has very real world applications in many scenarios.
Someone who has limited mobility can use a Echo DOT and smart home devices to help in their daily routine.
Anyone can use them to make life easier and create a home environment not even thought of only a few years ago.
There are many smart bulbs available that are Echo DOT compatible with the above units simply our favorites.
Some units require a HUB to control them which may be better when many bulbs are used. Kits that require no HUB are better in situations when only a few smart bulbs are needed.
Often single units that require no HUB are a good starting point since they are cheaper, and will give a user an over all view how a system works.