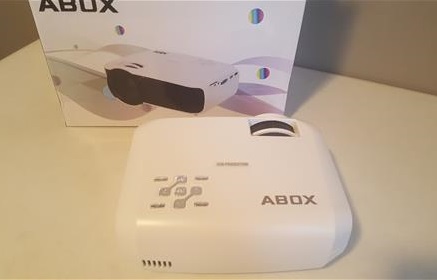 The T22 is a unit able to project video and images on a flat surface from most any source such as Fire TV Stick or laptop.
It has inputs for HDMI, SD Card, AV, VGA, and USB. This means any device that is plugged into the ABOX will have its screen project onto a wall.


The screen size can be up to 176 inches which makes it a very nice unit for watching movies, playing games, or simply watching football.
It is also very portable able to be used in a living room or moved outside to watch movies in the open.
*This unit was sent to me to review with my honest opinion and results below.
Specifications
Image size: 32-176 inches
Input: HDMI, SD, AV, VGA, and USB
Built-in Internal Speaker
Brightness: 2400 Lumens
The package comes with the projector, power cord, HDMI cable, user manual, AV converter cable, and remote control.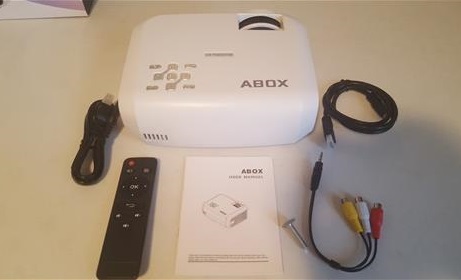 The side has ports for HDMI, SD, AV, VGA, USB, and Audio.

The bottom has 4 skid resistant pads and an adjustment screw to angle the projector up if needed.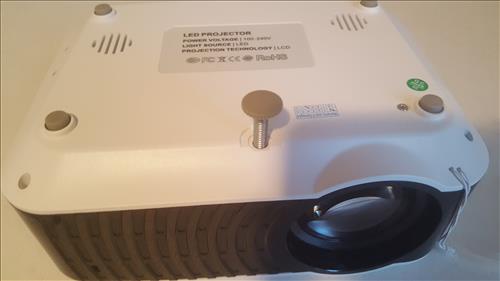 Powering it on and dimming the lights the menu options come up.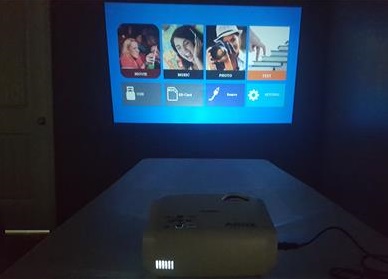 There are two adjustments on the lens one that focuses and one that tilts the image called a Keystone adjustment.
Menu options include Movie, Music, Photo, Text, USB, Sd-Card, Source, and Settings.

I hooked the unit up to an android TV box to test it out.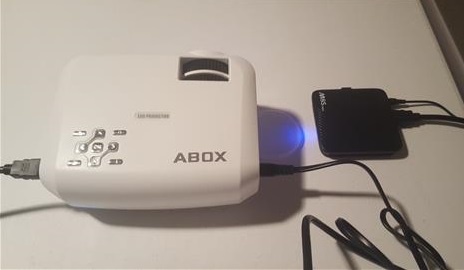 Selecting the Source option multiple inputs can be selected depending on what is plugged in.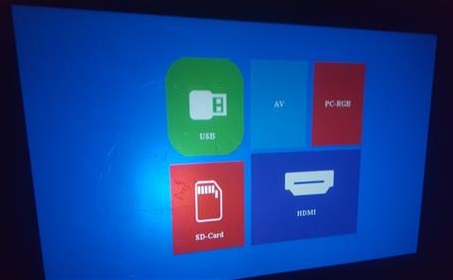 This includes USB, AV, PC RGB, SD Card, and HDMI.
Starting Kodi the display came up nicely with a minor adjustment to get the clearest screen.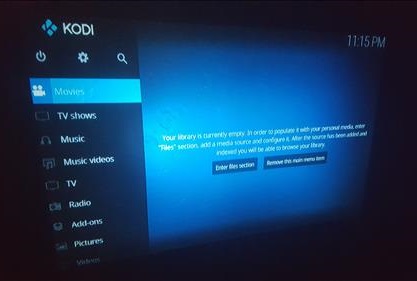 The walls I used to test the unit are a dark brown, while a home with white walls no doubt able to have a much better display.
Dedicate Projector Screens are used for the best results, but this depends on the wall color and texture with some results better than others.
While Projector Screens are low cost many people have had good results using a white sheet or similar.
Even though the walls I tested it on are a dark brown the image still came through very well.
The lights need to be dimmed for the best experience, while the screen can be seen with the lights on, it is much better with the lights off.
The built-in speaker also works well, although plugging in some good external surround sound speakers would be best for a theater experience.
The T22 is a nice projector for the money and able to display an a wall a huge screen to watch movies, play games, or give a slide show.
While it does work with the lights on it is best to at least dim the lights if not shut them off for a clear image.
It has many built-in features I have yet to try.
So far it has been working very well and my new go to for watching movies with an android TV box and Kodi.
It also works very well with the Fire Stick, Computers, or most any device with a video out.