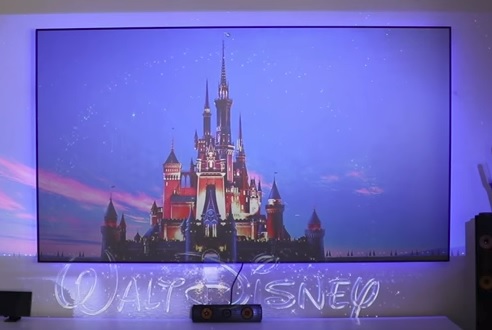 Setting up a home theater system that uses a projector is more than nice and can be the ultimate home media setup.
There are many projectors that can be bought, from low-cost budget units to expensive high-end models.
Once a projector is bought, many find that the surface it projects onto is just as important as the projector itself to get a good image.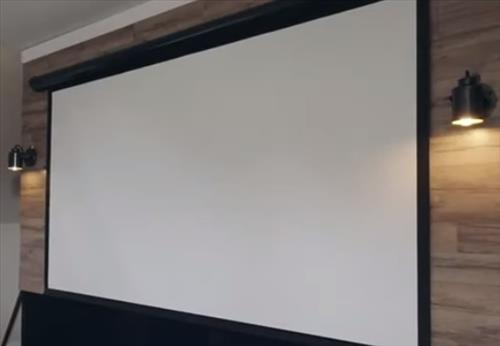 What is the Best Surface Material for a Projector?
A good surface to project onto is flat with lighter colors. This type of material is ideal for projecting the best image onto a wall.
A bed sheet can be hung up in a pinch but looks less than desirable as a permanent solution.
There are many types of projector screens available, with no single one being the best type.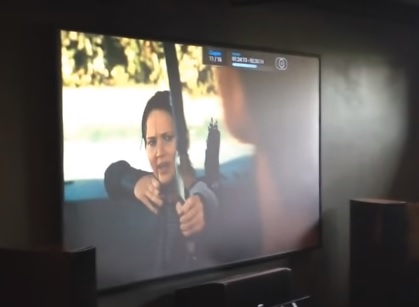 The best type will no doubt fit the scenario. For example, does it need to be permanent or stored away?
With that in mind, below are our picks for the best home theater projection screens.
As always, be sure to read reviews on Amazon or elsewhere to be sure a unit is a right pick for you.
*This post contains affiliate links.
Our Picks for Best Home Theater Projector Screen
Owlenz 100 inch

OWLENZ Newly arrvied, The Real 3.0 gain Home Theater Ambient Light Rejection Photon Projector Screen 100inch, Innovative Nano Ambient Light Rejection Material

This material is from Owlenz and is a basic low-cost option that works well when projecting an image onto it.

It includes only the screen material, which comes folded up like a sheet, along with hooks to hang it up and double-sided tape.

It is made of a polyester type of material that doesn't wrinkle, with most other screens made of a plastic type of material.

This is basically the same as a sheet but with very good material to project onto.

It makes for the best budget solution and is a good material for the DIY-type person to hang in a large frame or similar.


VIVO 100

VIVO 100″ Portable Indoor Outdoor Projector Screen, 100 Inch Diagonal Projection HD 4:3 Projection Pull Up Foldable Stand Tripod (PS-T-100)

VIVO makes this low-cost portable projector screen that is easy to set up and use at home or taken just about anywhere.

The screen size that can be projected is 60 X 80 and 100 inches diagonally.

It comes with a tripod which the screen hangs from and is pulled down to the bottom and clipped in place.

While it is not the biggest or best screen, it is very portable and easy to store away, making it a good fit in many scenarios.

It is a low-cost unit, so the build quality is not the best, but with care, it works well for the money.


Elite Screens

Elite Screens Manual Series, 120-INCH 16:9, Pull Down Manual Projector Screen with AUTO LOCK, Movie Home Theater 8K / 4K Ultra HD 3D Ready, 2-YEAR WARRANTY, M120UWH2

Elite Screens makes this nice unit that is mounted on a wall and pulled out when needed.

It is a nice permanent solution that pulls back up into the unit when not in use.

It has a huge viewable space that makes it nice when setting up one location for using a projector.

While it works well for many, there are some who have problems installing this type of unit. If going this route, be sure to read the reviews to make sure it is right for you.


STR-169110

STR-169110 Silver Ticket 4K Ultra HD Ready Cinema Format (6 Piece Fixed Frame) Projector Screen (16:9, 110″, White Material)

This unit is a good permanent solution that comes with a frame that is mounted on a wall.

The assembly is straightforward, but it does take some work to put together, be sure to get some help if needed.

It displays nice big images and videos up to 120 inches diagonal.


Summary

Having a home theater projector setup at home is a very nice thing to have.

As much as a projector is evaluated for performance, the surface it projects onto also needs to be considered.

Buying a screen is often the best option, with many different types and sizes available.

Keep in mind there are also other ways, such as building your own setup and simply buying the material.

Repainting a wall with Projection Paint is another option that works well for many.

The edges can even be framed to look like a standard screen.

See here for On Screen Projection Paint on Amazon.

Be sure to look at all the options available to find the best one for your home setup.