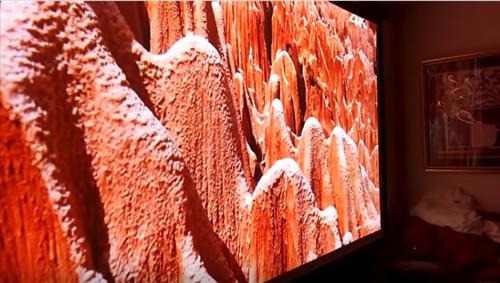 Home theater projectors have become very popular since they can display a huge screen on a wall or almost any flat surface.
This means there is no need to have a huge TV to get a theater experience while at home.
They are also very portable devices able to be set up almost anywhere as long as there is a flat surface to project onto.
For example, one can be set up in a backyard as easily as it can in a living room.
There are many units available, from ones that display from a laptop or smartphone to standalone units with the Android Operating system built-in.
Combining a media player such as Kodi with a projector can make for an incredible movie viewing experience, much like the old drive-in movie theaters once had.
Units that have the Android OS built-in can run Kodi or other streaming sources, such as YouTube or Netflix, with no other input source needed.
There are also many units that use an external source, such as a laptop and project.
Which type to use will no doubt depend on a home setup and is a personal preference.
With that in mind, below is some of our favorite options.
As always, be sure to read the reviews on Amazon, forums, or elsewhere to be sure a unit is a good fit for you.
*This post contains affiliate links.
Our Picks for the Best Android Home Theater Projector for Kodi
VILINICE 5000L

WiFi Projector,VILINICE 5000L Mini Bluetooth Movie Projector ,Portable Phone Projector with Wireless Mirroring,1080P and 240″ Supported, Compatible with Fire Stick,HDMI,VGA,USB,TV,Box,Laptop,DVD

The ILINICE 5000L is a home theater projector with a lot to like about it.

It has built-in 802.11ac WiFi, Bluetooth, Sd-card slot, USB port and much more.

It can play HD 1080p videos and has built-in speakers which can be hooked to external speakers if needed.

The unit has Miracast built-in to quickly mirror the screen from an Android Smartphone.

The VILINICE 5000L is a nice mid-range unit with a lot of good features.

AKASO WT50 Mini Projector

AKASO WT50 Mini Projector, 1080P HD Video DLP Portable Projector with Android 7.1, WIFi, Wireless and Wired Screen Sharing, Trackpad Design, Pocket Sized Home Theater Pico Projector for iPhone Android

The AKASO WT50 is a small mini projector that runs Android 7.1.

It is small, about the size of a smartphone but has some good hardware built-in, including dual-band WiFi.

SinoMetics Projector

Smart Projector by SinoMetics, with WiFi Bluetooth Apps, Android TV 8.0, Airplay Miracast Supported Video Projector, Portable Video Beam for Multimedia Movie Games – White

This mini projector from SinoMetics is a great unit built to be portable.

The CPU is a 1.6 GHz 4 Core which many Android TV box users are familiar.

It also has 1GB of RAM along with Android version 8.0 which makes it very versatile.

CAIWEI

Full HD Projector 4K Supported Wireless WiFi Bluetooth Android Screen Mirror Zoom,7200 Lumen LED Indoor Outdoor Theater 1920×1080 Video Projector for Laptop Game Console TV Box PS5 Wii Tablet DVD


This unit from CAIWEI is a good unit that works well.

It has built-in WiFi, Bluetooth, and can connect to Android devices such as a smartphone using Miracast.

The 7200 Lumen LED is very powerful and good for indoor and outdoor use.

Besides playing apps and streaming video on its own other devices can connect and be projected, such as a computer, smartphone, iPad, or

Summary
The above projectors are a few of the many available and simply some of our favorite options.

There is no doubt many other good units, so be sure to read reviews to find the best fit for you.

Home projectors are much better options than large screen TVs in many scenarios.

For example, that are easily moved around, such as being set up in a backyard.

Depending on the unit, they can also give a much bigger screen and can even play 3D and 4K Ultra HD video.

Of course, be sure to check what a unit is capable of projecting, as all units have different features.