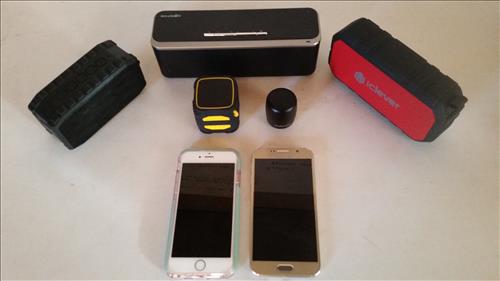 Bluetooth speakers have become very popular since they can be taken anywhere and sound very good.
While smartphones and tablets have a built-in speaker, they don't have anywhere near the level of sound a portable Bluetooth speaker can give.
Bluetooth speakers are a nice extension of a smartphone with many units having hands free calling and other features.
Below are some of our picks for the best Bluetooth units to use with a smartphone.
As always be sure to read reviews on Amazon, forums, or elsewhere to be sure a unit is the right pick for you.
*This post contains affiliate links
Our Picks for Best Bluetooth Speakers for a Smartphone
Dodocool Selfie

The Dodocool Selfie is a very small and low-cost Mini Bluetooth speaker.

Its small size makes it extremely portable and able to be taken most anywhere.

It also has a built-in mic for hands free calling. Another feature is a button on the it that will activate the camera on a smartphone remotely.

At less than $20 dollars it is a good unit for anyone who needs a portable low cost Bluetooth speaker.

MARSEE ZeroX

The MARSEE ZeroX is another nice low cost Bluetooth speaker that is also IPX6 waterproof.

Since it is highly portable and waterproof it makes for a nice unit to have while swimming or anytime water is near.

It is a nice and versatile unit that works well with a smartphone.

At less than $30 it is worth a look if you are on a budget.


Blitzwolf BW-AS1

BlitzWolf makes many nice Bluetooth speakers including the BW-AS1 which has a nice design and sound.

While it can be portable and has a 7-10 hour battery life its nice design also makes it a good home unit.

The buttons are easy to use along with hands free calling which allows calls to be done while walking about.

It is multi purpose unit that has a very nice sound with 20W Strong Bass speakers.


iClever 20W

iClever makes many good Bluetooth speakers including the BoostSound BTH05.

It is IPX5 splash proof and built solid for outdoor use.

The sound quality is amazing for such a mid-sized unit with two 20W speakers.

The built-in battery can last up to 8 hours of playtime.


Omaker W4N Portable Bluetooth 4.0 Speaker

The Omaker W4N is a mini ultra compact Bluetooth speaker that has a rugged build.

It is small which makes it highly portable and built with ABS along with a rubber coating.

It also has a 12-hour playtime with a built-in 1050mAh Battery.

The Omaker W4N is built for a person who is physical active and needs a solidly built speaker.
Summary
Having a Bluetooth speaker paired to a smartphone, android or iPhone, is a nice thing to have.
There are many units to choose from with those above simply ones we have used and like.
While many may go for a high cost unit they may be surprised how good the sound quality is from the many low cost options.
The units above are low to mid-cost units.
There are better higher cost units such as the Aiwa Exos-9 Bluetooth Speaker that would no-doubt be nice if you have the money to spend.
Any music played on the smartphone will automatically play on the speaker wirelessly, including from online sources such as YouTube or Pandora.
Other features such as hands free calling can also be of a real benefit in many scenarios.