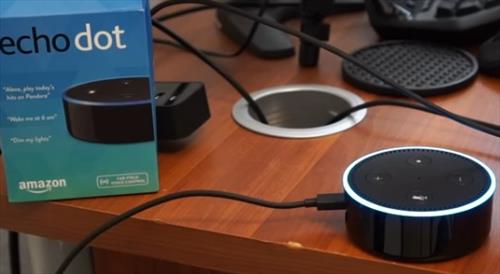 The Echo DOT with Alexa has become the go to controller for many smart homes with smart devices. Along with Alexa there are now many home electronics available to control with voice commands.
Everything from Bluetooth speakers to smart light bulbs are easily controlled with voice commands through Alexa.
One of the the more popular options is smart light switches which turn on and off anything the wall switch controls.
There are many units available with some of our favorite picks below.
Below is our picks for Smart Light Switches that work the the Echo DOT and Alexa.
As always be sure to read the reviews on Amazon, here, or elsewhere to be sure a unit is a good fit for you.
*This post contains affiliate links.
Our Picks for Best Echo DOT Alexa Smart Light Switches
TP-Link HS200

Kasa Smart Light Switch by TP-Link, Single Pole, Needs Neutral Wire, 2.4Ghz WiFi Light Switch Works with Alexa and Google Assistant, UL Certified, 1-Pack (HS200), White

TP-Link has been quick to create smart devices that can be controlled with Alexa which includes their Smart Light Switch.

Most of TP-Link's smart home electronics are very popular since they are low cost and require no HUB to use.

This includes the HS200 smart light switch which needs no hub and can be controlled with Alexa as a stand alone device.

Anything a wall switch turns on and off including ceiling fans and lights can be activated with Alexa.

TP-Link also has a smartphone app called Kasa which can control the switch as well.


Wemo F7C030fc

Wemo Light Switch, WiFi enabled, Works with Alexa and the Google Assistant (F7C030fc)

WeMo is another popular smart light switch option.

It connects to the WiFi network which can than be controlled by a Echo and Alexa.

Like other options a smartphone app can also be used to control it.

The setup requires first using the WeMo app then the Alexa app, which makes for a simple and quick setup


Insteon SwitchLinc

Insteon Smart Dimmer Wall Switch, Works with Alexa via Insteon Bridge, Uses Superior Dual-Mesh Wireless Technology for Unbeatable Reliability – Better than Wi-Fi, Zigbee and Z-Wave

Insteon SwitchLinc also works with Alexa but does require a hub to work which adds to the cost.

There are situations when using a hub as a go-between from the switch to a Echo is better than stand alone devices.

A hub usually is better when many smart electronics need to be controlled, most homes will not have a need for a hub.
Summary
Having smart home electronics such as outlets, thermostats, and light switches are not only fun but have very practical uses.
Wiring in a new switch is not difficult but does require handling 110/120 volts AC, so if in doubt be sure to call a professional.
Most wiring setups will be straight forward although some homes may not have a Neutral Wire which is required for most smart switches.
Having no Neutral Wire can be a problem in older homes when Neutral and the Ground wire were tied together and used interchangeably.
Most all modern homes will have a Neutral wire separate from Ground. Again be sure to call a professional if in doubt.
After wiring in a switch the setup for most all smart light switches first requires using an App that comes with the device. After the app is used for the initial setup the Alexa app can be used to connect for voice commands.
Each smart device will be given a unique name such as "Living Room Lights" or "Bedroom one Lights".
To control the lights a voice command is then given to a Echo by saying "Alexa Turn On Living room Lights".