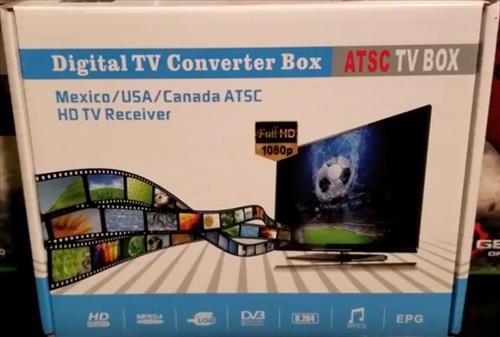 Having a digital converter box to watch free over-the-air TV is becoming very popular, especially with TV cord-cutters.
While online streaming is where most content is watched, a free over-the-air broadcast is also a very good option with lots of channels.
Is an HD Digital Converter Needed for Over the Air TV Signals?
Buying a converter box is not necessary if your TV has an ATSC Tuner built-in.
The problem is many new TVs no longer come with a built-in tuner which is an easy fix with a low-cost converter box.
A good converter box will also have many other features built-in such as recording, which makes them nice to have.
Below are some of our favorite picks for HD OTA converter boxes.
As always, be sure to read reviews on Amazon, here, or elsewhere to be sure a unit is a right pick for you.
*This post contains affiliate links.
Our Picks for Best HD Over the Air TV Digital Converter Boxes
ViewTV AT-263

Available Here on eBay
The ViewTV AT-263 is a good low-cost unit that is built well and can also record.

There is no built-in storage for recording, but it can use a Flash Drive to record TV shows or Movies.

The Flash Drive does not come with the unit, so be sure to buy one or two if you plan on recording.

The back of the unit has outputs for RF, Coaxial, HDMI, and Component, so it will have no problems hooking up to almost any TV.


The menu is simple and easy to use with options for Program, Picture, Channel Search, Time, Language, System, and USB.

The main option will be to search for channels, but there are many other features such as setting the aspect ratio or having a password.

The ViewTV AT-263 is a good over-the-air converter that can also DVR shows when combined with a flash drive.


Mediasonic Homeworx HW-150PVR

The Mediasonic Homeworx HW-150PVR is another good low-cost unit that also has many nice features.

Like many ATSC converters, it can record to an external flash drive or hard drive.

It can output RF, HDMI, or component video, so it will be able to input to almost any TV, old or new.

Mediasonic has several converter boxes, with the HW-150PVR one of the better ones.


UBISHENG ATSC Tuner

The UBISHENG Converter Box is another unit on our list that has a lot of built-in features.

The front has a slot for a USB flash drive along with control buttons.

The back has Antenna In/Out, Coaxial, HDMI and Component out.

The setup is easy that after connecting to a TV the channels are scanned and ready to be watched.


RCA DTA-800B1

This unit from RCA has been available for a while and used by many.

It is easy to hook up and is a simple signal conversion box

The unit is simple and to the point with no recording but does convert free TV signals well.

A universal remote is included, which also can be programmed to work with many TVs.

Vmade ATSC Set Top Box

Vmade builds this ATSC digital box that converts over-the-air signals to AV output.

It uses AV video, which is the Red, White, and Yellow jacks on the back of a TV.

It also can record to a USB device and plays back video in 1080p quality.

Summary
There are many good over-the-air TV converter media player boxes, most with added features that make them nice to have.

Many units will have multiple outputs to hook up to a TV, old or new such as Component, Coaxial, or HDMI.

They also can record digital TV to a flash drive or external hard drive, making them good for a DVR-like experience.

An ATSC digital converter box or Digital TV converter box will often have Dolby digital, electronic programming guide, LCD screen, etc.

They often use external storage such as a USB drive for USB multimedia.

The above units are some of our favorite options, with many more available.

Be sure to read online reviews to find a unit that is a good fit for your setup.