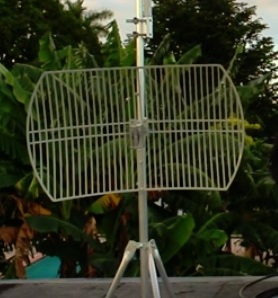 When looking for a long-range WiFi antenna there are a few things to know.
The first is that simply because an antenna is bigger such as a 15-20dBi, does not necessarily make it is better.
Here is an image of the range wireless antennas are most effective, compared with the length or dBi.


A 2dBi antenna is very effective at short range, while a 9dBi antenna is not effective at short range, but works very well picking up signals from a distance.
If you want the range to cover a home, a 2-5dBi antenna will be plenty enough if there are block walls or other interference, a larger antenna will not make the signal better.
If you live in a home that has many WiFi dead spots, then a WiFi booster would be a much better option, or upgrading to a better long-range router.
If you do need to get distance from your WiFi connection such as a detached garage, a longer antenna can be a good option. Getting a 7 or 9dBi antenna would be much better in this case.
Another thing to keep in mind is dual band routers which work in both the 2.4GHz and 5GHz frequencies.
The 5GHz frequency is not good at distance, so while it does have a faster transfer speed, it does not work as well as the old 2.4GHz range.
The 2.4GHz frequency is the best for distance, while the 5GHz frequency is the best for high-speed at close range.
*This post contains affiliate links.
Types of Long-Range WiFi Antennas
Yagi Antennas

NextG USB-Yagi Plug & Play 11N Long Range WiFi Antenna 2200mW

Yagi antennas are well known and good at getting a signal from a distance. In fact, they are widely used in the Pen Tester community when looking to check the security of a wireless router.

This big of an antenna will be overkill for many, but it is ideal for RV travelers, boaters, detached buildings, or any place trying to get the best distance from a WiFi signal.

Parabolic Antennas

Premiertek Outdoor 2.4GHz 24DBI Directional High-Gain N-Type Female Aluminum Die Cast Grid Parabolic Antenna (ANT-GRID-24DBI)

Like the Yagi antenna, Parabolic antennas are often used a lot for getting the best distance. Parabolic antennas are the definition of a Non-Omni-Directional antenna.

The difference is a parabolic antenna can be better when it is pointed directly at the source, but not good when not pointed at the source.

Getting the best signal is done by using an App and watching the signal strength. The antenna is turned until the best signal possible is being received.

This type of antenna is not very portable and is used in the same way the Yagi is used.

CC Vector Extended

CC Vector Extended Long Range WiFi Receiver System – Works with All Devices – Receives Distant WiFi and Repeats to All WiFi Devices in a New Location 2.4GHz

This unit from C.Crane is a long range antenna in combination with a WiFi extender.

It is rated to boosts a Wireless signal up-to 1/2 a mile.

The 15dBi parabolic antenna boosts a signal while a transmitter rebroadcasts a WiFi signal in the 2.4GHz band.

9-20 dBi SMA Antenna

SilverStone Technology High Gains Dual band WIFI antenna 5GHz 9dBi, 2.4GHz 5dBi with RP-SMA plug WAD21

This is a 9 dBi antenna that is cheap and is much more commonly used to upgrade a router or USB WiFi adapter for better distance.

It uses a standard screw-on SMA interface that is widely used in the WiFi industry. Some routers and USB adapters use proprietary interfaces, so if you go this route, be sure what type you have.

There are many similar 9dBi antennas that are cheap and can be a big improvement over a 3-4dBi antenna that many WiFi electronics come with.
Summary
There are many good antennas that can improve the range of a wireless signal.
Personally, I carry a 5dBI and a 9dBi antennas which I use with an Alfa USB adapter and my laptop. They are easy to screw on and unscrew when needed.
For example, if I am very close to a router, it takes me 10 seconds to screw on a 5dBi antenna and get much better coverage. But if I am at a location with my laptop and the WiFi signal is from a distance I simply screw on the 9dBi antenna and get better reception.
Hopefully, you are not on the go as much as I am and have a fixed location so you can dial in the correct antenna and not worry about it.
There are more expensive antennas that have a low dBi and high dBi side that can be bought and would be very good for a wide coverage area, near and far.
If you are very serious about your WiFi signal and want the best of both worlds, buying one of these would be your best option.