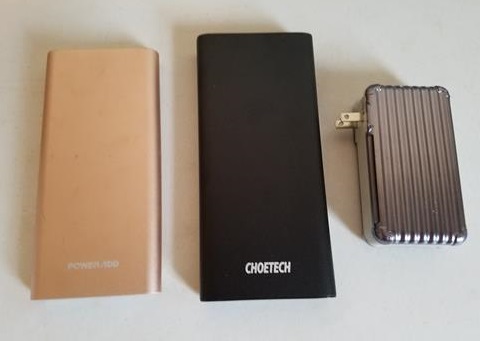 Many good portable USB Galaxy S22 power banks are available from small to large units with big internal batteries.
Most have Fast Charging technology and are geared toward charging both iOS and Android devices.
Since they have USB ports to charge devices, they can also be used with other electronics such as tablets and small laptops.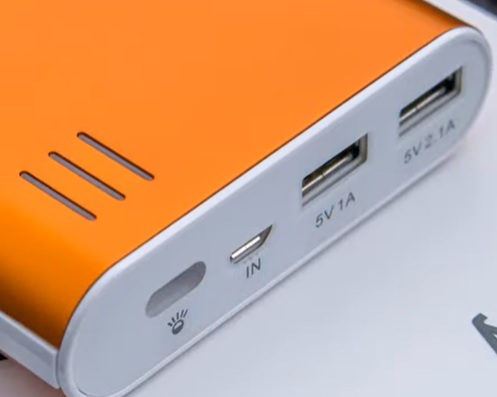 This means they can charge not only a Samsung Galaxy s22 but also tablets, iPads, laptops, and so on.
There are many good units available, with some of our favorite picks below.
As always, be sure to read the reviews on Amazon, forums, or elsewhere to be sure a unit is a good fit for you.
*This post contains affiliate links.
Our Picks for Best Portable USB Charging Power Banks
Anker Portable Charger, 313 Power Bank

Anker Portable Charger, 313 Power Bank (PowerCore Slim 10K) 10000mAh Battery Pack with High-Speed PowerIQ Charging Technology and USB-C


The Anker Portable Charger, 313 is a small portable 10,000mAh Power Bank with a standard USB port for charging.

It is built to be highly portable and able to be carried about most anywhere to get a quick charge when needed.

The build quality is also very good with a lot of thought to the details.

The USB-C and Lightning are input only and are for charging the power bank only and do not charge a smartphone.

The standard USB port with an adapter is used to charge a Galaxy S22.

It is a good unit when going out for the price since it is small and can charge a smartphone multiple times.

Baseus USB-C 10000mAh PD3.0 QC4.0 Fast Charger

Baseus PD 20W USB C Power Bank 10000mAh, PD3.0 QC4.0 Fast Charging


The Baseus PD 10000mAh is a nice low-cost unit that comes with a USB-C port a Galaxy S22 uses to charge.

USB-C is the new USB standard that has a smaller port size with faster data transfers and charging times.

The unit also includes 2 USB 3.0 slots to charge electronics that do not have the new Type-C port.

This makes it highly compatible with new smartphones or to charge older units.

10000mAh is a large capacity unit making it slightly bigger than many other USB charging power banks.

It is a good unit to have any time a big capacity charger is needed.

INIU Portable Charger, 22.5W

INIU Portable Charger, 22.5W PD3.0 QC4.0 Fast Charging LED Display 20000mAh Power Bank

INIU makes many good portable USB charging banks, including this 20000mAh 22.5 Watt unit.

It has 1 Type-C port and two standard USB ports giving it the ability to charge almost any smartphone or tablet.

Most new smartphones, such as the Galaxy S22, now come with a USB-C port which makes it very easy to charge phones and compatible tablets.

The two older USB ports let it able to charge most any electronics that have a standard USB cable.

Poweradd Pilot 4GS


The Poweradd Pilot 4GS has a big 20000mAh battery.

It also has Fast Charging and can supply up to 3 Amps at 5 Volts, along with auto detect for the right voltage to use depending on the device plugged in.

It can use an Apple Lightning or an Android Micro USB power plug to charge it up, and has two USB ports to charge other devices from.

The big built-in battery, ability to charge with different style plugs, and low cost make it a good unit for the money.

AUKEY 20000mAh

The AUKEY also has a large internal 20000mAh battery along with Quick Charge 3.0 technology.

It can be charged with a Lightning or Micro-USB cable and has 2 USB Outputs.

It is a square unit that has a large internal 20000mAh battery that gives a lot of portable charging power when needed.

Aibocn PC881

The Aibocn PC881 is a small, very portable, low-cost power bank.

It has an 8000mAh battery and has one USB port to charge devices with.

The small size makes it very easy to carry about and makes it a good low-cost emergency power bank for a smartphone or tablet.
Summary
With the many good Galaxy S22 power banks available, choosing the right one comes down to budget and the right fit for the scenario.
If you only need to get an extra boost once in a while, most any low-cost unit will work.
Units larger than 20000mAh have a lot of charging power and maybe more than most need.
The type of USB charging port will also need to be considered since the Galaxy S22 uses a USB-C port. While an adapter can be used, some users may be a nuisance.