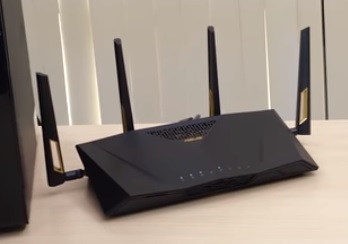 WiFi-6 also called 802.11ax is the newest WiFi protocol introduced with new routers that have fast hardware.
New routers that have the new WiFi-6 built-in are now available with many improvements over previous WiFi versions.
Improvements include up-to 4X faster data rates, increased capacity, better performance in dense environments, Improved power efficiency and better latency times.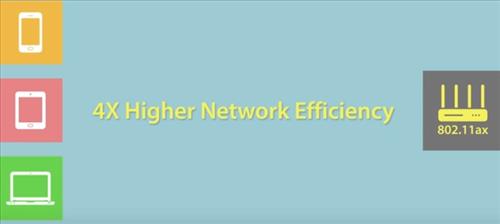 WPA3, the replacement for WPA2 encryption is also being introduced giving a much-needed boost to wireless security.

What is WiFi-6 802.11ax?
WiFi-6 is the latest WiFi protocol and the replacement for the older Wireless-AC and Wireless-N.
Originally called 802.11ax, it has been renamed WiFi-6 to give a simpler name in the hopes of making wireless protocols easier to understand.
Older protocols have also been renamed such as WiFi-5 for 802.11AC and WiFi-4 for 802.11N.
Whatever it is called, it is the newest generation of the ever-evolving wireless protocols with better speeds and security than previous versions.
Should You Upgrade Your Router to WiFi-6?
If your current WiFi setup is working well for you there is no need to rush out and get a WiFi-6 router.
802.11AC routers now called WiFi-5 still work well and may even have a firmware update to get better speeds and security.
In fact, many fast 802.11AC routers have dropped in price and now a bargain compared to when they were introduced.
For those with an older Wireless-N (802.11n) router, it is likely time to upgrade.
Wireless-N was introduced in 2009 and while at the time a big improvement it is now very dated except for legacy devices.
New routers are backward compatible so will still work with any older devices still being used.
There are many units available with the ones below our top picks for the new WiFi-6 routers.
As always be sure to read reviews on Amazon, here, or elsewhere to be sure a unit is the right pick for you.
*This post contains affiliate links.
Our Picks for Best WiFi-6 802.11ax Wireless Routers 2021
NETGEAR Nighthawk AX5400 WiFi 6 Router (RAX50)

NETGEAR Nighthawk 6-Stream AX5400 WiFi 6 Router (RAX50) – AX5400 Dual Band Wireless Speed (Up to 5.4 Gbps) | 2,000 sq. ft. Coverage

The NETGEAR Nighthawk RAX50 is a router that has very fast wireless speeds with WiFi-6 802.11ax protocols.

It has a new design with four movable antennas and the controls in the center.

It can handle up to 20 streaming clients with no issues making it ideal in a busy home or small office.

A nice feature is it can create a single SSID for both 2.4Ghz and 5Ghz frequencies which works seamlessly.

The RAX50 also works well with older legacy devices and even has VPN options.

D-Link WiFi 6 Router AX4800

D-Link WiFi 6 Router AX4800 MU-MIMO Voice Control Works with Alexa & Google Assistant, Dual Band Gigabit Gaming Internet Network (DIR-X4860-US)

The AX4800 is a new WiFi-6 router from D-Link who makes many good routers.

It has a lot of built-in features such as vioce control with Alexa and Google Assistant.

The AX4800 is a dual-band router with up to 6 simultaneous streams which makes it a good unit in a busy WiFi enviroment.

NETGEAR Nighthawk AX12 (RAX120)

NETGEAR Nighthawk AX12 12-Stream WiFi 6 Router (RAX120) – AX6000 Wireless Speed (up to 6Gbps) | Coverage for Large-to-Very Large Homes, 3500 sq. ft. | 4 x 1G, 1 x 2.5/5G Ethernet Ports | 2 x 3.0 USB

Netgear is known for their WiFi routers with one WiFi-6 version called the Nighthawk RAX120.

It has all the newest WiFi technology and protocols and like all Netgear routers will have good support such as Firmware updates.

The processor is a 2.2GHz Quad core along with 160MHz channel support that can give Gigabit WiFi speeds.

The unit is shaped with wings and has 4 antennas built into them.

The back has 4 Ethernet and 1 WAN Ports, 2 USB 3.0 along with a power button.

The Nighthawk RAX120 is also backward compatible so will work with older devices.

ASUS RT-AX88U

ASUS RT-AX88U AX6000 Dual-Band Wifi Router, Aiprotection Lifetime Security by Trend Micro, Aimesh Compatible for Mesh WIFI System, Next-Gen Wifi 6, Wireless 802.11Ax, 8 X Gigabit LAN Ports

The ASUS RT-AX88U has WiFi-6 (802.11ax) built-in along with many other features.

It has 4 MU-MIMO antennas along with Beamforming.

The RT-AX88U runs a 1.8GHz Quad Core SoC processor with 1GB of RAM.

The back of the unit has a USB 3.1 port, 1 WAN, 8 Gigabit LAN ports, WPS, Reset and Power button.

ASUS uses WRT Firmware for their routers which give them many nice features such as prioritizing usage for a device over others, or running a VPN router using OpenVPN protocol.

ASUS ROG Rapture

ASUS ROG Rapture GT-AX11000 AX11000 Tri-Band 10 Gigabit WiFi Router, Aiprotection Lifetime Security by Trend Micro, Aimesh Compatible for Mesh WIFI System, Next-Gen Wifi 6, Wireless 802.11Ax, 4x Giga

The ASUS ROG Rapture is a bit of overkill for most and is a top-end gaming router built for speed with many extra features.

It will lock in 1 of the 15 5GHz WiFi channels which will only be used for gaming and automatically finding the least congested one to use.

The unit is also a whole home WiFi router built to handle many multiple connections simultaneously without slowing down.

It has eight WiFi antennas which are able to give many devices their own antenna for receiving and transmitting data.

It uses a 1.8GHz 64 bit Quad Core CPU and has a 2.5G gaming port.

There is also a built-in dedicated VPN that doesn't slow down the rest of the router connections when in use.

TP-Link AX6000

TP-Link AX6000 WiFi 6 Router, 8-Stream Smart WiFi Router – Next-Gen 802.11ax Router, 2.5G WAN Port, 8 Gigabit LAN Ports, MU-MIMO, 1.8GHz Quad-Core CPU, USB 3.0, Free HomeCare(Archer AX6000)

TP-Link also has a WiFi-6 router called the AX6000.

It has a 1.8GHz 64-bit quad-core processor with 2 co-processors and 1GB of RAM.


The AX6000 has many nice features built-in such as parental controls, active content filtering, real time anti virus protection and more.


VANIN AX1500

WiFi 6 Router- AX1500 Dual Band AX WiFi Router, Next-Gen WiFi 802.11ax, Supporting MU-MIMO, Mesh and OFDMA, 1xWAN Port/4xGigabit LAN Ports, WPA3, WPS Ideal for Online Gaming/4K UHD Streaming

The VANIN AX1500 is a good entry router that has the new WiFi-6 AX protocols.

It is dual band, has WPA wireless security, and 4 antennas for WiFi.

While not a top-end router it will be good for those needed a basic unit without braking the bank.

It is a good upgrade from older routers for a home with basic internet and WiFi usage that want to update to the new more secure and faster protocols.

TP-Link WiFi-6 AX3000

TP-Link WiFi 6 AX3000 Smart WiFi Router – 802.11ax Router, Gigabit Router, Dual Band, OFDMA, MU-MIMO, Parental Controls, Works with Alexa(Archer AX50)

The TP-Link WiFi-6 AX3000 router is built for speed in a busy wireless environment

It has 4 external antennas and a dual-core CPU that makes it able to handle many connections at once.

The back has power, 1 WAN Ethernet port, 4 Ethernet LAN Ports, 1 USB, along with WPS and reset button.

The AX3000 also as many nice features such as parental controls.
Summary
The new WiFi-6 has many advantages over previous wireless protocols.
Like all the past versions each had better speeds and security making them nice upgrades.
Depending on how busy a home or office you have, it may not be necessary to upgrade, unless better speed, security, and control is needed.
If you have a WiFi-5 (802.11ac) router waiting for the prices to drop may be a good idea.
For those with the older WiFi-4 (802.11n) router upgrading to a new unit will see a big improvement.
Have you upgraded to WiFi-6? Let us know your thoughts in the comments below.