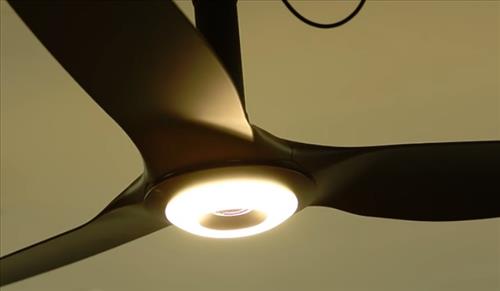 Ceiling fans have been around for a very long time with little change in how they operate.
Most work with a pull switch which often has different speeds, and a light at the bottom is also operated by a pull switch.
There are many new units that have the same features but are smart ceiling fans which can be controlled with voice commands, smartphone app, or a remote.
There are many available that come in all sizes and shapes and price ranges to fit into any home.
Below is some of our favorite picks with no-doubt many more available.
As always be sure to read reviews on Amazon, here, or elsewhere to be sure a unit is the right pick for you.
*This post contains affiliate links which at no cost to you allows us earn a commission on product purchases.
Our Picks for the Best Smart Ceiling Fans
Haiku Home L Series (Best High-End)

Big Ass Fans Haiku L Smart Ceiling Fan, 52″, White

Haiku Home L Series ceiling fans are high-end sleek very nice units.

They work with an app or Amazon Alexa and have lots of features.

A light is built-in that changes brightness and can be dimmed up or down with the touch of an app.

They are also very well built and don't wobble like most other fans.

The downside is the price while very nice fans the L Series are not cheap and may be out of most price ranges.

If you want one of the best smart ceiling fans available the Haiku Home L Series it worth a look.



Hunter 59376 Symphony (Best Mid-Range)

Hunter Symphony Indoor Wi-Fi Ceiling Fan with LED Light and Remote Control, 54″, White

Hunter makes many good ceiling fans including the 59376 Symphony.

It works with Alexa and can be setup with WiFi and used with Siri.

The wireless setup is on the 2.4Ghz frequency and connects with an app from a smartphone or tablet.

It is a nice fan that works in a variety of smart home setups.

Hunter also has many other very nice fans high-end and mid-range to fit most any home.


Lcaoful SL10082 (Best Budget)

Lcaoful Home 36″ Smart Alexa Ceiling Fan Work with Alexa and Google Assistant, Dual-Finish Wood Blades and White Glass Lampshade – Satin Nickel

The Lcaoful SL10082 is a nice unit for those who are looking for an affordable smart ceiling fan.

It as a nice look with a light at the bottom.

It can be voice controlled with Amazon Alexa or with a smartphone app.

A remote control is also included if needed.
How Hard is a Smart Fan Ceiling To Install?
Installing a ceiling fan falls in the do-it-yourself category.
It does require wiring in the fan with most all units using 115 volts AC.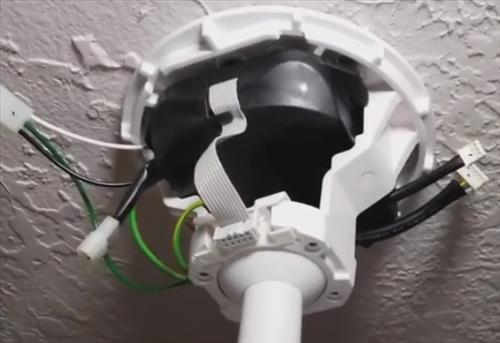 There will be 3 wires to hook up including white, black and green for ground.
A holding mount will need to be bolted to the ceiling electrical box and holds the fan.
If you are a handy type of person it should not be too difficult to install one.
If in doubt, be sure to call a professional or someone who can help install a unit.
Keep in mind there are switches and other devices that will turn any ceiling fan into a smart unit.
For example, the BOND BD-1000 links to a fan on the same frequency as the fan remote and controls it with voice commands.
BOND BD-1000 on Amazon
BOND | Add Wifi to Ceiling Fan, Fireplace or Somfy shades | Works with Alexa, Google Home | Remote Control with App | Works with iPhone or Android


There is also smart wall switches which can turn any fan into a smart unit.
Smart Ceiling Fan Switch on Amazon
MOES WiFi Smart Ceiling Fan Switch APP Remote Timer and Speed Control Compatible with Alexa and Google Home No Hub Required



Summary
There are many smart fan units available with those above simply some of our favorite options.
Many are top-end very nice units that will no doubt have a very nice look.
There are controllers that can modify the wiring and control older fans that are not smart units.
This can be a good option especially for those on a budget and wanting simple voice controls or an app for control.
For those who want a unit with built-it controls most all work well with the look and design more important.