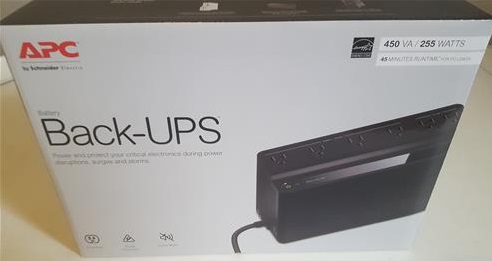 The APC by Schneider Back-UPS 450 is a 6 outlet UPS that gives battery backup and surge protection.

APC is a known UPS (Uninterruptible Power Supply) manufacture that has many good units small and large.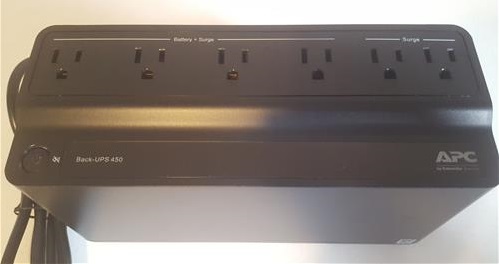 The UPS 450 is a small-to-mid size unit good for a home or small office.

Specifications
6 Outlets Total
4 Outlets Surge and Battery
2 Outlets Surge
450 Amps
255 Watts
120 Volts

The box comes with the unit and instructions.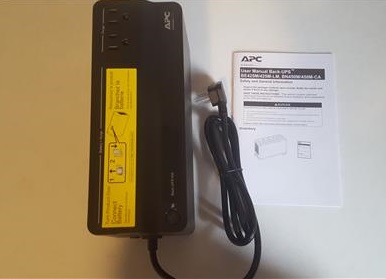 The top has a yellow sticker over 4 outlets that give instructions to plug in the fuse on the bottom of the unit.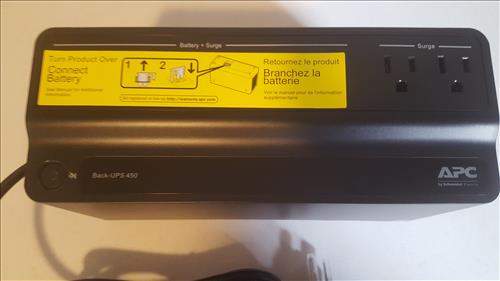 The 4 covered outlets are both Surge and Battery backup outlets. The other two are Surge only outlets.

A fuse at the bottom needs to be plugged in for the backup battery to work.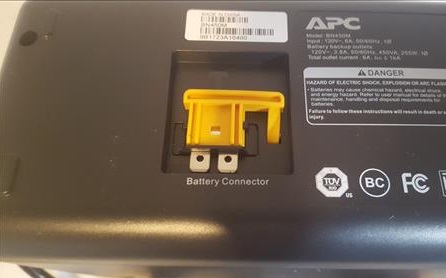 It is in a rubber holder and is easy to insert by pushing it into place.



After plugging in the fuse the plastic sticker can come off and the unit is ready to be used.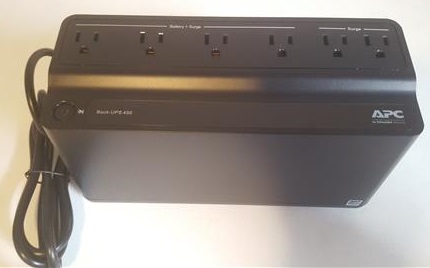 How Long Will It Power Electronics During an Outage?
The UPC 450 is a 255 Watt unit so the devices plugged into it will need to be known and calculated.

Here are some basic examples of the Watts used on some devices.

The average modem and router use 10 Watts which would give them 2.3 Hours of use from the internal battery.

A entry level PC with a 20 inch LCD is roughly 40 Watts which would last 45 Minutes.

These are rough generalization with each device having different power needs.

Summary
The APC UPS 450 is a good UPS to use at home or a small office with 1-2 computers.

There are smaller and larger units if needed which can match most any environment.

The main function of any UPS is to provide power and protect a unit during a outage which the UPS 450 will do easily enough.

It also has many nice features such as the ability to control the alarm sound which as many know can be annoying at times.

I am still testing the unit so far with good results and will update if anything changes.

As always be sure to read the reviews on Amazon or elsewhere to be sure a unit is a good fit for you.