The Aukey 20000mAh is a low cost portable charger built to charge most any device from a built-in 20,000 mAh battery.
This unit was sent to me to review with my honest opinion and results below.
Specifications
Battery: 20000mAh
Lightning Micro USB Input: 5V 2A
Output 1: (Quick Charge 3.0): 3.6-6.5V 3A, 6.5V-9V 2A, 9V-12V 1.5A
Output 2: (AiPower): 5V 2.4A
Size: 5.9" x 3.2" x 0.8"
Weight: 13.7 oz
The box comes with the charger, instructions, and charging cable.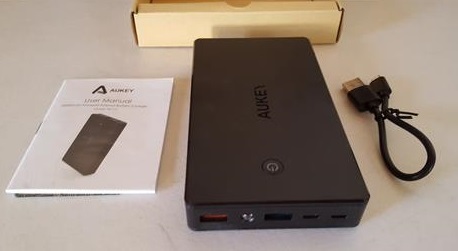 It has two inputs for charging the internal battery using a lightning connector or micro USB connector. This makes it compatible with Apple or Android charging cables and devices.


There is two output ports to charge devices with, one USB 3.0 Qaulcomm Quick Charge port, and one AiPower port.
The Quick Charge 3.0 Port is nice if you have a compatible smartphone such as the Galaxy S7, S8 or similar.
Any of the charging ports can be used to charge a device with Quick Charge 3.0 backward compatible with previous technologies such as Quick Charge 2.0.
It also has AiPower which is a technology that detects the device plugged in and the best charging current to charge that device.
The built-in battery 20,000 mAh is a lot of capacity to charge smartphones and tablets.
For example, it can charge an iPhone 8 3-4 times, or a 9.7-inch iPad Pro 1-2 times.
Since the battery has such a large capacity it takes awhile to fully charge, around 10-11 hours for a full charge depending how low it is.
It is a great all around portable charging bank that will work with most any smartphone or tablet.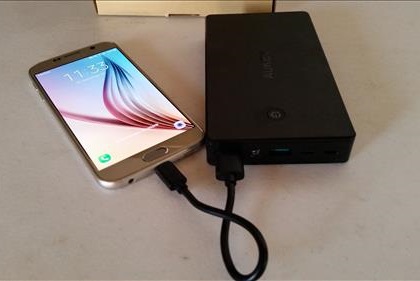 *This post contains affiliate links.
Read More Reviews Here on Amazon
AUKEY 20000mAh Power Bank, Portable Charger with 2 Inputs, 3.4A Dual-USB Output Battery Pack Compatible iPhone Xs/XS Max / 8 / Plus, iPad Pro and More
Summary
I am still testing the AUKEY power bank so far with very good results.
It is very nice to have such a large capacity battery that can charge any of my devices quickly when no power is available.
There are smaller units that have less charging capacity but the AUKEY is a good combination of portable size and power.
Be sure to give it time to charge before using as the large internal battery can take some time to replenish itself depending how depleted it is.
As always be sure to read the reviews on Amazon or elsewhere to be sure a unit is a good fit for you.