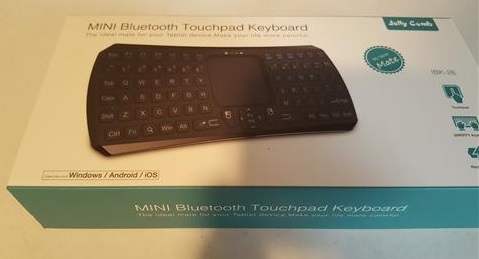 The Jelly Comb Mini Bluetooth Keyboard is a small unit that is compatible with many devices.
It works with Android TV boxes, smartphones, Windows 10, Xbox 360, PS3 and many more electronics.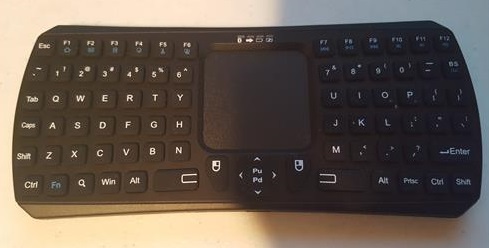 It is a small unit with a Touchpad in the middle to move a mouse cursor around.
The size is roughly the same as a smartphone which makes it an easy fit into most any ones hands.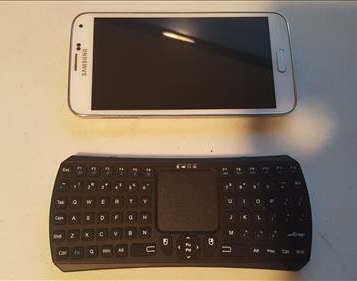 This makes it a good unit to use in many senarios such as a remote control with a Android TV box or Kodi.
It would also be a good portable keyboard for a smartphone or tablet.
This unit was sent to me to review with my honest opinion and results below.
Specifications
Bluetooth 3.0
Operating Range: 10 Meters / 33 feet
Touchpad
Supported Operating Systems: Android / Windows
Battery Capacity: 250mAh
Continuous Work Time: 15 hours
Material: ABS
Keyboard Layout: Standard QWERTYB keyboard layout
It comes with the controller, USB charging cable, and instructions.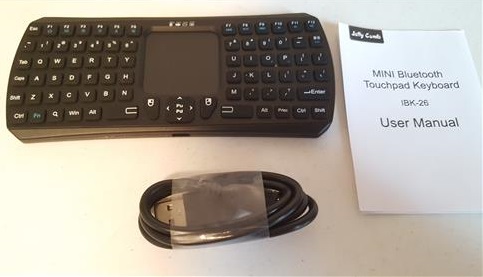 The top has the power on/off and Bluetooth button.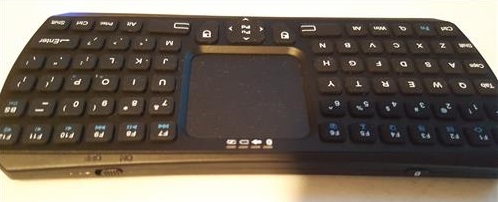 Pressing the Bluetooth button at the top of the keyboard flashes a blue light which puts the Keybaord into Paring mode.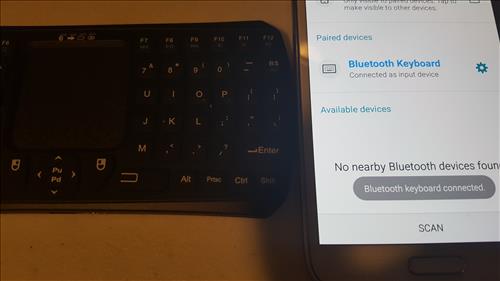 Paring is easy by going into Bluetooth settings on your device and clicking Pair.
I Paired to an Android TV box, Android smartphone, and Windows 10 Laptop all worked very well with the unit.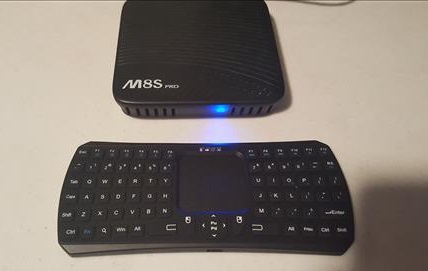 This mini Keyboard remote was the first I have used with the keypad in the center but it is well placed and works very good.
Touching the keypad the mouse arrow automatically comes up and moves about as needed.
The keys are all very responsive and I had no problems quickly moving about and typing when needed.
It is a good low-cost unit that no doubt will be a good fit in many scenarios.
*This post contains affiliate links.
Read More Reviews Here on Amazon
Mini Keyboard, Updated Wireless Mini Keyboard with Touchpad Mouse and Multimedia Keys : Jelly Comb 2.4Ghz USB Rechargable Handheld Remote Control Keyboard for PC, HTPC, X-Box, Android TV Box,Smart TV
Summary
The Jelly Comb Mini Bluetooth Keyboard is a good unit that can be used as a remote control or as a portable Keyboard.
It quickly Pairs with any Bluetooth device such as an android TV box or smartphone, and also work well with Windows 10.
If you are going to use it with Windows 10 be sure your computer has Bluetooth built in or buy a low cost Bluetooth dongle.
I am still testing the unit so far with good results and will updated if anything changes.
As always be sure to read the reviews on Amazon or elsewhere to be sure a unit is a good fit for you.