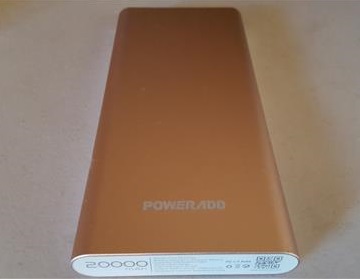 Having a portable Power Bank for charging smartphones and tablets is a very nice option to have, especially for those on-the-go a lot.
There are many available that come in all sizes, shapes, and colors.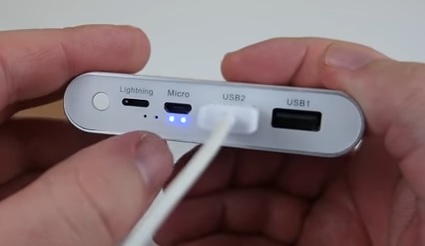 The Poweradd Pilot 4GS is one such Power Bank with a lot of storage, 20000mAh along with Smart Charging, and Fast Charging technology.
*This unit was sent to me to review with my honest opinion and results below.
It comes with the unit, instructions along with a Lightening and Micro USB cables.


The unit has a long sleek look and is available in Rose, Gold, or Silver.
The built-in battery is charged with a Lightening or Micro USB cable which are included, and can also plug into the USB port to charge a smartphone or tablet.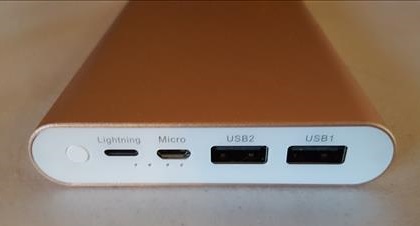 The two USB ports are used to charge any iPhone or Android smartphone or tablet.
The Poweradd has Smart Charge technology which auto detects the device and the right amperage to charge it with.
For example a Galaxy S10 can use Fast Charging while an older S7 would default to a slower charging rate.
It can supply up to 3 Amps and 5 Volts while Fast Charging and will auto detect the right voltage to use.
Testing it I plugged in a small Amp and voltage monitor with the Poweradd Pilot 4GS staying at 5 Volts DC.

The Smart Charging regulated the Amps depending on what was plugged in.


It has a total current rating for 3.6 Amps.
The built-in 20000mAh battery is large compared to many other charging banks and has a lot of charging power.
For example, a 20000mAh battery will provide roughly 7-8 charges for an iPhone SE, 4-5 charges for a Samsung Galaxy S10, and 2-3 charges for an iPad Mini.
*This post contains affiliate links.
Read More Reviews Here on Amazon
Poweradd Pilot 4GS Plus 20000mAh Power Bank with 8-Pin& Micro Input, 3.6A Fast Charger for iPhone, iPad, Samsung, LG, HTC and More – Rose Gold (MFi 8 Pin, USB Cable Included)
Summary
The Poweradd Pilot 4GS Plus is a very nicely designed and powerful portable charging bank.
Since it uses USB to charge devices it is compatible with most any small electronics from Apple to Android units.
I am still testing the unit so far with very good results and will update if anything changes.
As always be sure to read the reviews on Amazon, forums, or elsewhere to be sure a unit is the right pick for you.