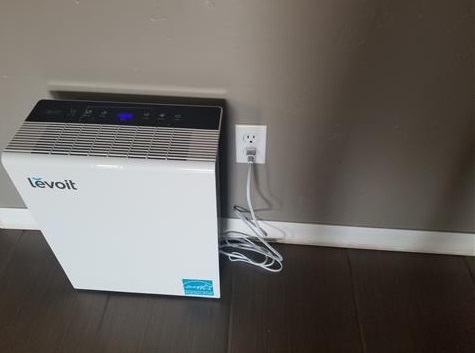 Air purifiers are a nice thing to have to help keep the inside air clean in a home or office.
Many air purifiers now come with built-in WiFi that uses an app or voice commands with Alexa or Google Assistant.
There are many wireless units available with those below some of our favorite options.
As always be sure to read reviews on Amazon, here, or elsewhere to be sure a unit is the right pick for you.
*This post contains affiliate links.
Our Picks for Best Best Smart Air Purifier with Built-in WiFi
LEVOIT LV-PUR131S

LEVOIT Smart WiFi Air Purifier for Home Large Room with True HEPA Filter,Air Cleaner for Allergies and Pets,Smokers,Mold,Pollen,Dust,Odor Eliminators for Bedroom,Energy Star,Work with Alexa,LV-PUR131S

Levoit makes many good air purifiers including the Levoit LV-PUR131S.

It is a Smart unit with built-in WiFi along with an app for controls called VeSync.


The smartphone app is easy to use with on-off button and other features.

It the unit also works with Amazon Alexa and Google Assistant making it able to work with voice commands.

It has Hepa and Charcoal filters to clean the air of a lot of toxins.

The unit is rated for a room up to 300 Square feet.

The Levoit LV-PUR131S is a good unit that works very well cleaning the air along with wireless controls.




Germ Guardian CDAP4500BCA

Germ Guardian CDAP4500BCA 22" 4-in-1 WiFi & Bluetooth Smart Voice Control Air Purifier for Home, Smart AQM, UV-C, Filters Allergies, Dust, Pet Dander, & Odors, 3-Yr Wty, GermGuardian, Black

The Germ Guardian CDAP4500BCA has WiFi and Bluetooth built-in.

It is a tower unit and has 5-speed settings from low very quiet to high.

A smartphone app can be used to control the unit which is easy to use with power, UV mode, timer, and fan speed.

It can also be set up with Alexa or Google Home Assistant.




RabbitAir MinusA2 Ultra Quiet HEPA Air Purifier

The RabbitAir MinusA2 is a popular and unit has a few different version.

It is a flat square unit that has a lot of air cleaning power.

It can keep the air clean in a space up to 700 square feet.

There is an app to control the unit over the WiFi that controls the fan speed, light, modes and more.

The RabbitAir MinusA2 is a great unit that can be mounted on a wall out of the way and controlled over a wireless connection.
Summary
There are many good wireless air purifiers with those above simply some of our picks.
How big a space that needs the air cleaned should be considered before buying a unit.
A small bedroom likely will only need a small unit while a kitchen or living room will need more capacity.
Most units will have an app and can also be controlled by Alexa or Google Home Assistant.
Do you have a favorite wireless air purifier? Let us know in the comments below.