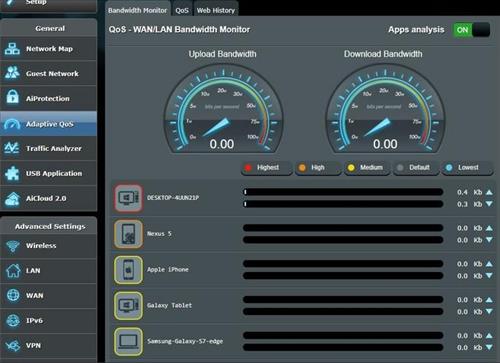 For years anyone with an internet connection could download as many files as they wanted, but now with companies such as Comcast implementing data caps this is changing.
Much the way data usage needs to be monitored on a phone now the same may need to be done at home.
If you only use one device to get online at home than data used can easily be monitored.
But how do you monitor bandwidth used across many devices?
Monitoring all the data in a home requires going to the source which is the router.
Since all the data in a home must go through the router logging the bandwidth as it passes though it is ideal.
Can Your Current Router Log Data Usage?
The only way to find this out is to look at the router manual. Its specification should be online also.
Unfortunately, most routers do not have built-in data managing capability.
There is Open Source Firmware software that may be able to give your router this option. DD-WRT and Tomato are the most popular.
Using DD-WRT or Tomato are good options if you have a compatible router and a bit of technical knowledge.
There are also routers that come with built-in monitoring tools that can be bought.
We list some router below that have types of nadwitdh monitoring.
Keep in mind sometimes firmware updates can change options so be sure to read reviews on Amazon, forums, or elsewhere to be sure a unit is the right pick for you.
*This post contains affiliate links.
Routers That Can Monitor Data Bandwidth Usage
ASUS Whole Home Dual-Band AiMesh Router (AC1900)

ASUS Whole Home Dual-Band AiMesh Router (AC1900) for Mesh Wifi System (Up to 1900 Mbps) – AiProtection Network Security by Trend Micro, Adaptive QoS & Parental Control (RT-AC68U)

ASUS has Adaptive QoS built into many of their router which manages data.

The RT-AC68U is one such router with many good options to manage bandwidth usage.

If you are looking for a good router with the 802.11ac dual band technology along with many nice control features the ASUS RT-AC68U is worth a look.


TP-Link AC1750 Smart WiFi Router

TP-Link AC1750 Smart WiFi Router – Dual Band Gigabit Wireless Internet Routers for Home, Works with Alexa, Parental Control&QoS(Archer A7)

UPDATE: The new firmware update to Version 3 has removed AC1750 IP-based bandwidth control.

The TP-LINK makes many good routers that can support the new 802.11ac and is a dual band router.

It also has IP-based bandwidth control which makes it easy for you to manage the bandwidth of devices connected to the router


Linksys WRT AC3200

Linksys WRT AC3200 Open Source Dual-Band Gigabit Smart Wireless Router with MU-MIMO, Tri-Stream 160 (WRT3200ACM)

The popular Open Source firmware DD-WRT can be bought pre-installed in a router.

DD-WRT has many more options than simply controlling bandwidth, such as being used as a bridge or VPN.

Also DD-WRT can limit a device based in IP address or Mac address with a Mac address built-in to a device much harder to change.

Even though DD-WRT has many more options than other packaged routers it does come with a degree of technicality that may not be for everyone.
Summary
Having control over your home or office bandwidth usage is becoming more important.
Also having control over who is using a router along with the amount of data they can use is beneficial in a variety of scenarios.
A router that can limit or shut off devices from bandwidth hogs around your home is a good option to have.
There are many good routers available so be sure to read the reviews on Amazon, forums, or elsewhere to be sure a unit is a good fit for you.