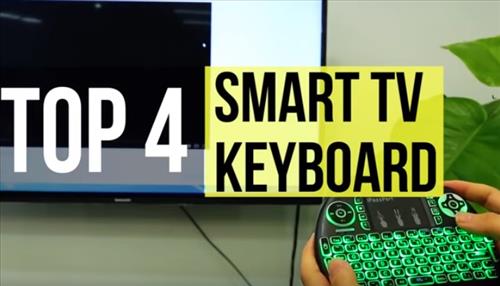 The default remote controls that come with a Smart TV work well enough but there are better options including wireless keyboards.
Wireless compatible keyboards come in all shapes and sizes and can be used to control a TV easily.
This is usually done by plugging in a small USB dongle into the TV and activating the keyboard.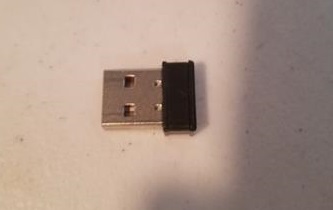 Controllers can also have built-in Bluetooth that Pairs with a TV.
Some TVs come with a keyboard while others don't and simply come with a remote control.
Whatever you are using to control your Smart TV there are many options when it comes to wireless keyboards and mouse controls.
Many of these packages come in a keyboard, mouse, touch-pad combination and have all types of different layouts and designs.
What Type of Smart TV Wireless Controls are There?
Bluetooth
Wireless 2.4GHz Frequency
The keyboard combinations work the same as they do for a wireless mouse or keyboard working with a desktop PC.


They usually use a 2.4GHz USB dongle or Bluetooth remote that transmits to the TV.
Be sure to check your documentation that came with the TV to see what features it has for input controls.
Some TVs will have Bluetooth built-in and be able to use a Bluetooth keyboard while others will need to use a 2.4GHz dongle.
Some models may have a proprietary system depending on the manufacturer that may not be compatible with Bluetooth or a 2.4GHz dongle.
Depending on your media center setup most of these wireless remote control packages also work with Android TV Boxes, HTPC, Fire TV Stick, and more.
There are many good units available with some of our favorite picks below.
As always be sure to read the reviews on Amazon or elsewhere to be sure a unit is a good fit for you.
*This post contains affiliate links.
Our Picks for Best Smart TV Wireless Keyboard Remote Control Combinations
WeChip W2 Pro

WeChip W2 Pro Backlit Voice Remote 2.4G Wireless Smart TV Remote Control Wireless Keyboard for Android TV Box/PC/Smart TV/Projector/All-in-one PC

The WeChip W2 Pro has many nice features and combines a standard remote control with a keyboard, voice controls, and air mouse.

One side of the controller has standard remote control buttons.

The other side of the controller has a small keyboard.

In the center of the keyboard is a small touch pad to move a mouse cursor about.

The WeChip W2 Pro is a good all-in-one controller that has all remote control features built into one unit.

Logitech K600 TV

Logitech K600 TV – TV Keyboard with Integrated Touchpad and D-Pad Compatible with Smart TV

The Logitech K600 TV is a mid-sized keyboard with a touch-pad built-in.

It can connect up to 3 devices with Bluetooth or an included small USB dongle.

If your TV does not have built-in Bluetooth it likely will need to use a 2.4GHz USB dongle for a controller to work.

The unit is also compatible with PCs, Android TV boxes, Laptops and more.


PONYBRO Wireless Mini Keyboard

(Newest Version) PONYBRO Backlit Mini Wireless Keyboard with Touchpad Mouse Combo QWERTY Keypad,Rechargeable Handheld Keyboard Remote for Smart TV,Android TV Box,KODI,Raspberry Pi,PC

The PONYBRO is a small unit with a keypad at the bottom and a touch-pad in the top center.

It is back-lit with the background light color able to be changed or shut off.

It uses a 2.4GHz USB dongle that plugs into a compatible TV and is ready to work.


iPazzPort Wireless Mini Handheld Keyboard

iPazzPort Wireless Mini Handheld Keyboard with Touchpad Mouse Combo for Android TV Box and Raspberry Pi 3 and HTPC and XBMC KP-810-19S – Black

iPazzPort makes this popular handheld unit that has a small keypad and touch-pad built-in.

It has an operating range of 25ft and uses AAA batteries.

Besides Smart TVs, it also has wide compatibility such as PCs, Android TV boxes, Smartphones, and many other devices.

It uses a 2.4GHz USB dongle to communicate so be sure to have a compatible TV with USB ports.


Gimibox Air Mouse

Air Mouse for Android tv Box, Gimibox MX3 Pro Wireless Keyboard 2.4G Smart TV Remote with Motion Sensing Game Handle Android Remote Control for Android TV Box/PC/Smart TV/Projector/HTPC/All-in-one PC/

Air mouse remote controls work by moving the controller about and an onscreen cursor following.

Some people only use air mouses while others dont like them preferring to use buttons or keys.

Using any type of controller is a preference with an air mouse option nice to use with a bit of practice.

The Gimibox Air Mouse is once such option that also has standard buttons and a keyboard.
Summary
Using a keyboard with a Smart TV is ideal in many scenarios such as surfing the internet or when typing.
There are many units available from small mini-units with touch-pads, to mid-sized units.
Small units are the most popular but mid-size units work just as well.
The set up is usually very simply by plugging in a USB adapter that comes with the unit and it is ready to work.
Some controllers are Bluetooth only and will need to Pair with a compatible TV.
Having a good controller for a Smart TV makes it much easier to control along with advanced features such as surfing the internet.