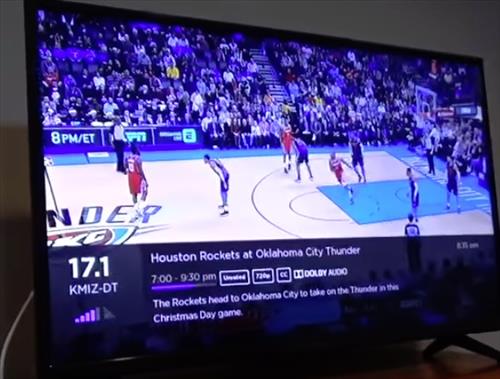 Installing a TV antenna in the attic is a good option and a great way to receive free over-the-air TV signals.
Most any OTA TV antenna can be mounted in the attic with outdoor units working the best.
The size of the attic along with the TV towers location should all be considered when buying an attic TV antenna.
Outside vs Attic Mounted Antenna
Having a TV antenna located outside or in the attic are both good options.
Often for aesthetic purposes, an antenna needs to be installed in the attic and is a common set up.
Mounting a unit outside will get better reception since the signal will not need to travel through a wall.
A TV antenna in the attic will often lose 20-30 percent of a signals strength.
Any loss can be offset with low-cost amplifiers or signal boosters.
Read Here for More on TV Antenna Amplifiers and Signal Boosters.
There are many TV antennas available that can be installed in an attic and get good reception.
Below is our favorite picks for good attic TV antenna options.
As always be sure to read reviews on Amazon, forums, or elsewhere to be sure a unit is the right pick for you.
*This post contains affiliate links
Our Picks for Best TV Antenna for an Attic 2020
GE Pro Attic Mount TV Antenna

GE Pro Attic Mount TV Antenna, Attic, Long Range Antenna, Directional Antenna, Digital, HDTV Antenna, 4K 1080P VHF UHF, Compact Design, Mounting Pole Included, 33692

The GE Pro is an antenna built to be installed in an attic and get the best reception possible.

It is a compact design that comes with a mounting pole.

The unit needs some assembly and works best pointed at the local TV broadcast towers location.

After installing the unit scan for OTA TV channels from the TV menu system.

Often the antenna will need some light adjustment to dial-in and get the most channels with the best reception.


RCA ANT751E Yagi Antenna

TV Antenna – RCA Outdoor Yagi Satellite HD Antenna w/ 150 Mile Range (70+ Miles from Broadcast Epicenter) Attic or Roof Mount TV Antenna, Long Range Digital OTA Antenna for Clear Reception, 4K 1080P

The RCA ANT751E Yagi OTA TV antenna has been available for a while and a good unit both outdoor and in an attic.

Yagi antennas are directional meaning they will need to be pointed directly at the TV towers.

This is often done by researching where the TV towers are located in your area and pointing them in that direction.

The antenna can also be turned until good reception is on the TV and locked into place.

It comes with a flat mounting bracket but can also be mounted on a pole.


Antennas Direct ClearStream 2V

Antennas Direct ClearStream 2V TV Antenna, 60+ Mile Range, Multi-directional, Indoor, Attic, Outdoor, 20-inch Mast with Pivoting Base, All-weather Mounting Hardware, Adjustable Mast Clamp, Installation Sealing Pads, 4K Ready, Black – C2-V-CJM

This unit from Antennas Direct can be mounted in the attic or outside.

It is multi-directional and can pick up a signal from any direction.

This can help greatly when TV towers are spaced apart and hard to tune in on multiple TV broadcasts.

The kit includes mounting bracket mast clamp to set it in place.
Summary
Mounting a TV antenna in the attic is a good option and when set up correctly can receive many over-the-air TV broadcasts.
Having a antenna in the attic can look better in many cases and may even be required by a HOA.
If a unit does not pick up a signal well there are many amplifiers and boosters available that can greatly improve a signal.
Installing a unit in the attic does require a handy person so be sure to call someone if needed.
Have you installed an antenna in the attic? Let us know your experience below.