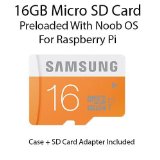 When it comes to SD Cards there are three things to look at physical size, format, and speed.

And of course this applies when it comes to buying a micro SD card for the Raspberry Pi model 2 or 3, each of these things need to be examined. So lets take a look at each.

Raspberry Pi micro SD card requirements

1…Physical Size
There are different SD card sizes with a Standard SD card being the largest. The original Raspberry Pi used this size but moved on the to Micro SD card size with the B+ 512 version.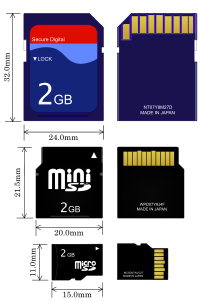 A Raspberry Pi 2 and 3 uses a Micro SD Card format. Micro SD cards are commonly used in cell phones and other small electronics that need a very small storage device.

2…The Micro SD card should be a class 10 micro SD Card
How fast a SD card can move data is rated by a class number from 2-10. With 2 being the slowest and 10 being the highest.

A SD Card with a class rating of 2 is good for taking pictures and storing them since there is no need to transfer large amounts of data quickly. For this reason class 2 SD cards are often used in digital camera.

Class 10 SD cards are used in video equipment since they can transfer data quickly with no buffering.

A Raspberry Pi basically uses a Micro SD card as a hard drive and to store any information. For this reason having a class 10 Micro SD card in your Raspberry Pi is very much recommended.

There's also a separate, even faster category called UHS Class 1 (for Ultra High Speed), often both are used. If a UHS classification is used than get UHS class 1.

Update: There is some debate on using a Class 10 or lower Class SD-cards with the Raspberry Pi. See the comment section for more information.

3…Capacity
Since the SD card holds all the information to run a Raspberry Pi from the operating system to applications very small SD cards are simply not reasonable even if they work with a RasPi.

For example a minimal install size to run Kodi on a RasPi 2 is 4 GB with a suggested 8 GB micro SD card.

Most installs use a 8 GB capacity micro SD card but things can move quickly with software so getting a larger SD card is recommended.

The largest sized micro SD card a Raspberry Pi can use is listed as 32 GB although some forums have people talking about using a 64 GB SD card with no problems.

If you are just starting out stick with a 8-32 GB sized micro SD card.

Wear leveling
One last note is that many people in the RasPi community recommend getting a SD card that utilizes Wear Leveling.

Wear leveling is when the same spot on a SD card is not written to over and over again when there is another space to write to.

This extends the life of a SD card since multiple spots are written to and from instead of the same open spot over and over again.

Here are examples of recommended micro SD cards for the Raspberry Pi 2 and 3

LoveRPi 32GB Raspbian NOOBS UHS-I MicroSD Card with SD Adapter for Raspberry Pi



SanDisk Extreme 16GB microSDHC UHS-1 Card with Adapter (SDSQXNE-016G-GN6MA) [Newest Version]