Having a hard drive that can wirelessly transfer files is a nice option to have.
Multiple devices can upload and download files that otherwise need cables or are set up on the network.
These small external storage units give all the benefits of a standard external hard-drive only with no wires.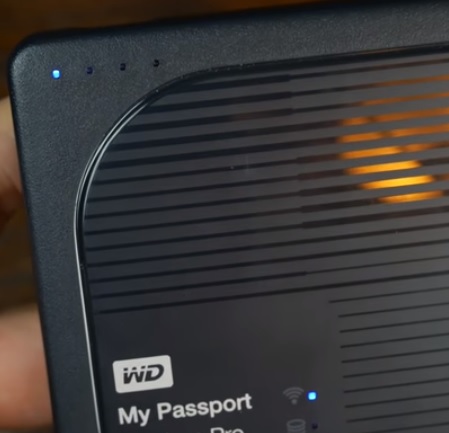 Having a portable wireless hard-drive can be used in a variety of situations.
It is basically like having your own personal Cloud Service even with no internet connection.
Backing up files, streaming movies or songs, or simply storing pictures a wireless hard-drive is a good device for a busy home or office.
There are many good units available with some of our favorite picks below.
As always be sure to read the reviews on Amazon or elsewhere to be sure a unit is a good fit for you.
*This post contains affiliate links.
Our Picks for Best Wireless External Hard Drives
WD My Passport Wireless External Portable Drive

WD 500GB My Passport Wireless SSD External Portable Drive, WiFi USB 3.0, Up to 390 MB/s – WDBAMJ5000AGY-NESN

The WD My Passport can share data with a MAC, PC, smartphone, or almost any wireless device.

It can manage up to eight devices connected to it at one time which is great when multiple people need to share data.

The battery can last up-to 10 hours when in use and around 20 hours in standby mode.

A USB 3.0 port can charge, provide power, or be used to transfer files if needed.

There is multiple version of the WD My Passport including size and standard or SSD drives.

A nice feature is it can also read from an SD-Card that is inserted into it. The SD-Card cannot be read directly, but all the files can be copied to the hard-drive which then can be accessed.

This is a nice feature for those with cameras with SD-cards or similar, as once an SD-card is full, it can be simply copied to the WD My Passport hard-drive.

The WD My Passport is a great way to store files externally for a backup or to share them wirelessly.


SSK Wireless Hard Drive

SSK 1TB Personal Cloud External Wireless Hard Drive Portable NAS Storage with WiFi Hotspot for Travel, Support Auto-Backup Connect SD Card Reader Share Data for iPhone iPad Tablet Smart Phone Laptop

The SSK wireless hard drive has 1TB and 2TB versions.

It can work with a variety of devices, including iOS, Android, and Windows.

It also has a built-in 3800Mah battery which lasts roughly 10 hours with one device and 5-6 hours with three devices.

The SSK can manage ten devices at the same time, making it a good unit for multiple connections.

There is an app that can be used for smartphones, or it can be set up on a network.


Seagate Wireless Plus

Seagate Wireless Plus 2TB Portable Hard Drive with Built-in WiFi (STCV2000100)

The Seagate Wireless Plus is another portable hard-drive that can wirelessly connect to iPhones, iPads, Kindle Fire, Android devices, desktops, laptops, or even some Smart TVs.

Almost any smart wireless device can connect to it to read, stream or store files. It can stream up to three devices at the same time.

There is an app to manage file transfers, or it can connect to a home network.
What is a Wireless Hard Drive?
A wireless hard drive is a standard storage device that has a WiFi card built-in.
The WiFi card can connect to a network or smartphone to transfer files.
Many WiFi drives will also have many other features such as a built-in battery, SD-Cars slots, and USB ports.
Summary
Wireless hard-drives are ideal for busy environments where files need to be uploaded and downloaded from many different devices.
Everything from backups and movies to music can be stored on a wireless drive and shared with anyone that has the password.
Most wireless hard-drives are Mac, PC, smartphone, and tablet compatible. Basically, most any smart device has wireless.
Each unit can vary in the type of build, such as battery life and WiFi protocols, so be sure to read the product feature to see if it fits your setup.