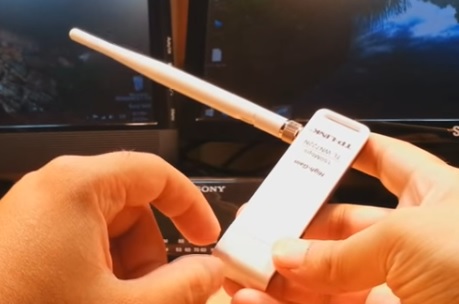 WiFi can lack at times and depends on many factors as to why it is not transmitting well.
Many things can disrupt a WiFi signal, from walls and other wireless devices to a microwave oven.
Even though there are many things that degrade a signal there are things that can be done to get a better signal.
Having a good router is a start, but individual devices also need to be able to send and receive a good broadcast.
UBS adapters with high gain antennas are one such option to help a laptop or desktop send and receive better and improve performance.
Below is our picks for the best long range WiFi dongles.
As always, be sure to read the reviews on Amazon, here, or elsewhere to be sure a unit is a good fit for you.
*This post contains affiliate links.
Our Picks for Best WiFi USB Adapters with High Gain Antennas
Panda PAU09

Panda makes many good WiFi adapters, including the PAU09.

It has a very good range with two large antennas to help transmit and receive a signal better.

It is a good unit for a desktop or laptop that needs a signal boost.

The compatibility is also good from Windows 10 to Linux.

The one downside is it doesn't use the new 802.11ac protocol but the 802.11n.

Still, it is a good wireless adapter that will help boost the range of a wireless signal.

TP-Link WN722N

The TP-Link WN722N is a notorious USB adapter that has been available for a while and still going strong.

One of the things that make it stand out is the wireless chipset it uses, Atheros AR9271. This chipset allows for it to go into monitor mode, which is necessary when Pen testing a WiFi signal.

For this reason, it is widely used in the Pen Tester community for doing wireless attacks.

It also has a 4dBi omni-directional antenna for improved coverage.
While still widely used, it is only a 2.4GHz dongle and won't work in the new 5GHz frequency. Since most all routers are dual-band and work in both ranges, this isn't usually a problem.

It is an 802.11n adapter, so it also doesn't work with the new 802.11ac protocol and will default to Wireless-N speeds (150Mbps).

With that said, for the price, it is still a very popular unit and a nice upgrade over built-in wireless or adding better distance to a device.

Reliable, low cost, durability, along with multi-purpose use, make it a unit worth looking at.

Alfa AWUS036ACH

Alfa AC 1200 is another nice USB adapter built for long-range and all the new WiFi protocols.

It has USB 3.0, so there will be no bottle-necking at the USB port as long as the computer has USB 3.0; otherwise, it will default to USB 2.0 speeds.

The newest 802.11ac WiFi protocols are used and are a dual-band dongle that works in both 2.4GHz and 5GHz frequencies.

Alfa is another well-known manufacturer in the Pen testing community with the AWUS036ACH able to go monitor mode and is built for speed and range.

It has two external removable 5-dBi antennas; being able to remove them means they can easily be upgraded to larger 8-12 dBi antennas.

Clips are included with it able to move about if necessary for better reception.

If you are looking for a very good range, the Alfa AWUS036ACH is definitely worth a look.

Summary
There are many good long-range WiFi adapters built with high gain antennas available.

The above units are simply ones we have found that work well and do what they were made to do.

Keep in mind the best WiFi dongle will not fix other bad spots in a wireless network, such as the router.

Adapters like those above are built to improve signals, but there are other options depending on the scenario, such as wireless boosters.

Do you have a favorite unit that has improved your signals? Let us know in the comments below.