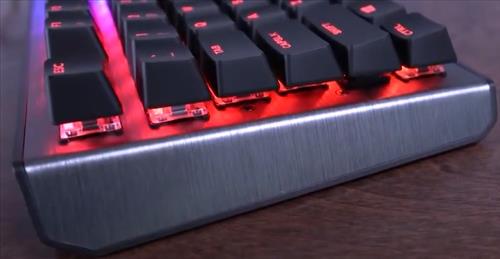 Mechanical keyboards are a niche market that usually caters to gamers although many people who spend a lot of time writing have found them superior to the cheaper standard keyboards.
Gamers love them because they are durable, have excellent response times, and give feedback through the keys.
The sensation of feeling a key when pressed and the click they make gives an immediate verification that a key has done what it is supposed to.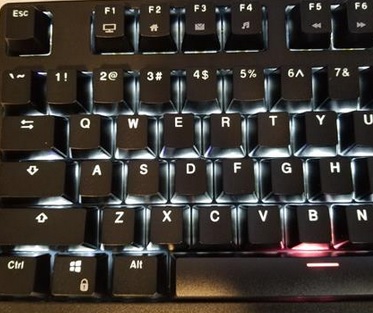 Many writers use them to help eliminate typos and errors. Mechanical keyboards give feedback to a user that a standard keyboard can't match.
One of the problems with mechanical keyboards is that there are few wireless ones that most people have become accustomed to.
With that said, there are some wireless mechanical keyboards on the market. They do cost more than a wired one but have the advantage of not being tethered to a computer with a USB cord.
Below is a list of wireless mechanical keyboards we have found. If you have found one that works for you, let us know in the comments below.
As always be sure to read reviews on Amazon, forums, or elsewhere to be sure a unit is the right pick for you.
*This site contains affiliate links for which a commission is earned.
Our Picks for Best Wireless Mechanical Keyboards
Razer BlackWidow V3 Pro

The Razer BlackWidow V3 Pro is a wireless mechanical keyboard that uses the Razer Green Switches.

It has a switch on the side to use the wireless 2.4GHz band with an included USB adapter or can connect with Bluetooth.

There is also a USB Type-C plug if a wired connection is needed.

The unit has many features such as the multi-function dial at the top right along with media keys.

The keycaps are built from textured double-shot ABS which has this nice slight texture on it adding a bit of a grip.

Like almost all mechanical keyboards the green switches are clicky making the unique mechanical sound.

Velocifire TKL02WS

The Velocifire TKL02WS is a unit that uses Quiet Brown switches.

Quiet Brown switches are almost the same as the Cherry MX Browns with a bit less of a tactile bump.

The Quiet switches cost less but still are great keys making the Velocifire a good budget unit.

It is wireless and uses a 2.4GHz USB dongle that starts working once plugged into a computer.

It is also has a backlight that can be turned on or off.

The Velocifire is a great unit for someone new to mechanical keyboards or anyone looking for a good low-cost solution.

Logitech G915

The Logitech G915 is a low profile wireless mechanical keyboard.

The keyboard looks and feels really nice with brushed aluminum and small rounded edges on the side.

It is loaded with features and is back-lit RGB that looks vibrant and evenly-lit

It connects wireless with Lightspeed or Bluetooth with Lightspeed best for gamers wanting very low lag.

Three versions are available Clicky (Blue), Linear (Red), and Tactile (Brown).

CORSAIR K63

The CORSAIR K63 is a nice keyboard that uses CHERRY MX switches.

It has Bluetooth built-in for a wireless setup or can use a wired connection.

The keyboard is a compact design with no number pad on the right-side which is nice as to not take up too much space.

The K63 is a great unit for those who like to use Cherry MX switches that works very well when gaming or simply typing.

Logitech G613

Logitech is a well-known company that makes the Logitech G613 LIGHTSPEED mechanical keyboard.

It uses the Romer-G switches which have a short travel to click the switch.

It also can connect via Bluetooth for a completely wireless setup.

There is no back-light which keeps the battery life lasting much longer.

For those who have a favorite type of switch such as the Brown or Blue the Romer-G switches may not feel right.

The Logitech G613 is a good unit worth a look at, be sure to read the reviews to see if it is a good fit for you.


Anne Pro 2

The Anne Pro 2 is a compact wireless mechanical keyboard that can come in a variety of switch types.

It can come with cherry MX Blue, Brown, Gateron Blue, Gateron Brown, Gateron Red, Kailh Box Brown, and Kailh Box Red.

The built-in battery last up to 8 hours with a USB Type-C connection to recharge.

It is wired or wireless unit using Bluetooth 4.0 to transmit wirelessly.


Keychron K2

The Keychron K2 is a wireless Bluetooth keyboard with a 4000mAh high capacity rechargeable battery.

It is a 84 key compact unit with the battery lasting 10 hours on a full charge.

It also is backlit that can display a variety of colors.


DIERYA

The DIERYA is a wireless Bluetooth 5.1 mechanical keyboard that comes with Gateron Brown switches.

While it comes with Brown switches they can be easily swapped out with other switches such as blue or red.

It is a nice small unit with double space bars and easily swap-able keys.


Majestouch EB2

This Majestouch keyboard uses Cherry MX Blue switches and is a wireless or wired board.

It has built-in Bluetooth 3.0 or can use a USB wired connection if needed.

It is also compatible with most any device such as Windows 7, 8.1, and 10 as well as Macs.

The Majestouch is a full size keyboard powered by two AA batteries.


FILCO Majestouch

FILCO Majestouch is a keyboard with the same basic features as the one above but using black switches.

It also uses Bluetooth 3.0 or a wired connection.


MINILA Air 67

The MINILA Air 67 is a wireless Majestouch keyboard that uses Cherry MX switches.

This version is a mini wireless mechanical keyboard which makes it portable.

Compatible with Windows, Macs, and Android devices.


DREVO Calibur

The DREVO Calibur is a Bluetooth mechanical keyboard that can be bought with cherry Blue, Brown, Red, or Black switches.

It is one of the more affordable options and has a back-light which can be set to different modes or shut off.

If your computer does not have Bluetooth be sure to buy a compatible low cost Bluetooth dongle.

DREVO Calibur 71-Key

DREVO has built many good gaming keyboard and also has the DREVO Calibur 71-Key Mechanical Keyboard.

It can use Bluetooth or be plugged in to a USB slot with a cable.

Currently, there is two options one for Blue Switches and another for Red Switches.

The price is low compared to many other units making it worth a look.

Razer Turret

The Razer Turret uses Razer Green switches which are nice and clicky.

It uses a wireless 2.4GHz dongle to connect to a computer making it a good wireless mechanical keyboard.

The configuration is a standard QWERTY layout with it also having the RGB lighting.
Wireless Mechanical Keyboards Comparison Table
| Name / Amazon Link | Switch Type | Wireless |
| --- | --- | --- |
| Razer BlackWidow V3 Pro | Green | Yes |
| Velocifire | Brown | Yes |
| Logitech G915 | Blue, Brown, Red | Yes |
| CORSAIR K63 | Cherry MX Red | Yes |
| Logitech G613 | Romer-G | Yes |
| Anne Pro 2 | Gateron | Yes |
| Keychron K2 | Cherry MX Brown | Yes |
| DIERYA | Gateron Brown | Yes |
| Majestouch EB2 | Cherry MX Blue | Yes |
| MINILA Air 67 | Cherry MX Brown | Yes |
| XArmor U9W | Cherry MX Brown | Yes |
| Razer Turret | Razer Green | Yes |
What to Look for When Buying a Wireless Mechanical Keyboard
A mechanical keyboard differs from a standard keyboard in the switches that are used. While standard keyboard uses an electronic touch interface a mechanical one uses physical switches.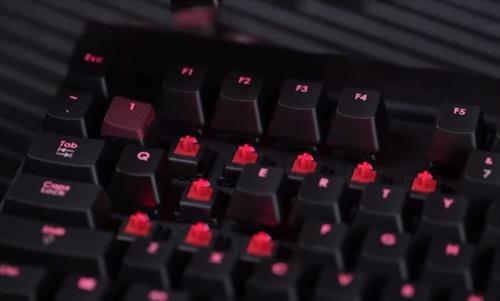 There are different switches that are used called Cherry MX Black, Cherry MX Red, Cherry MX Brown, Cherry MX Blue, Cherry MX Green, and Cherry MX Clear.
Since each mechanical cherry switch is manufactured different they will give a different feel when pressed.
The most commonly used switches are the Cherry MX Blue followed by the Cherry MX Brown.
Cherry MX Blue are used mainly by typist and programmers. The Cherry MX Blue switch makes a click when pressed that gives many writers a sensation of writing that has been lost with standard computer keyboards. Mx Blue switches require 50-60 grams of force to activate a switch which compared to a standard keyboard can vary widely from 25-90 grams of force.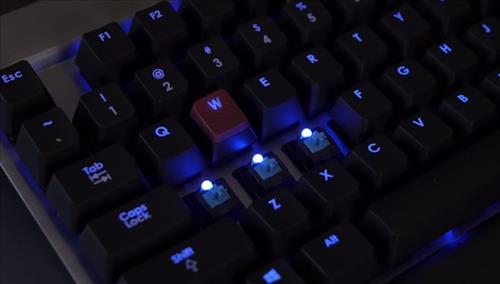 Cherry MX Brown are used mostly by gamers who like the response time of a key when it is pressed and the durability of the switch, which can take a pounding that would break a standard keyboard. They also do not have as much of an audible click as other switches, the click has a softer sound.
They do require more force to push down on (45-55 grams of force) which does not bother gamers since the average gaming controllers require around 160 grams of force.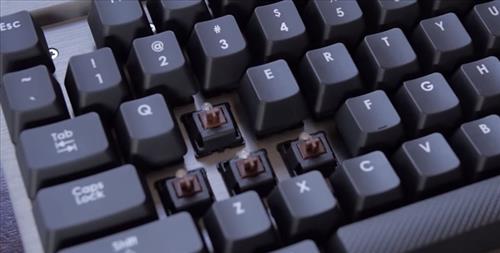 Which Wireless Mechanical Keyboard Is Right for You?
Finding the right mechanical keyboard is a lot like finding the best of any peripheral device for your computer.
What you plan to use the keyboard for such as gaming or simply typing will predict the type of one to buy.
With that said many people fall in love with their mechanical keyboard and will stick to the type of switch used with the first one they buy.
In the end a user will become accustomed to the type switch they first use, so there are many different opinions when it comes to the switches.
Buying a mechanical keyboard very much depends on the person and the way they type. Some are heavy handed on a keyboard and press down hard on the keys while others press more gently and like a more easily pressed switch.
The clicking sound that is made while using the unit is also a consideration.