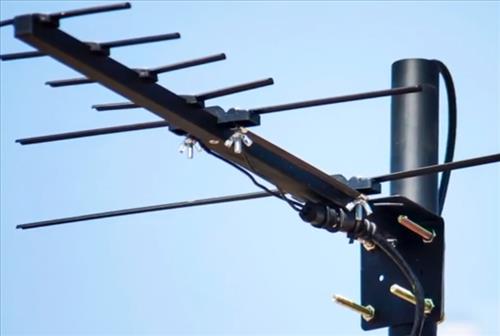 Over-the-Air TV is a great way for cord-cutters to get free TV channels with many stations available.
While many homes will often have one TV setup with an antenna, multiple TV sets can also share the same TV antenna.
It does require a splitter or distribution box for the antenna signal to spread out to multiple TVs.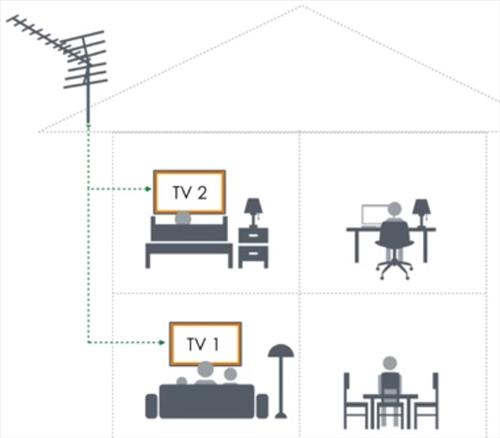 Signals can lose strength when more than one TV is using the same antenna but this is easily fixed with an amplifier.
If you live close to the broadcast tower, a splitter with no booster may work, but in most cases, the signal will need to be amplified.
There are many stand-alone amplifiers and TV distribution amplifier boxes available.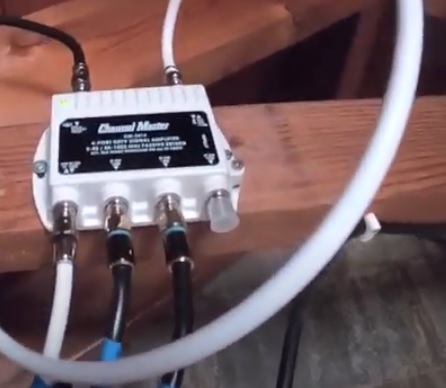 For example, Channel Master has several popular units that split an incoming signal, boost it, and give outputs to multiple TVs.
Channel Master Distribution Amplifier for Up-to 4 TVs on Amazon
Channel Master Ultra Mini 4 TV Antenna Amplifier, TV Antenna Signal Booster with 4 Outputs for Connecting Antenna or Cable TV to Multiple Televisions (CM-3414),White


Standalone pre-amplifiers or signal boosters are also a good option when a standard splitter is used with no built-in amplifier.
Sometimes both a pre-amplifier and distribution amplifier are used to boost a signal that is far away from broadcast towers.
Winegard LNA-200TV Antenna Amplifier Signal Booster.
Winegard LNA-200 Boost XT HDTV Preamplifier, TV Antenna Amplifier Signal Booster, HD Digital VHF UHF Amplifier


Hooking up a distribution amplifier is the same as a splitter with an added power plug to boost the signal.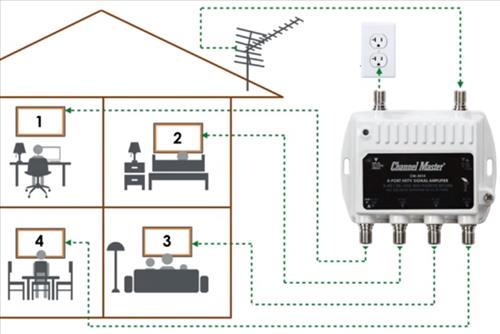 The coaxial line from the antenna is fed into the box along with power.
Each TV will have its own coaxial output to connect to a TV input.
How To Connect an Antenna to Multiple TVs
Connect the antenna coaxial line to the input of the distribution amplifier or splitter.

If the amplifier or splitter is a powered unit connect the power.
Connect each TV to one of the output coaxial lines on the distribution amplifier splitter.

Re-scan each TV for over-the-air TV broadcast.
Summary
Using one TV antenna for multiple TVs is easily done with the right setup.
If you live very close to broadcast towers a normal splitter may be enough to get a good signal.
For most homes, a distribution amplifier box is usually used to not only split but boost a wireless TV signal.
If a home is very far from the broadcast towers a pre-amplifier or booster can be used along with the amplifier box to get an even better signal.