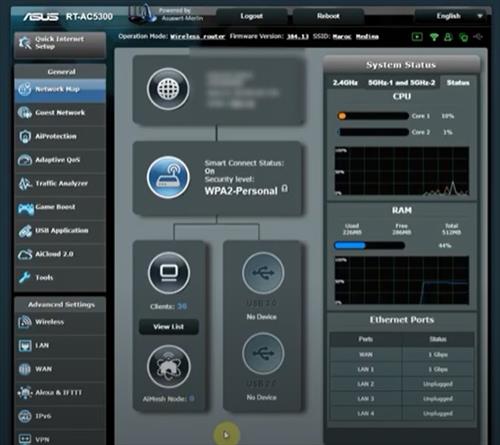 Upgrading an Asus router to Asuswrt Merlin Firmware is an easy task that can greatly improve the router's options.
Merlin can add many nice features such as advanced options for a VPN router.
Having a whole-house VPN is a nice feature as each device in a home will not need to have individual software downloaded and setup.
Be sure to check if your router is compatible with the right model number as not all Asus routers are supported.
What is Merlin Firmware?
Merlin Firmware is an alternative the factory firmware version installed on Asus routers.
Developed by Eric Sauvageau, its primary goal is to enhance the default Asus router firmware.
Merlin can add advanced options for VPN, Cron Jobs, Disk sharing SMB 2.0 support, Turning on/off FTP, and much more.
Things needed to Flash an Asus Router with Merlin Firmware
Compatible Asus Router
Router Username Password
Asuswrt Merlin Firmware File
Computer Connected to the Router with Internet
A compatible Asus router will be needed along with the username password to log into it.
If you do not have the username password the router can be reset to the default username password.
The Asuswrt Merlin Firmware file is downloaded from the Merlin website and extracted.
Once the file is downloaded and extracted it is uploaded to the Asus router as a Firmware update.
Merlin Firmware Compatible Asus Router List
RT-AC66U_B1 (same firmware as the RT-AC68U)
RT-AC68U (including revisions C1 and E1)
RT-AC68P (same firmware as RT-AC68U)
RT-AC68UF (same firmware as RT-AC68U)
RT-AC87
RT-AC3200
RT-AC88U
RT-AC3100
RT-AC5300
RT-AC1900 (same firmware as RT-AC68U)
RT-AC1900P (same firmware as RT-AC68U)
RT-AC86U (starting with version 382.1)
RT-AC2900 (same firmware as RT-AC86U)
RT-AX88U
RT-AX56U
RT-AX58U
RT-AX3000 (same firmware as RT-AX58U)
How To Flash an Asus Router with Asuswrt Merlin Firmware
Go to the Asuswrt Merlin Website Here and select the Download Section.

Click on the Main Download Site Link.

Find and select your router model.

Click the Release or Beta. (Release Version is Recommended.)

Download the latest release at the top of the list.

After downloading the file it will be in a Zip format and need to be extracted.

Open a web browser and log into your router.

Scroll down to the bottom left and Click Administration.

Click on the tab Firmware Upgrade.

Scroll down to the bottom and select Manual Firmware Update.

Select the Firmware File that was downloaded and extracted.

The file will upload to the router and will take a few minutes.

Log in to the router again.

Asuswrt Merlin Firmware will now be installed on your router.
Summary
Installing Asuswrt Merlin Firmware on an Asus router is a great option to enhance its features.
There are many good advanced features with my favorite the VPN options.
Setting up a router to manage a VPN can direct all connected home devices automatically through a VPN.
The installation is easy by downloading the correct Firmware version for your router, extracting it, and uploading it to the unit.
Be sure to check if your router compatibility list as not all Asus routers have Merlin support.

https://youtu.be/84PeCLiS52M