Virtual Private Networks (VPNs) are becoming increasingly popular; from staying secure on free open WiFi connections to hiding your online location, a VPN is very useful.
They have a lot to offer but can be limited when multiple devices are being used in a home.
VPN software can be installed on each individual device or as a whole house VPN router which can be set up to automatically direct all traffic through a secure VPN.
There are routers that come with a built-in section to set up a VPN.
There is also 3rd party software that can be installed on a router such as DD-WRT, OpenWrt, Tomato, and Merlin.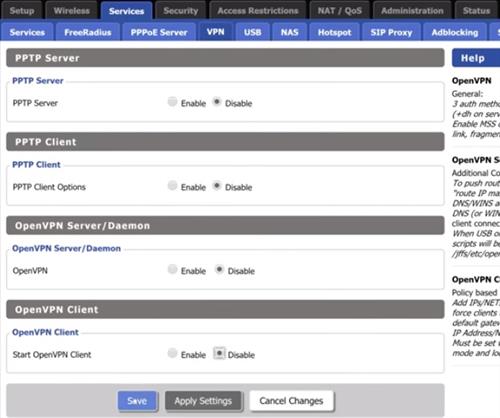 In the past DD-WRT was the most well-known 3rd party Firmware to add VPN service to a router but has become dated.
If you have an older router lying around, it may be worth trying to flash the Firmware with DD-WRT.
Merlin is likely the best 3rd party option currently for Asus routers adding many nice features.
Finding the Best VPN for a Router
A VPN provider will be needed with many available and most will be able to be installed on a router.
Personally, I use IPVanish but there are many more good services.
The ideal provider will be fast, have multiple worldwide servers, keep no logs, and have easy setup instructions.
What is the Best Router for a VPN?
There are many good routers that a VPN can be added to.
Most good units will have either a VPN option available or be able to have third part Firmware installed.
Below are some of our picks for good VPN routers. If you have a good option, let us know in the comments below.
As always be sure to read the reviews on Amazon, forums, or elsewhere to be sure a unit is a good fit for you.
*This post contains affiliate links.
Our Picks for the Best VPN Routers for the Whole Home
ASUS RT-AX3000 (RT-AX58U)

ASUS RT-AX3000 Dual Band WiFi Router, WiFi 6, 802.11ax, Lifetime Internet Security, Support AiMesh Whole-Home WiFi, 4 x 1Gb LAN Ports, USB 3.0, MU-MIMO, OFDMA, VPN

The ASUS RT-AX3000 is a good mid-range router that has many good features, including VPN options.

A side note is the ASUS RT-AX3000, and the RT-AX58U are the same routers, with the RT-AX58U renamed and sold by Best Buy.

In fact, often, the RT-AX58U version can be bought for less money since many people are not aware they are the same router.

The RT-AX3000 is a WiFi-6 802.11ax router, so it has all the latest wireless protocols and security features.

It also has the new WPA3 WiFi security, which is a big improvement over the previous WPA2.

The CPU is a 3-Core 1.5 GHz processor giving it lots of power to run a VPN along with multiple connections.

A nice thing about Asus routers is they can be upgraded with 3rd party firmware called Merlin, which adds a lot of features.

Using Merlin is not necessary for the RT-AX3000 to operate as a VPN but is a nice option for advanced users.

We recently installed Merlin on an ASUS RT-AX3000 (RT-AX58U) and did a complete guide which can be read here.

There are routers with better processors and more options, but for the money, the ASUS RT-AX3000 is worth a look.

Synology RT2600AC

Synology RT2600ac – 4×4 dual-band Gigabit Wi-Fi router, MU-MIMO, powerful parental controls, Threat Prevention, bandwidth management, VPN, expandable coverage with mesh Wi-Fi

The Synology RT2600AC Router is one of the more advanced routers with a lot of added features and options.

One such option is the ability to configure a VPN on the router that all devices in a home or office can use.

The interface is very nice and easy to use with it looking more like a computer app compared to a router.

The Synology RT2600AC Router has a 2-Core 1.73GHz processor able to handle a VPN along with multiple devices.

Read here for how to configure a VPN with the Synology RT2600AC Router

Linksys AC3200 (WRT32X)

Linksys WRT32X AC3200 Dual-Band WiFi Gaming Router with Killer Prioritization Engine

The Linksys AC3200 is a router that has a VPN option built-in.

It uses a Firmware called WRT32X which is close to DD-WRT but with fewer options.

It works with OpenVPN protocol which most VPN providers use and has one of the more easy setups.

Linksys has a dedicated page for how to setup the unit using the OpenVPN Protocol. Read The Setup Page Here.

It is a nice router packed full of features that makes it worth a look.

TP-Link Archer AC1750

TP-Link AC1750 Smart WiFi Router – Dual Band Gigabit Wireless Internet Router for Home, Works with Alexa, VPN Server, Parental Control&QoS (Archer A7)

The TP-Link Archer AC1750 C7 has been available for a few years and also works as a VPN router.

It is not a powerhouse router, and there are newer, faster routers, but the Archer C7 does not disappoint for the cost.

The TP-Link Archer C7 has the VPN options PPPoE, L2TP, and PPTP.

I recently set up an Archer C7 and IPvanish, which was easy and worked very well.

I used it as a secondary VPN router, with my main one having no VPN.

It worked ok and will manage 2-3 VPN connections but would bog down in a busy environment.

If you are looking for a low-cost option, the TP-Link Archer AC1750 C7 is hard to beat; just dont expect wonders.

Read Here for How To Setup a VPN on a TP-Link Archer C7 Router

D-Link AC3000 (DIR-3060)

D-Link WiFi Router AC3000 EasyMesh Smart Internet Network Compatible with Alexa & Google Assistant, MU-MIMO Tri Band Gigabit Gaming Mesh (DIR-3040-US)

The D-Link AC3000 has a 880 MHz dual-core processor which makes it able to handle large amounts of data.

It is a dual band 2.4Ghz / 5Ghz router and will fit into almost a wireless environment.

It also has VPN options PPPoE PPTP, and L2TP.

This makes is a router that can manage a VPN but with basic VPN options.

Travel Router GL.iNet GL-AR750S

GL.iNet GL-AR750S-Ext (Slate) Gigabit Travel AC VPN Router, 300Mbps(2.4G)+433Mbps(5G) Wi-Fi, 128MB RAM, MicroSD Support, Repeater Bridge, OpenWrt/LEDE pre-Installed, Cloudflare DNS

There are many small travel routers that have many options, including VPN settings.

Travel router are portable units but can also be used in homes or office settings.

There are many available such as the GL-AR750S.

The GL-AR750S has options for WireGuard, OpenVPN, and Cloudflare DNS over TLS.

If you are on a budget looking for a low-cost option travel routers such as the GL-AR750S are worth a look.

NETGEAR Nighthawk R6700

NETGEAR Nighthawk Smart WiFi Router (R6700) – AC1750 Wireless Speed (up to 1750 Mbps) | Up to 1500 sq ft Coverage & 25 Devices | 4 x 1G Ethernet and 1 x 3.0 USB ports | Armor Security

The NETGEAR Nighthawk series of routers are gaming routers built for speed and to handle multiple connections.

They have a VPN Service option in the menu under Advanced Setup.

The setup can be a bit technical but there is lots of YouTube videos if needed.

ASUS AC2900 (RT-AC86U)

ASUS AC2900 WiFi Dual-band Gigabit Wireless Router with 1.8GHz Dual-core Processor and AiProtection Network Security Powered by Trend Micro, AiMesh Whole Home WiFi System Compatible (RT-AC86U)

The ASUS AC2900 (RT-AC86U) is a Dual Band router with a 1.8GHz Dual-core CPU that comes with many nice features including a VPN Server section.

It has the option to use the common VPN protocols PPTP, L2TP, and Open VPN.

Most VPN providers use OpenVPN but be sure to check which is compatible with your service.

While the ASUS AC2900 has built-in VPN support one of the best features is its compatibility to install the 3rd party Firmware Merlin.

Merlin is Firmware for Asus routers that adds to the options available including more VPN options.

For example, it has policy rules for a VPN that can let you decide which devices use the VPN and which go straight to your ISP.

It does require flashing the router with the Merlin Firmware which is easy to do.

While the ASUS AC2900 has built-in VPN options using the 3rd party Merlin Firmware makes it a very nice option as a whole house VPN router.

Summary
Many good VPN routers are available, some with built-in VPN options and others needing third-party firmware.
If you have the technical ability installing DD-WRT, Merlin, or other third-party firmware is a good low-cost solution.
Merlin works very well with Asus routers and is possibly the best VPN Firmware option for a router.
There are also many ready-built solutions that can simply be bought.
Do you have a favorite router to use as a VPN? Let us know in the comments below.