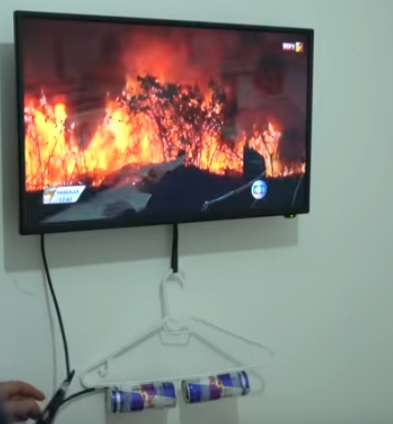 Building a homemade TV antenna can be done in a pinch when no store-bought unit is available.
While buying a TV antenna is usually the best, over-the-air TV signals can be greatly improved with a DIY unit.
There are many methods for building a TV antenna with a simple option below.
Items Needed To Make a Homemade TV Antenna
Plastic Clothes Hanger
2 Aluminum Cans
Coaxial Cable
Tape
Several items will be needed including two aluminum cans, tape, plastic clothes hanger, and a coaxial cable to connect to the TV.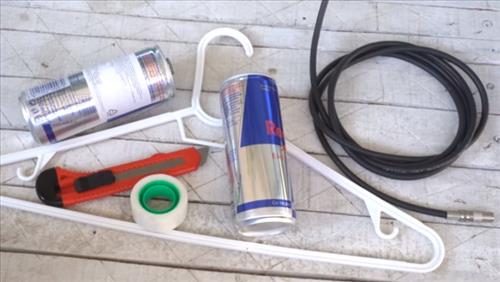 How To Make a Homemade TV Antenna
Tape one of the cans to the bottom of the clothes hanger. Point the can opening to the middle of the hanger.

Tape the second can to the other side of the hanger with the can opening pointed to the inside.

Strip the wire back on the coaxial cable.

Connect the middle coaxial wire to one of the cans tabs.

Connect the outer coaxial ground wire to the tab on the other can.

Tape the coaxial cable to the hanger so it doesn't pull off.

Hang the antenna near the TV and attach the coaxial cable to it.

Go into the TV settings and scan for TV channels.
Summary
The above homemade antenna should help improve free over-the air TV signals.
The unit will need to be moved about to get the best reception.
Often, once an antenna is moved the TV will need to be re-scanned to see which channels can be picked up.
How many TV channels can be received will depend on the terrain and how close the TV transmission towers are.
For example, if big hills or trees are blocking the line-of-site to the transmission towers it may not improve the quality.
If you have a clear line-of-sight to the towers there should be an improvement which can be tuned in by moving it about.
Do you have a good build for a TV antenna? Let us know in the comments below.