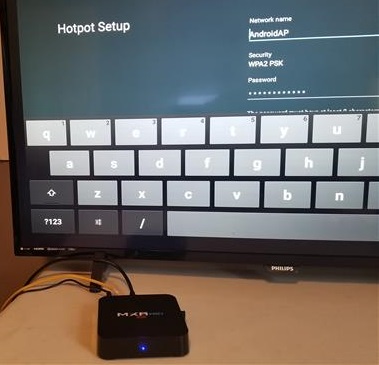 Android TV boxes have become very popular as low-cost media boxes that can stream videos from online sources and play games.
They can also be set up as a WiFi Hotspot able to extend a wireless signal.
This can be a real benefit for anyone looking to help cover weak or bad WiFi locations in a home.
Most Android TV boxes will need to first be connected to the internet with an Ethernet cable.
All units will vary in hardware specifications, such as the built-in WiFi card and 2.4GHz and 5GHz frequencies.
After an Ethernet cable is plugged in, a Hotspot can be set up in a few steps.
Android TV box menu system can differ between units, but the basic settings below should be universal.
How To Turn an Android TV Box Into a WiFi Hotspot
Plug in an Ethernet Cable

Go to Settings

Click Network

Turn On Portable WiFi Hotspot

Click Set Up WiFi Hotspot

Set up the Broadcast Name and Password and click save
Summary
Setting up an Android TV box as a wireless Hotspot is easy to do and can come in handy in many scenarios.
Since most boxes are centrally located, they often can be set up to share a WiFi signal quickly and easily.
Most units will need an Ethernet cable run for an internet connection.
Some top-end units may be able to both send and receive a WiFi signal depending on the chip built into the box.
If the box is dual-band, the frequency used can also be set up for 2.4Ghz or 5Ghz, with most devices now using the 5Ghz band.
This again depends on the box, with some units working better compared to others.
Have you used an Android TV box as a WiFi hotspot? Let us know your thoughts below.