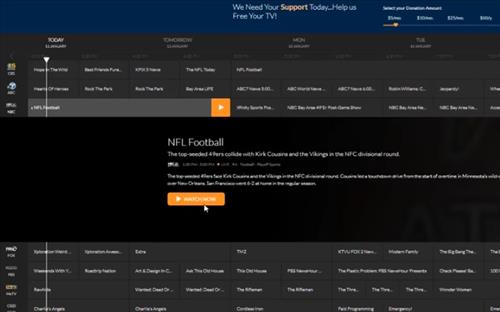 UPDATE: Locast Streaming Service Has Shut Down


If you struggle to get good over-the-air TV channels there is a new service called Locast which streams free OTA TV channels over the internet.
This is good news for anyone who has problems getting a good OTA signal such as being in a rural area.
The menu system is a TV guide format with information available on each show and 1-click to play.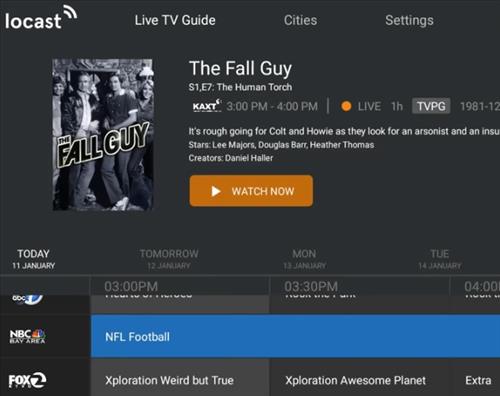 It is currently available in 16 cites which you must be near one to use a stream.
If you are not near one of the big markets a VPN can be used to change your location.
What is Locast TV?
Locast is a non-profit service that streams OTA TV channels, usually received with a TV antenna, over the internet.
They are able to stream the content since a loophole in copyright law allows the re-transmission of television signals by non-commercial entities.
While it is officially non-profit an annoying reminder to donate will keep popping up until a donation is made for at least $5.
Pros
Free Over-the-Air TV Channels.
Available on for most any device Fire Stick, Android TV Box, Roku, iOS, and more.
No buffering with a clear picture.

Cons
A donation of at least $5 is needed or an annoying reminder will keep coming back.
Must be located in one of the 16 TV markets currently being used.
City TV Markets Available
New York City
Los Angeles
Chicago
Philadelphia
Dallas-Fort Worth
Washington, D.C.
Houston
San Francisco
Boston
Atlanta
Phoenix
Seattle
Denver
Baltimore
Sioux Falls
Rapid City
How To Install Locast TV
Go to the Locast TV Website Here and sign up for a free account.
Download a Locast TV app for your device or use a browser to sign in.
Installing and using Locast TV is easy by going to their website and signing up for an account.
After creating an account sign in using a browser or a Locast TV app.
Summary
Locast is a great new way for cord-cutters to get free OTA TV channels.
It is available for almost any device using a browser or an app.
Anyone who uses the service a lot will likely need to donate to stop the annoying periodically request for a donation.
Once a donation is made of at least $5 the request goes away.
If you have a good OTA antenna there will be no need for the Locast service as they are simply broadcasting the same channels.
The real benefit will be for those who have difficulty receiving OTA signals or those who need a more mobile solution.
There have been some legal challenges to Locast TV which unlike many pirate IPTV streams is currently operating within copyright law.