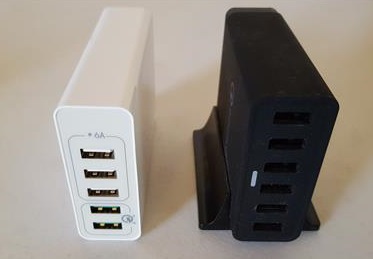 For many waiting 3-6 hours to recharge a phone is a big nuisance with the newer USB 3.0 able to charge up-to 4 times faster.

Currently the compatibility list is not huge but continues to grow with more devices available with fast charging as new models are released.

Quick Charge USB 3.0 is backward compatible with Quick Charge 2.0 so even if your phone doesn't currently use the technology you may still benefit and be ready when your devices are upgraded.

All phones will come with a dedicated power supply so using a QC 3.0 power station is not necessary but is very convenient in many scenarios.

With that in mind here are our picks for the best fast charging 3.0 stations.

In full disclosure these units have been sent to us from companies to review which we have done with our own honest opinion and results.

*This post contains affiliate links which at no cost to you allows us earn a commission on product purchases.

As always be sure to read the reviews on Amazon,forums, here, or elsewhere to be sure a unit is the right fit for you.

Our Picks for Best Fast Charging 3.0 Stations with Multiple Ports

dodocool USB Charger 5 Ports Desktop Charging Station with Dual Quick Charge 3.0 Ports & 3 USB Ports 60W for Samsung Galaxy S7/S6/Edge, LG G5, iPhone, iPad, Nexus 6P & More

This charging station from Dodocool has 5 ports two of which are Quick Charging slots.

It is a smart charger so it will auto detect what type of smartphone or device is plugged in and charge it with the correct Amps.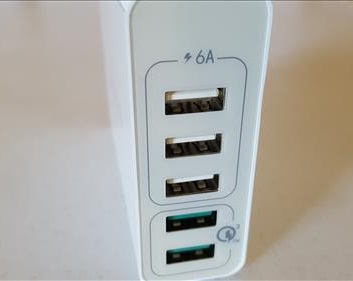 It is also a low cost unit which makes it good for those on a budget.

Read Full Review Here

…..
USB C and Quick Charge 3.0 Charging Station, UNITEK 160W 10 Port Adjustable Dividers USB Charger with Power Delivery for MacBook, MacBook Pro, Nintendo Switch 2017, Samsung S8 and more – UL Listed

The UNITEK Y-2190 has 10 ports making it fit into a busy home or small office.

8 USB ports charge at the standard 2.4A while 1 is a USB 3.0 slot and 1 USB Type-C Apple slot.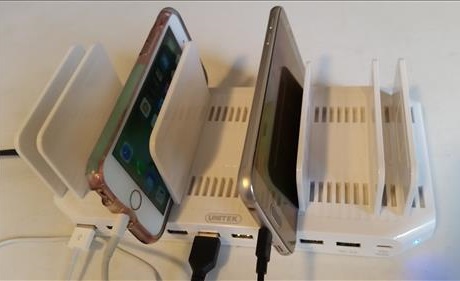 It also comes with plastic divers that snap in and out easily to make storing charging phones more organized.

Read Full Review Here

…..
Anker Quick Charge 3.0 60W 6-Port USB Wall Charger, PowerPort+ 6 for Galaxy S7 / S6 / Edge / Plus, Note 5 / 4 and PowerIQ for iPhone 7 / 6s / Plus, iPad Pro / Air 2 / mini, LG, Nexus, HTC and More

Anker makes many electronic products with this rapid power charging hub being one of them.

It has 6 USB power ports, 1 fast charging port and 5 standard charging ports.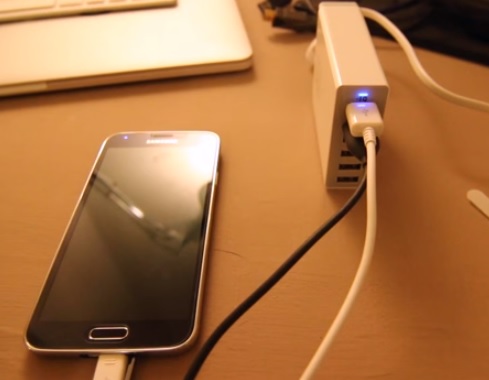 Since it only has one quick charging port if you have many devices capable of fast charging another unit may be better.

The 5 standard ports give out 2.4 amps per a port which is still good as most standard smartphone power supplies usually give around 2 amps.

…..
AUKEY USB Charger with Dual Quick Charge 3.0 Port & 8 USB Ports for Smartphones – Black

This unit from AUKEY is great for homes that have a lot of electronics needing to be charged via USB

It can charge up-to 10 devices with 2 ports able to use Quick Charge.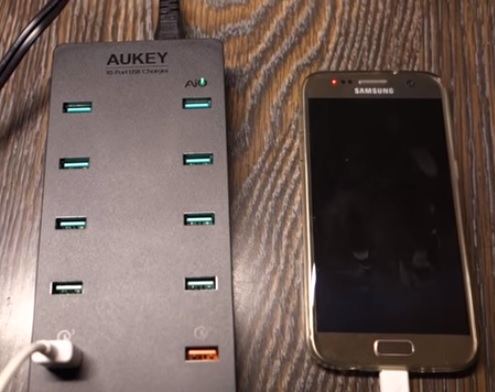 The other 8 ports put out 2.4 amps for slow charging or older devices not able to use QC.

…..
Quick Charge 3.0, CHOETECH 6-Port USB Charging Station with 2 Qualcomm Quick Charge 3.0 Ports, USB A to C Cable and Charger Cradle for LG G6, G5, HTC 10, iPhone, iPad

This unit from CHOETECH is a 6 port design with two ports able to use Quick Charge 3.0

It is a nice small unit that comes with a cradle and is perfect for a office environment or a home with many small devices needing a charge.

Read Full Review Here


Summary
If you have a smartphone able to fast charge than having a power source other than the OEM power supply is a nice thing to have.

Since USB has now become the standard to charge most all small electronics having more ports the better especially in a home with many people.

If you are simply looking to get a USB power station than getting a unit with QC 3.0 would be good for any future upgrade to your home electronics.

Rapidly charging your devices is coming more and more common as most all of us dont always have the time for the old slow charging times.

Keep in mind slow charging will give a much longer battery life so be sure to use it when possible. Most rapid charges will only give 70-80 percent of what a slow charge can give.