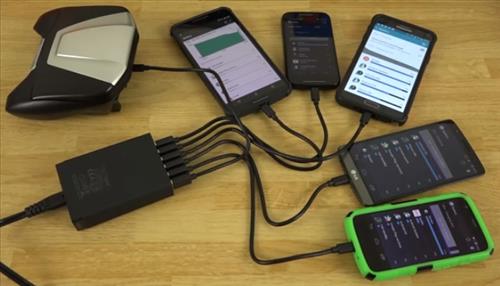 USB charging is here to stay and has become a universal charging method for small electronics.
Most all small electronics can now be charged with a dedicated charger or via a USB port.
With the many small electronics a home can accumulate, a USB charging station starts to look better and better as a way to keep your devices charged.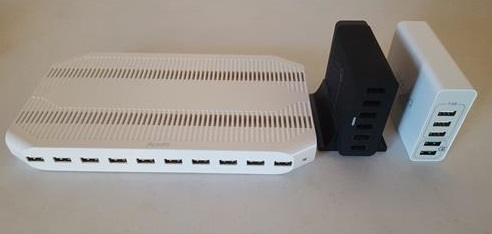 An easy way to do this is with a low-cost USB wall charger which come in all shapes and sizes.
There are many good units available with some of our favorite picks below.
As always be sure to read the reviews on Amazon, forums, or elsewhere to be sure a unit is a good fit for you.
*This post contains affiliate links.
Our Picks for Best Multiple Port USB Wall Chargers
Alxum 96W 10-Port

iPad Charging Station 96W 10-Port Alxum USB Charging Station Multiple Device USB Charger with Smart IC Tech, Organizer Stand for iPhone X, Xs Max,8,7,6, Samsung Google Nexus LG, Tablets, White

If you have a large household or need a USB office charger this 10 port unit from Alxum is worth a look.

It comes with detachable sliders that can be moved about to hold smartphones or tablets as they charge.

The USB slots charge at 2.4 amps 5 volts with a 96 Watt capacity.

There is no Quick Charging slots with it charging at the standard 2.4 amps that can universally charge most any USB device.

If you need many charging ports with movable slots to hold devices, the Alxum 10 port unit is a good unit to get.


AUKEY 42W 3-Port

This small wall unit from Aukey has three USB charging slots.

One port has Quick Charge 2.0 Technology while the other two are standard 2.4 Amp ports.

while this unit doesn't have a lot of ports it gives a good cheap way to quickly charge USB devices.


Anker Quick Charge 3.0 60W 6-Port

Anker makes this 60 Watt unit with 6 ports.

One port has Quick Charge 3.0 technology which is backward compatible with 2.0.

Not many devices currently use QC 3.0 but it is becoming more standard with new devices and would be a nice thing to already have.

The other ports are standard 2.4 Amp slots.


CHOETECH 6-Port

This unit from CHOETECH is a great multi USB charger and one that I use everyday at my desk.

It is has 6 USB charging ports two of which are Quick Charge 3.0 slots.

A cradle is included if needed or it can be used without it.

It is a well built unit that that has can handle many devices being charged all day, standard or QC 3.0.

Dodocool 5 Ports

Dodocool USB Charger 5 Ports Desktop Charging Station with Dual Quick Charge 3.0 Ports

The Quick Charging slots are good to have if you have a smartphone with QC technology such as the Galaxy S7 or S8.

Having a QC phone is not necessary as the Dodocool unit has a smart chip that auto detects the device plugged in and sends out the correct amps and voltage.

It is a nice low cost unit that fits well in to a home or small office.
Summary
These are but a few of the USB wall chargers available and simply our picks. There is no doubt many other good options.
If you have a very full house than getting multiple units or large ten port USB charging stations may be better.
Currently QC 2.0 is the most widely used but QC 3.0 will be closing the gap as new devices are released. Wireless charging is also widely used although not as fast as plugging in a cord.
Electronics are only getting faster with new phone and tablets able to also charge faster when giving enough amps and the right technology.
Having the right USB charging station can go a long way in keeping you deices charged and ready when needed.