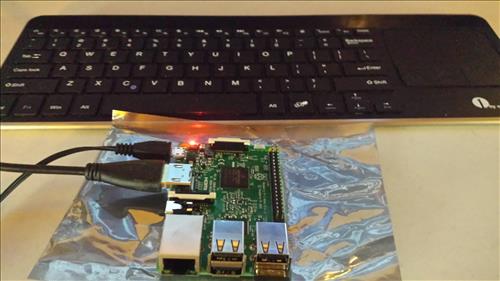 The Raspberry Pi 3 not only runs Kodi but also has built-in WiFi and Bluetooth.
I have setup Kodi on a RasPi 3 and it makes for a small basic Kodi box.
After setting Kodi up on the Pi 3 we began to test it out including using Bluetooth remote control keyboard combos.
We used OpenELEC to do all the testing with and Bluetooth worked great with most all our devices.
Read here for how to enable Bluetooth on a Raspberry Pi 3 Kodi setup.
If you have already have a Bluetooth keyboard, or the popular mini keyboard remotes it likely will work with a Pi 3 Kodi setup.
For those that are looking to get a nice controller here is our list of favorite Kodi Bluetooth Keyboards and remotes controls.
As Always be sure to read the reviews on Amazon, forums, here, or elsewhere to be sure a unit is a good fit for you
*This post contains affiliate links.
Our Picks for Best Raspberry Pi 3 Bluetooth Keyboards Remote Controls
iPazzPort iB10

iPazzPort makes many popular mini keyboard combos that work very well with the Pi 3 and Kodi, as well as many other setups.

It has small joystick controllers and also has a built-in touchpad.


Like other mini keyboards it also works with most any other setups.

iPazzPort Mini Handheld Keyboard KP-810-19S

iPazzPort also makes this mini keyboard that also has a touch pad to control the mouse cursor.

The buttons and the touch-pad work great with many Pi 3 packages.

This is a good option for those who don't want a large keyboard and want a very small unit.

Rii K18

The Rii K18 is a mid sized keyboard that can work with most any device including the RasPi 3.

It uses a receiver dongle that plugs into a Raspberry Pi and transmits a 2.4GHz signal.

Since it uses its own small transmitter it can also work with many there electronics from Windows, to an Android TV box.
Summary
Setting up a Bluetooth keyboard or remote control with the Pi 3 and Kodi make for a nice home media experience.
Of course, a wireless mouse or keyboard can also be used and it is a matter of preference.
When it comes to picking the right keyboard, remote control the size of your hands will influence the type best suited for you.
One person will prefer certain types that don't work for others.