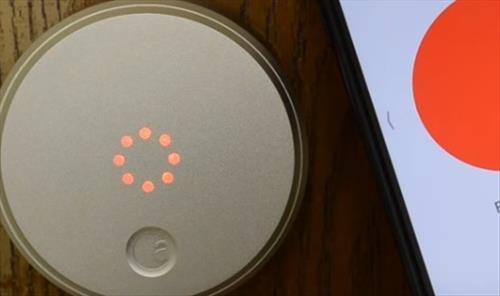 A smart door lock is a nice option to have since they work with your smartphone to unlock or lock a door.
Besides smartphones many new units can also be used with new technology such as Siri to help keep a home safe.
Another nice feature is the ability to change codes which can be given out to people who need access, and changed quickly with no need to replace the entire lock.
There is many good options available, from design to functionality.
As always be sure to read reviews on Amazon, forums, or elsewhere to be sure a unit is the right pick for you.
*This post contains affiliate links.
Our Picks for Best WiFi Smart Door Lock
August Smart Lock

August Smart Lock has some nice units available with the newer ones able to work with Siri.

The design is simple but nice.


Installation is easy enough with it able to fit into most any dead bolt hole and outside tabs lock it into place.


The app can be installed on android or iOS smartphones.



Kwikset Kevo

Kwikset Kevo is another nice option that uses Bluetooth to communicate.

There is first generation unit also that comes at a lower cost than the new second generation model.


A traditional key can be used or a smartphone to unlock it.



Schlage

Schlage makes many popular smart door locks with the BE365VCAM619 being one of them.

It has been around for awhile but its combination of functionality and cost make it a good option.

The design is basic and comes with a keypad that can be programed to hold up-to 19 codes which can than be shared.

It does not work with a smartphone but with a key pad or traditional key.

While it is not a WiFi unit is is a very popular smart lock and so makes our list.


Summary
Having a wireless smart lock that works with your smartphone or other home technology such as Siri is a nice feature to have.

Whether it is locking the door from another room without ever having to go there to simply unlocking it from your car on a rainy day, there are many uses.

They also are good in situations in a home that has multiple people that need access. Codes can be changed on-demand without the need to pass out keys.

Having keys made and given out does work but than requires the door lock be changed any time someone is no longer welcome. Smart locks are perfect in such scenarios and besides home use in many office business settings.

With the many units available be sure to read the reviews on Amazon or elsewhere to be sure a unit is a good fit for you.