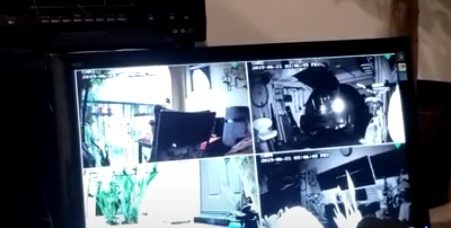 Wireless camera systems are common these days and come in a wide variety of units and features.
When it comes to securing a home or business a wireless camera system can be more than a simple security tool.
I use mine to keep an eye out for delivery trucks when I am expecting a package and glance at the camera screen when my dog barks.
Most any security camera system these days can do much more than security.
They can display to a tablet or smartphone when on the go, upload video or screen shots to the cloud and many more features such as night vision and motion detectors.
Systems can come with as many cameras as you need. With that said once a system is setup there will always be dark spots that make you wish you had one more camera.
Myself I setup a four camera security system and pointed them down the sides of each corner of my house, which covers what I need.
Wireless Frequency Basics
There are two frequencies that are open for the public to use without a license 2.4 GHz and 5 GHz.
All wireless consumer electronics such as WiFi routers, remote controls, toy helicopters and so on use either 2.4 GHz or 5 GHz frequency.
This includes wireless cameras since there is no need for a FCC license to use these frequencies all camera system will work on one or the other.
Until recently 2.4 GHz was the only frequency utilized since the lower a wireless signal is the better it can travel.
This is due to the physics of how wireless signals travel which makes a 2.4 GHz signal broadcast a signal much better than a 5 GHz signal.
The problem has become that the 2.4 GHz frequency has become overused and is over filled with traffic.
This can cause a problem for a 2.4 GHz signal tying to get information through.
For this reason the 5 GHz frequency as become widely used. Even though it doesn't broadcast as far with less traffic it does work better in many instances.
The bottom line is if you are setting up a wireless camera system in a public area with many wireless signals around 5 GHz will likely be better.
If you live in the country and don't have many wireless signals than the 2.4 GHz signal will work better.
Our Picks for The Best Wireless Security Camera Systems
HeimVision HM241

HeimVision HM241 1080P Wireless Security Camera System, 8CH NVR 4Pcs Outdoor WiFi Surveillance Camera with Night Vision, Waterproof, Motion Alert, Remote Access, No Hard Disk

The HeimVision HM241 is a wireless security system that comes with everything needed to get a wireless camera system up an running.

It Includes 4 Cameras, DVR, night vision, mobile apps and much more.

The cameras are high definition 1080p and are waterproof.

HeimVision HM241

[Expandable 8CH] Hiseeu Wireless Security Camera System with 1TB Hard Drive with One-Way Audio, 8 Channel NVR 4Pcs 1080P 2.0MP Night Vision WiFi IP Security Surveillance Cameras Home Outdoor

The HeimVision HM241 is a HD 1080p wireless camer system.

The unit has no hard drive which can help keep the price den if one is not needed.

Having built-in hard drive is ideal for recording but unnecessary for basic viewing.


Warehouse Garage

This wireless system comes with its own screen that is also a DVR. It is a 2.4 GHz unit that comes with all the extras that most cameras systems come with such as mobile apps.