The T95Z PLUS is an Android TV box that has some good hardware to run apps, games, and Kodi.
It has a hexagon shape with a clock and a soft light strip around the top of the unit that goes from green to blue.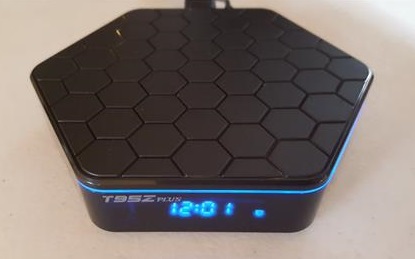 One was sent to me to review with my honest opinion and results below.
Specifications
CPU: Amlogic S912 Octa-Core running at 2.0GHz
RAM: 3GB DDR3
Internal ROM: 32GB EMMC Flash
Wireless: Dual Band 2.4 GHz, 5GHz 802.11n
Bluetooth: 4.0
USB: 2 USB 2.0 slots
It comes with everything needed including the box, HDMI cable, power supply, remote control, and instructions.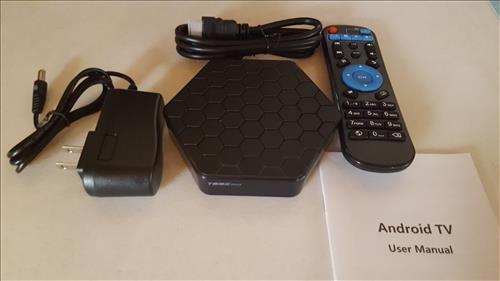 The external ports include HDMI, 2 USB, power, optical, AV, Ethernet, and a SD-Card slot.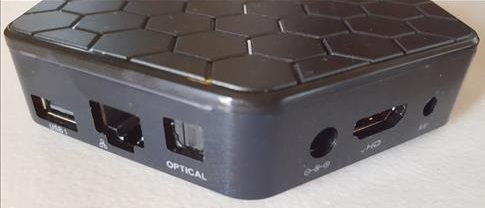 Starting the T95Z a standard android menu system comes up.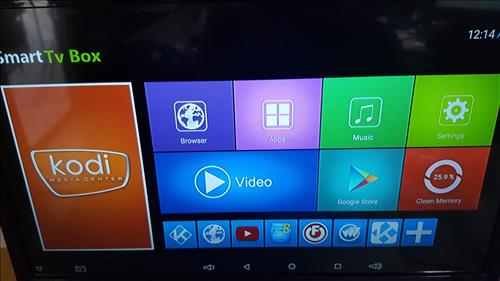 It has all the basic Apps installed such as a Browser, YouTube, Netflix, and Kodi.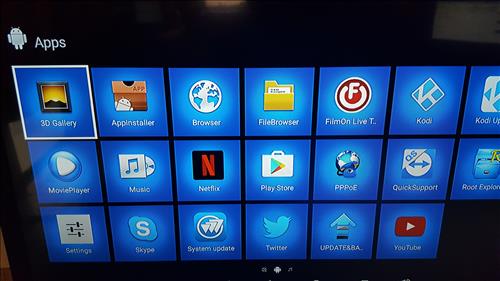 The first step with any android TV box is to connect to the internet with a Ethernet cable or WiFi.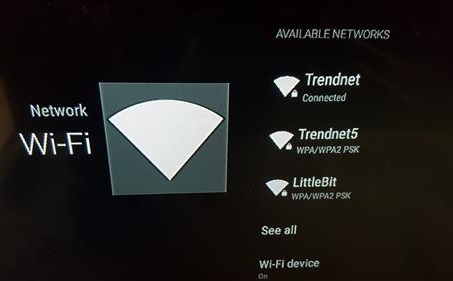 I setup a WiFi connection which is easy to do in Settings–>Network.
To test the WiFi I downloaded SpeedTest by Ookla which gave me 50.49 Mbps Down, and 5.66 Mbps Upload speed results.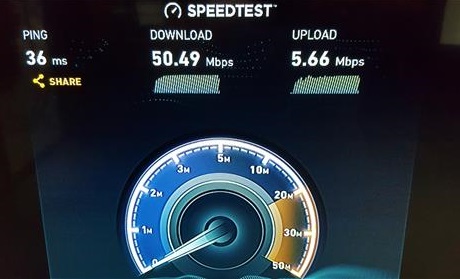 My internet speed is max 50Mbps Down and 5Mbps Upload so it likely can go faster.
The wireless was much better than other boxes I have tested. The recommended Download speed from Netflix for standard 1080p HD videos is 5Mbps, with 25Mbps for 4K Ultra HD.
It should have no problems streaming High Definition videos over WiFi with a well placed router.
Next I started Kodi which it comes with Kodi 16.1 Jarvis installed.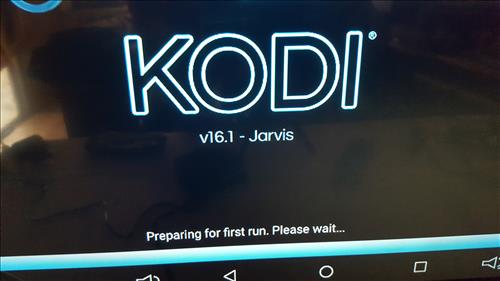 Read the Update at the bottom of the page of it being updated to Kodi 17 Krypton.
It comes with the default Kodi Jarvis Confluence Skin which most will immediately recognize.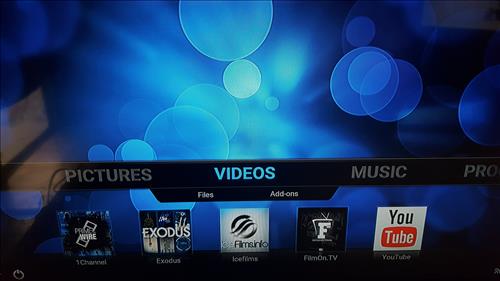 Going to System Information the resources being used to run Kodi was low, giving plenty of power to stream videos.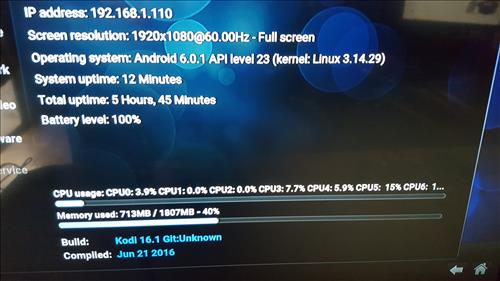 Lots of add-ons come installed including popular ones such as Exodus.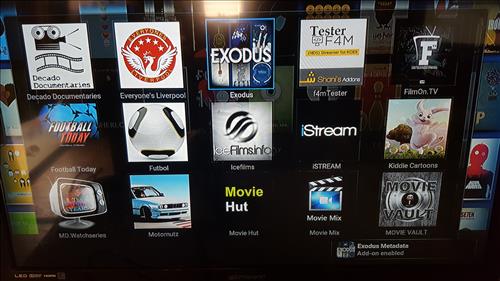 Add-ons can be installed or removed on any Kodi box but it is nice to have them already installed and ready to go.
For the last test I ran Antutu Benchmark which gave the AKASO T95Z PLUS a score of 41158.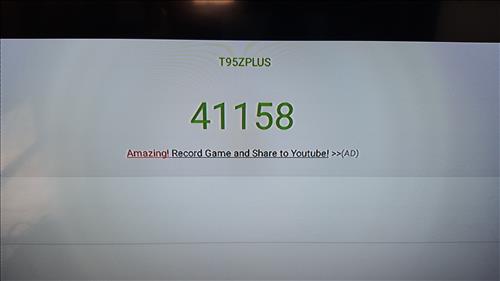 When compared to a Nvidia Shield score of 65995 it may seem low, but is a good score since it cost much less.

Summary
The T95Z PLUS is a good mid-range android TV box that will have no problems streaming videos with Kodi, Netflix, or other sources.
The S912 processor is a good CPU with a slight improvement over the S905 and big improvement over the S805/S812 processors.
The 3GB of RAM will handle any HD 720p, 1080p, or the new 4K Ultra HD videos.
Internal storage at 32GB is better than many other boxes, of course this can always be expanded with a SD-Card, Flash Drive, or External Hard Drive.
Most android TV boxes have less than desirable wireless with the T95Z PLUS doing much better than others. The 50Mbps Down speed will be plenty enough to stream High Definition videos, of course a Ethernet cable would be the best option.
I am still testing the T95Z PLUS so far with good result and will update if there is any changes.
As always be sure to read the reviews on Amazon or elsewhere to be sure a box is a good fit for you.
*This post contains affiliate links.
Availability
Update
It been awhile since the original review on the T95Z PLUS and it is still going strong.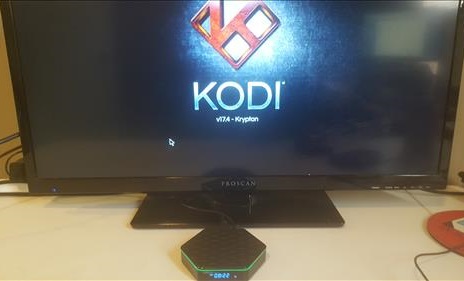 It was time to update to the newest version of Kodi 17 which it did and ran very well.
A fresh install of 17 did not use up much resources at all.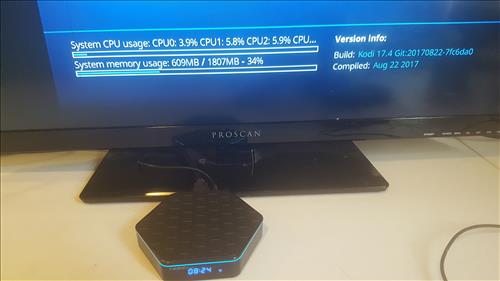 The older Kodi 16.1 Jarvis was also still working fine but with it getting older I decided to see how well it would run the 17 Krypton.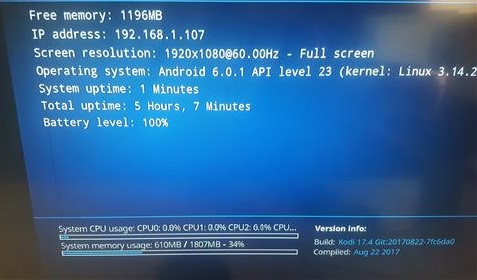 If you are using the T95Z PLUS with Jarvis there has been no clear benefit yet for upgrading.
If you would like to upgrade be aware all your old settings will likely disappear, as deleting the old Kodi version is best and installing a new fresh copy.
All the addo-ns will need to be setup again if this is done, so if you are happy with Jarvis there is no need to update yet.
Updating is easy enough to do from the Play Store or the Kodi Download page.