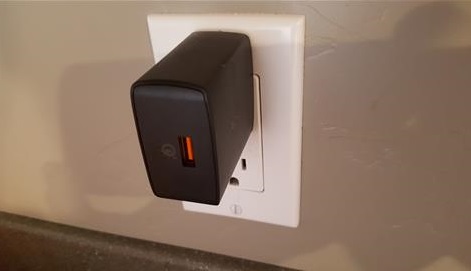 This unit was sent to me to review with my honest opinion and results below.

The AUKEY PA-T17 QC 3.0 wall charger is built to charge a smartphone up to 4 times faster than a standard conventional charger.

Of course the phone must have QC 3.0 technology or it will default to a lower charging rate.

It can charge most any smartphone from the USB port, and will simply default to a lesser charging rate such as QC 1.0 or QC 2.0, if a device does not have QC 3.0 technology.

Many new smartphones come with Quick Charge 3.0 such as the LG G5, HTC 10, Xiaomi Mi 5, and others.

Specifications
Model: PA-117
Technology: Quick Charge 3.0
Input: AC 100-240 Volts
Output: Output: 3.6–6.5V 3A, 6.5V–9V 2A, 9V–12V 1.5A
Dimensions: 55 x 50 x 28mm / 2.17″ x 1.97″ x 1.10″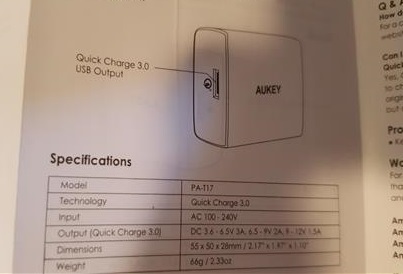 The AUKEY has one USB port and plugs into a standard AC outlet.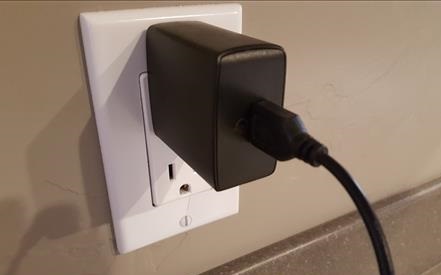 It is small and compact with the AC plug folding in for quick storage making it very portable.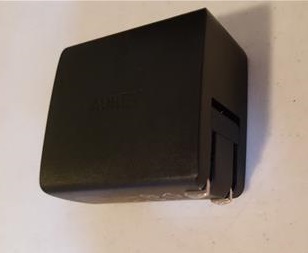 Plugin it into a Galaxy S6 it went into Fast Charge mode.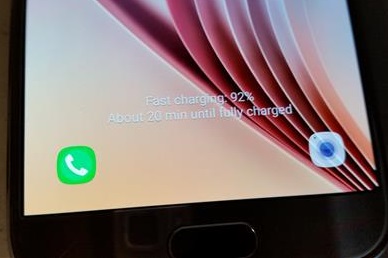 Doing a quick Amp test it used .36 Amps.


This will change depending on the phone and will automatically adjust the correct Amps and voltage.

*This post contains affiliate links which at no cost to you allows us earn a commission on product purchases.

Read More Reviews Here on Amazon
Quick Charge 3.0 AUKEY USB Wall Charger for Samsung Galaxy S8/S7/Edge, LG G5, HTC 10, and More


Summary
The AUKEY PA-T17 is a nice portable unit to Quick Charge a smartphone or other compatible devices.

The single USB slot is limiting to charging a single device but does make for a good unit to pack up and take on the go.

There are bigger units that have multiple USB slots if needed but are less compact and portable.

I am still testing the unit, so far with good results and will update this post if anything changes.

As always be sure to read the review on Amazon, forums, or elsewhere to be sure a unit is the right pick for you.