This unit was sent to me to review with my honest opinion and results below.

The Mesqool is an alarm clock that can project the time on a wall, roof, or most any object with a flat surface.

Having a projection clock is a device that is a very niche item created to solve a problem in a variety of scenarios.

For example it can display a clock on a bedroom roof, making it quick and easy to see what time it is.

The projection can be focused for the user making it good for someone who wears glasses and would like to quickly know what time it is at night.

There many uses for a projector alarm clock with the above just a few example.

The Mesqool comes with an alarm clock, Fm/Am radio, projector and LED display.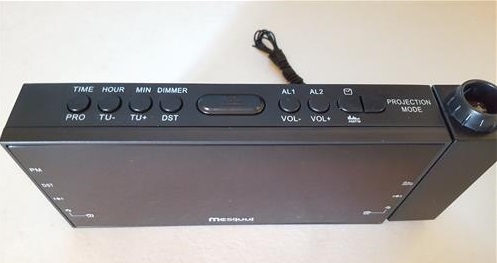 The back of the unit has a USB port to charge a smartphone or tablet if necessary.


Powering it on the LED display comes up clearly.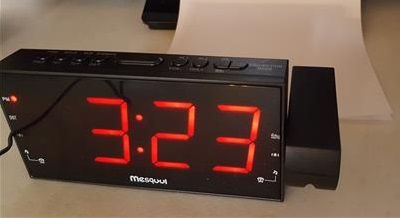 The time is easy to set by pressing the hour and minutes button while the LED lights are flashing. Pressing the Time/Pro button puts it in set time mode.

The projector has a 180-degree swivel to move it about and get the clock displaying at the best location.


The clock can display small or get large depending on how it is setup.

The tip of the projector can be turned to get the best focus.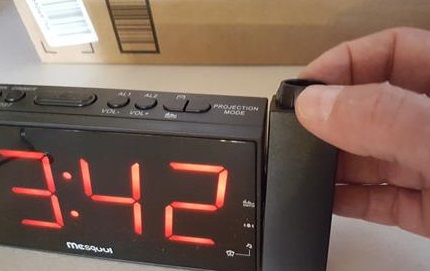 The built-in radio is basic and what one would expect from a clock radio.

A nice feature is the dim button which dims the lights on the unit when pressed.

Being able to set the brightness of the LED clock light is nice to have.

Summary
A projector alarm clock is nice to have in certain scenarios.

It is one of those niche products that can fix a problem many have and never new there was a solution.

The Mesqool is one such low cost unit that does what its supposed to and works well.

I am still testing the unit so far with good results. If anything changes I will update this post.

As always be sure to read the reviews on Amazon or elsewhere to be sure a unit is a good fit for you.