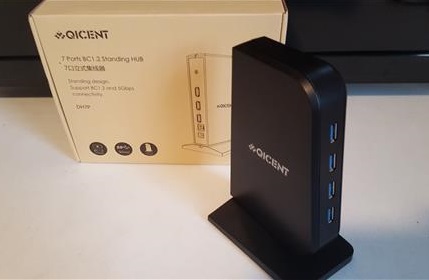 The QICENT BC1 is a 7 Port USB 3.0 HUB built to add more USB ports to a computer and transfer data quickly.

It is self powered and is compatible with most any device that have USB ports including MAC and Windows PCs.

It comes with a stand making it a nice fit a desk, along with the ability to charge smartphones and other devices if needed.

This unit was sent to me to review with my honest opinion and results below.

Specifications
USB 3.0
7 Ports
Built-in Surge Protector
2.5 Amps for charging

The package comes with the HUB, stand, USB cord, power supply, and instructions.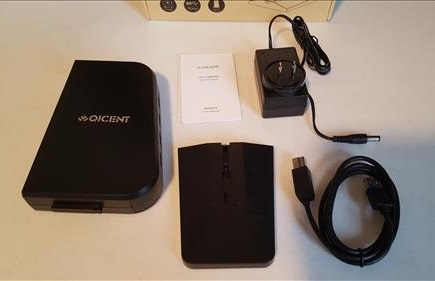 The front has 4 USB 3.0 Ports.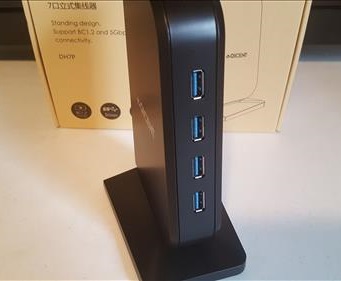 The back has 3 USB 3.0 ports, power button and plug, and the USB-In port that goes to a computer or other device.



When plugging the USB Line-in from a computer be sure to use USB port that is 3.0 usually the color blue.

While and older USB 1.0 or 2.0 port will also work the full speed the HUB can transfer at will never be reached unless USB 3.0 is being used.

USB 3.0 has a transfer rate of 5gbps (640MBps) which is 10 times faster compared to USB 2.0.

Plugging in to the right port on a PC is necessary to get the best data transfer speeds.

Testing the unit with Windows 10 PC it does not disappoint adding more USB ports with high 3.0 file transfers.

*This post contains affiliate links which at no cost to you allows us earn a commission on product purchases.

Read More Reviews Here on Amazon
QICENT Powered USB3.0 Hub 7 Port Support BC1.2 Charge and OTG Function Fashion Vertical Design with Super Speed 7 USB 3.0 Data Transfer Ports Best Universal 7-port USB Hub for Macbook, Computer, PC


Summary
The QICENT 7 Port Powered 3.0 HUB is a good unit built to add fast USB ports to a computer.

It has a solid build and small stand that will fit in nicely at a desk or even a night stand.

The ports can be used to copy files or charge electronic devices making it all around unit.

I am still testing it and will update if anything changes.

As always be sure to read the reviews on Amazon, here, or elsewhere to be sure a unit is a good fit for you.