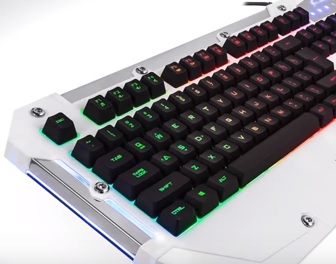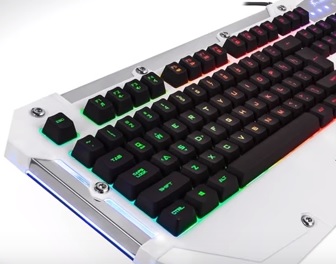 Mechanical keyboards are great for gamers and writers looking for good response times and good feedback from the keys.

Mechanical keyboards are known for their ability to give a gamer a edge from a standard keyboard when knowing a button has been clicked is crucial.

Writers like them since they can give a feel and sound that has been lost with the new electronic touch-pads underling standard keyboards.

The problem with mechanical is that they are more expensive than a regular keyboard.

So what if you want a mechanical keyboard but don't want to break the bank?

There are a some options or at least the less costly options.

Read Here For a Buyers Guide To Mechanical Keyboards With Sound Examples.

Our Picks For 5 Low Cost Mechanical Keyboards
The Rosewill RK-6000 doesn't have any back lighting or Cherry switches but is a good compromise for a budget minded person.



…..
The Merdia keyboard while not exactly a true mechanical board does a good job in replicating one on the cheap. It also has back-lighting.



…..
AULA does a good job of replicating Cherry MX Blue switches with this board so the sound is very clickity.



…..



…..
The Redragon K553 has back-lighting and what it calls custom mechanical switches. The switches are built to replicate Cherry MX Green.


Summary
Finding a good mechanical keyboard at the right price can be a challenge. The good ones will always cost since they require more to manufacture them.

If you cant afford a good expensive one than a replica is the next best thing.

The boards found above were the cheapest boards I found while writing this. Since prices always change always double check.

If you find a good mechanical board that is cheap to buy let us know.