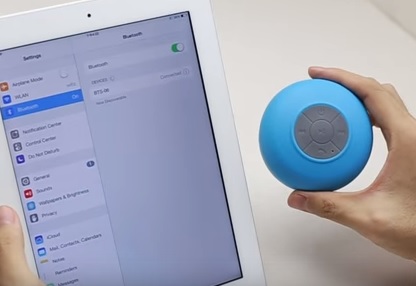 Personal waterproof Bluetooth speakers are a unique item that besides being fun can also be of benefit in other ways. Most any of these speakers will give a user hours of enjoyment along with the ability to answer a phone call while in the shower or any time water is involved.

In full disclosure some of these units have been sent to us from companies to review which we have done with our own honest opinion and results.

*This post contains affiliate links which at no cost to you allows us earn a commission on product purchases.

Our Picks for Top 5 Picks for Bluetooth Waterproof Shower Speakers
The ION Audio Plunge is a Bluetooth speaker with a IPX7 rating meaning it can be fully submerged in water and still work.

It is a nice unit that is also very portable and built to be taken anywhere.

It is also easy to Pair with a smartphone or tablet and is compatible with most any Bluetooth device.
….

The SoundBot SB510 is a great option for those on a budget. Its also available in different colors. The best part is that the speaker is easy to mount via a suction cup and it has a nice design.

Music transmitted by Bluetooth can be done with most any device including androids, iPhone's or iPad's. The speakers can also be used to answer calls, switching from music to a phone conversations quickly.

….

This Bluetooth shower speaker has good sound for such a small low cost unit and extra features such as noise cancellation. Its Bluetooth 3.0 makes pairing quick and easy with most any electronics.

…
This unit from BOOM wraps around the head of a shower instead of using a suction cup or other means. The sound is clear, crisp, and easy to setup. It is loud enough for personal use.

The battery last 8 hours and is charged with a USB port.





Summary
People are most comfortable when at home. Their personal space allows them to completely let it loose. Music is one other thing that reflects ones personality. Everyone loves music no matter what kind. Whatever genre they choose pop, rock, country, it always provides an escape and represents a part of ones soul. Music also has the power to change the moods. It can be part of someones joy and also can be cathartic in gloomy moments. Most important task of the day should not miss out on a good dose a of music and that is taking a shower. Some of the best music careers are made in showers and well washed away at the same time but why not enjoy some real good music and to save the Ipod or phone from getting wet one must possess the genie, a waterproof shower speaker. The shower speakers are the best companion to a hot tub bath or a cold shower. In addition to being resistant to water they also are very useful with answering the calls, listening to music and sometimes recording the songs with the built-in mic available in some of them.