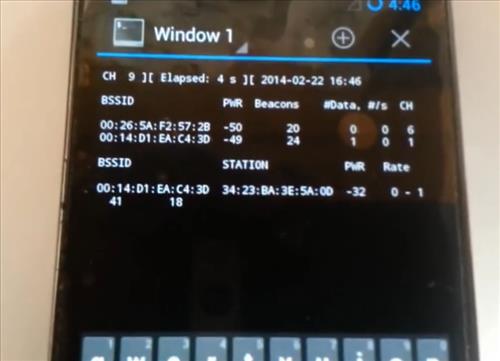 Wireless penetration testing is possible with a android smartphone or tablet. Even running Kali Linux, Backtrack 5, or aircrack is possible.
The problem with a smartphone or tablet is the same problem with a laptop or desktop when wireless hacking. It is the wireless chipset the device uses and if it is compatible with packet injecting, deauth command, and doing a data capture.
Some phones have a wireless chipset that can do these things such as the Galaxy S1 and S2 are known to have a compatible chipset. The phone will have to be modded and new drivers installed to take full advantage of the phones chipset but this does work with some phones.
For phones that do not have a supported wireless chipset a USB adapter / dongle will need to be used which has its own problems.
The USB adapter must have a compatible Chipset for Pen Testing. Click here for a list of Pen Testing USB adapters.
To do this first a OTG cable will be needed to connect a USB adapter to the phone. The phone will then have to be modded and be able to accept "USB with host function".
One of the problems I have had with Android devices I have used to do this is the power the USB adapter takes to operate. Some phones will supply power and others won't. But even the ones that do supply power drain the phone or tablets battery quickly.
To get around this I have used a battery pack to supply the 5 volts DC to the USB adapter. I made a video of doing all this with a Galaxy S2.
Here I was using a computer USB port for power I have since been using a battery pack.

Here is a video I made using the built in chipset on a galaxy S2

Being able to wireless pen test with a smartphone is fun but not for everyone. There is no app that you can download run and be done. If you are like me and like technical challenges than this is a lot of fun to do.