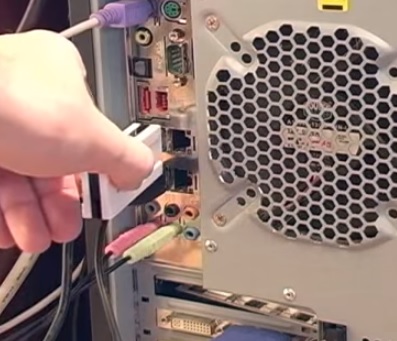 Setting up a desktop to receive and send wireless WiFi signals is a easy task with a USB adapter.

There are many to choose from with different protocols, sizes and range.

Wireless-N is the most widely used protocol since it is compatible with most any network old and new.

Wireless-AC is the newest protocol built for high speed transfer of data.

Wireless AC or 802.11ac was introduced in 2013 and only works in the 5 GHz range.

Most newer wireless receivers are dual band meaning they will work with Wireless-N or AC protocols.

For a high speed connections be sure your router is compatible with 802.11ac.

*This post contains affiliate links which at no cost to you allows us earn a commission on product purchases.

Our Picks for Wireless Receivers for Desktop Computer

Asus (USB-AC56) Dual-band Wireless-AC1300 USB 3.0 Wi-Fi Adapter

The Asus USB-AC56 is a dual band adapter so it will work with Wireless-N or Wireless-AC protocols.

It is built for a high speed setup with theoretical speeds of 1300 Mbps, (867Mbps at 5 GHz and 400Mbps at 2.4 GHz).

Asus is a known name in wireless and has good support.



NETGEAR AC1200 Wi-Fi USB Adapter High Gain Dual Band USB 3.0 (A6210-100PAS)

The Netgear AC1200 is also a dual band USB adapter built for high speed connections.

It can run up-to 300Mbps at 2.4 GHz and 867 Mbps at 5 GHz.

Like the Asus AC56 it is a USB 3.0 adapter so to get the best speeds be sure the computer is also USB 3.0 compatible or it will default to USB 2.0 speed of 480Mbps.



Alfa Long-Range Dual-Band AC1200 Wireless USB 3.0 Wi-Fi Adapter w/2x 5dBi External Antennas – 2.4GHz 300Mbps / 5Ghz 867Mbps – 802.11ac & A, B, G, N

The Alfa AWUS036AC is a dual band USB adapter built to get better distance.

It uses two 5 dbi antennas for better range.

This is a good USB WiFi adapter for high speed transfers and getting a stronger signal.


Summary
Getting a good wireless receiver for your desktop computer often requires reading reviews on Amazon or elsewhere to be sure it fits your setup.

Each network setup will be different from the operating system being used to a router capability.