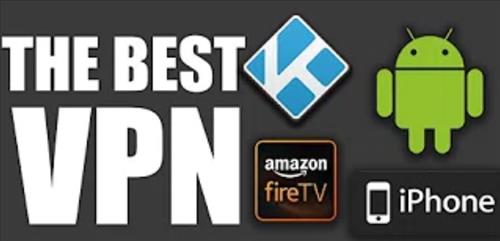 In this day and age using a VPN (Virtual Private Network) is almost a must-have from being out-and-about and keeping data from prying eyes to streaming online videos at home.
A good VPN is useful in many scenarios from online security while traveling, to data protection, or simply watching Netflix from outside the USA.
There are many available with each having its own Pros and Cons.
While one is a good option for use with Kodi and a Fire TV Stick another one will be better for Torrents.
Below are listed the best option I have found along with the positives and negatives of each.
Keep in mind services change all the time so be sure to read their websites for any changes to their services.
Our Picks for Best VPN Service Providers 2019
IPVanish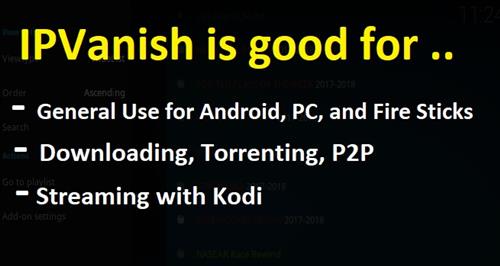 IPVanish is a very popular VPN that has many worldwide Servers.
They have thousands of servers around the globe, allow Bit-Torrenting and have Automatic IP address cycling.
They keep no logs and do not throttle bandwidth which is a big plus.
IPVanish is located in the USA and will need to comply with any USA laws.
Setting it up with a Fire TV Stick is easy as they have a native App in the Amazon store.
The servers are very fast and easy to connect and disconnect with software for most any device.

This makes IPVanish very user-friendly and quick to set up.
They currently do not accept cryptocurrency and take payments with a credit card or PayPal.

They have multiple service plans and give a 7 day money back guarantee.

IPVanish is a good VPN that is popular with many. They keep no logs and have multiple high-speed servers with no throttling.

They also have easy to use Apps for most any device which makes for a quick and easy setup.

The one downside is since they are located in the USA they must follow any USA laws required of them.

Click Here for IPVanish Website

ExpressVPN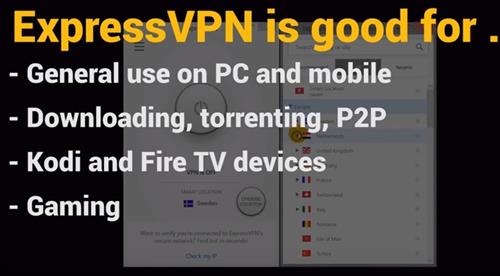 ExpressVPN is another really good VPN service that is very popular and highly recommended.

They are based in the British Virgin Islands which is a British overseas territory but it is not part of the UK or the EU.

This means they can make a lot of their own laws and offer similar advantages as Panama does for Nord VPN (See below).

The advantage that ExpressVPN has over Nord is that in addition to the usual platforms, they have an Amazon fire TV App making it much easier to set up a VPN on Kodi and Fire TV devices

However, with ExpressVPN you can only connect three devices compared to six devices with Nord.

ExpressVPN also has servers in 94 different Countries compared to 60 countries for Nord VPN. So if you're looking for a VPN server in a very specific Country Express VPN is a good option.

While testing Express VPN servers in both Europe and the USA they were very fast able to download torrents at high speeds.

ExpressVPN is a bit more expensive than others but they support Bitcoin payments and have a 30-day money-back guarantee.

I can recommend ExpressVPN for general use downloading, Kodi and Fire TV, Gaming, and also streaming services but it's not the best for Netflix.

Click Here for ExpressVPN Website

NordVPN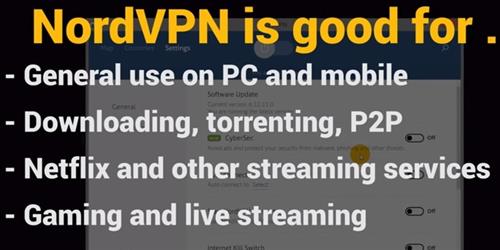 NordVPN in terms of privacy is one of the better options since they are based in Panama which has very good privacy laws and no data retention legislation.

This means NordVPN can maintain a pretty solid privacy policy.

Thier VPN service is available for Windows, Mac, Android, and iOS but they do not have an Amazon Fire TV app yet.

Setting NordVPN up for Kodi on a Fire TV device is a bit more challenging, there are some better VPN options for that.

The Nord VPN clients have some interesting features in addition to the usual military-grade encryption they have Kill switch, DNS leak protection, and so on.

For example, you can connect either to a random Nord VPN server in a certain Country or to any individual server, most VPN clients can't do this.

Also, there are some specialty servers such as Anti-DDoS Servers which can protect live streamers and Gamers from DDoS attacks.

Nord VPN connection speeds were excellent when testing in Europe and the USA. I was able to download through BitTorrent and access USA Netflix without any issues.

Their prices are very affordable with three plans available.

Nord VPN also supports many cryptocurrencies through coin payments service and has a 30-day money-back guarantee.

NordVPN is good for general use downloading, Netflix streaming, Gaming and live streaming, especially for those streamers who might need some extra DDoS protection.

Click Here for NordVPN Website

VyperVPN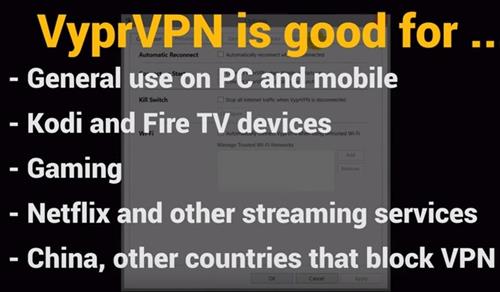 VyperVPN service is based in Switzerland which is not the best or the worst location for a VPN service because they have data retention laws.

VyperVPN does log your IP address and quite a bit of metadata which means it is not the best VPN for serious privacy protection.

The main advantage VyperVPN has over the other VPN services in this list that they operate their own custom VPN protocol called Chameleon.

This might give a Viper VPN an edge in terms of bypassing firewalls that are built to detect more common VPN protocols such as Open VPN or L2TP.

Chameleon is however only available for premium subscribers

They support all of the standard platforms in addition to Fire TV, Apple TV, and Android TV.

While testing their connection speeds were good on servers in Europe and the USA.

BitTorrent works fine and it was also possible for me to access USA Netflix with no problems.

A one-year subscription for VyperVPN is reasonably priced but they don't accept cryptocurrencies, and only offer a three day free trial but no money-back guarantee after ordering.

I can recommend VyperVPN for general use, Kodi and Fire TV devices, Gaming, Netflix streaming, and possibly for use in other countries like China which can sometimes block more common VPN protocols such as Open VPN.

Click Here for VyperVPN Website

Windscribe
Windscribe is a VPN service based in Canada which is part of the five-eyes-intelligence-alliance so it does have some data retention laws.

These laws are generally believed to not apply to VPN services especially considering Windscribe has a fairly solid privacy policy.

You can signup for an account without an email address. The Windscribe VPN service is in my opinion of similar quality as Nord and Express VPNs.

Although they have fewer servers and in the future their privacy protection may suffer due to being located in Canada.

You can use Windscribe on Windows Mac Android and iOS they also have a Fire TV App and web browser proxy extensions for Chrome and Firefox.

The others have extensions too but Windscribe was one of the first to offer them.

Connection speeds for their European and USA servers were quite good Bit Torrent downloading worked with excellent speeds and I was able to access US Netflix with their USA server options.

Windscribe is also the only VPN service in this list with a free account option with up to 15 gigabytes of free monthly bandwidth.

They have multiple plans and Bitcoin payments are accepted as well.

I can recommend their service for general use downloading, Gaming, Netflix streaming, as well as Kodi and Fire TV devices.

Tor Guard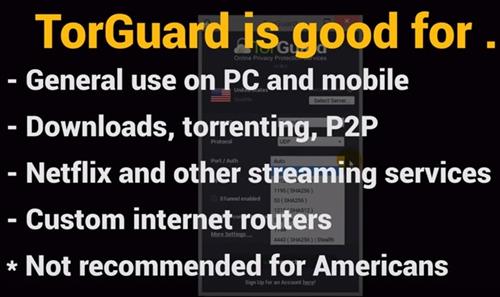 Another somewhat decent VPN service is Tor Guard they are however based in the United States so I do not recommend Tor Guard for Americans due to the cloud acts which became law in February 2018.

Basically it forces companies based in the United States to hand over data even from servers that they operate in foreign countries.

If a court rules that they should do so all your data will belong to Uncle Sam.

Additionally the Tor Guard privacy policy is somewhat vague they don't mention exactly what data they log or how they use it.

Tor Guard does however sell pre-configured Internet routers with custom firmware that has Tor Guard VPN installed.

So if you want to connect all your devices at home to a VPN and you're not technologically literate enough to do it yourself or just lazy then this might be a good option for you.

They also have custom VPN clients for all the usual platforms but no Fire TV App.

Their connection speeds are good on all of their servers that I tested.

I was also able to download Torrents and access USA Netflix as with every other VPN in this list they have no DNS leaks and a strong encryption.

In addition to the usual options like PayPal and credit card payments they have a 7 day money-back guarantee.

I can recommend Tor Guard for general use downloads and Netflix streaming.

Summary
There are many good VPN services with those above simply some of the many options.

Setting up a VPN is easy to do with most having an App or program to connect to a server.

Do you know of any other excellent VPN services that I should review do you have any questions or other feedback well let me know in the comments below?