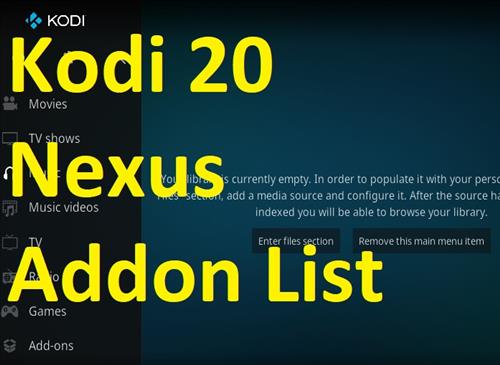 Kodi 20 Nexus is the newest version of Kodi that has some enhanced features and options.
New features include AV1 Video Support, Windows HDR Support, NFSv4 Support, and more.
Most addons that worked with Kodi 19 will also work with Kodi 20.
This includes video addons, sports, IPTV, Live TV, program addons, and more.
The list below is an updated list of working addons set in a random order; see here to vote on which addons are the best.
If you see any addon that is no longer working, let us know in the comment below.
Best Working Kodi 20 Nexus Addons List
What is Kodi 20 Nexus?
Kodi 20 Nexus is the latest version of the popular Kodi media player.
Kodi is a popular application that allows for third party addons and plugins to be installed, which greatly enhances its functions.
For example, a video addon can be installed, which can stream video to a user.
The newest version adds many new features and options but is not as big an update as the last version.
The last update of Kodi only had a few addons that were available, so it was not recommended to update immediately.
Kodi 19 Matrix addon initially did not work because Matrix updated to Python 3 instead of Python 2; it had been used for older versions.
Most all addons have been now updated to work with Python 3, so this is no longer an issue.
How To Revert Back to Older Kodi Versions
If you do not like the new Kodi 20 Nexus older version can be installed.
Reverting back can be done by uninstalling Kodi and downloading the version wanted.
Previous Kodi versions can be found here at http://mirrors.kodi.tv/releases/
If older versions are installed, it is recommended for Android users to turn off automatic updates from the Play Store.
How To Turn Off Android TV Automatic Updates
Open the Play Store App.

Select The Account Icon at the Top Right.

Go to Settings.

Select Auto-Update Apps.

Select Don't Auto-Update Apps .
Kodi 20 Nexus New Features
Multiple Instances of Binary Add-ons
AV1 Video Support
Subtitles Rework
Game (libretro) Savestate Support
Windows HDR Support
NFSv4 Support
Context Menu Consistency