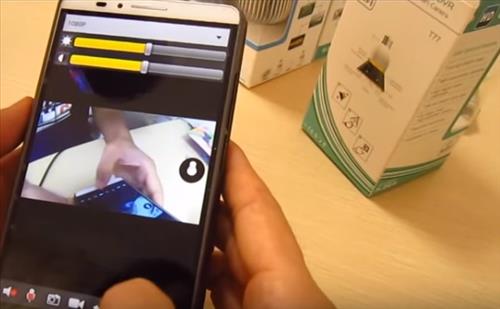 Wifi cameras come built into many things these days, from clocks to light bulbs.
Light bulb cameras are a good option, with many features that make them very practical in many scenarios.
They can give a panoramic view of an entire room and easily zoom in on the spot.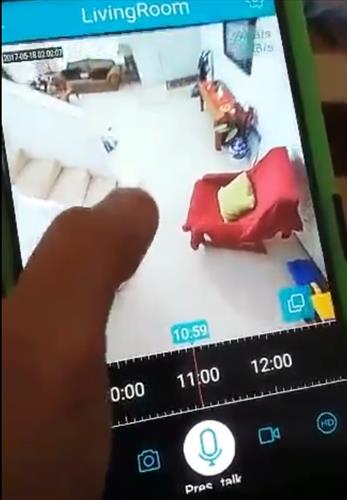 Apps that give real-time video and two-way communication if needed on a smartphone or tablet are included.
Most all the units can also record through an app to a smartphone and have an SD-Card slot for storage when recording videos.


Each unit has its own features, some even with night vision.
Many good units are available, with some of our favorite picks below.
As always, be sure to read the review on Amazon, forums, or elsewhere to be sure a unit is a right pick for you.
*This post contains affiliate links.
Our Picks for Best Hidden WiFi Light Bulb Cameras
VIBOOS 1080P WiFi Security Camera

This unit from VIBOOS is a nice wireless light bulb with an HD camera built-in.

It gives a panoramic view of a room. The camera video feed can be moved about with the touch of a finger and locations zoomed in on.

There is also a built-in microphone and speaker to hear inside a room or speak if needed.

An SD-card slot allows for recording to SD-card, or the video can be recorded from the app to a smartphone.

It is a nice camera light bulb that works very well at streaming video all in high definition.

BESDERSEC Light Bulb Camera

The BESDERSEC 360-Degree light bulb camera is another nice unit.

It sends high-definition 1080P video to a smartphone or tablet over WiFi.

Other features include night vision and two-way audio. Recording options are also available on a smartphone or to an SD-Card.

It gives a panoramic view and covers an entire room. The night vision works well up to 16 feet away.

It is also compatible with Androids or iPhones.

HIJUNMI WiFi Bulb Camera

This light bub camera from HIJUNMI has a 360-degree view along with two-way communication and motion detection.

It works with iOS or Android devices with apps for both.

An SD-card can be inserted to record to, or the app can manually record to a smartphone.

OZS WiFi Bulb Camera

OZS makes this 1080P unit with a light bulb camera built-in with many features.

It has night vision, an SD-card slot for recording that can send an HD 1080p video to a smartphone or tablet has a built-in microphone, and has a motion detector to turn on and off.

Like most other units, it has night vision and an app for a smartphone, Apple or Android.

It also has voice communication built-in to hear and speak if necessary.
Can You Hide a Camera in a Light Bulb?
Yes, camera light bulbs are available and used as security and nanny cams.
There are many different types available with our picks above.
How Can You Tell if a Light Bulb Has a Hidden Camera?
Almost all light bulb cameras have the camera at the bottom, which can be seen by a small circle.
They also are usually bigger and do not like a standard bulb but are slightly different.
While on most units, the camera can be seen on inspection, there are some more advanced units that are difficult to tell apart.
Are Light Bulb Security Cameras Good?
The image quality and built-in wireless work very well with most units.
They can be good in many scenarios, but the life span of most are not as good as standard security cameras.
Standard security cameras can last a very long time, often 10-20 years, but a light bulb camera will have a much shorter life span.
Often they last about the same as a standard bulb last.
Summary
Light bulb cameras have many features and are a quick, easy way to monitor a location while staying hidden.
They can be used for many reasons such as security, nanny cam, spycam, or just give peace of mind that a home is a good while away.
The setup for the units is very easy, usually by screwing it into a light socket, downloading an app, and connecting to a router.
New units have very simple setups with onscreen guided instructions through an app.
If a recording is needed, most will use a small micro SD-card or can be recorded to a smartphone or tablet.
There are many units available, with those above simply some of our favorite options. Before buying any camera, be sure to read the reviews and features to be sure it is a good unit for you.
Do you have a favorite light bulb camera? Let us know in the comments below.